While it is undeniable that "Shiny Happy People: Duggar Family Secrets" on Prime Video contains explosive revelation after explosive revelation, it is the first-person narrative that gives the film its meaning. The fourth child of the Duggar family's 19 children, as well as former TLC reality star Jill Duggar Dillard and her husband Derick, who are front and centre, have the most influence. We now have all the information you require if you simply want to discover more about this pair, with a focus on their relationship, experiences, and current situation.
Who Are Jill and Derick Dillard?
Jill first gained notoriety when she was just 13 years old by appearing in the 2004 family documentary "14 Children and Pregnant Again," but it quickly grew into much more. The reality is that at the time, the popularity of this special actually exceeded all expectations, leading the Discovery network to take an interest in them as not just a developing group but also a deeply religious one. As a result, practically every part of their lives was afterwards televised, including the former's romance with Derick, which was featured in the 2008–2015 television series "19 Kids and Counting."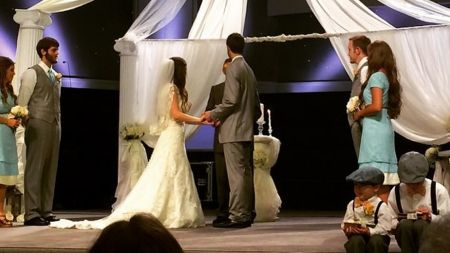 Derick was open in the Amazon docuseries, saying, "We're from the same area in Northwest Arkansas, but we never met each other growing up." "I had actually been in touch with Jim Bob [Jill's father] about being a prayer partner of mine because I was about to fly to Nepal [on a religious mission in 2013]. It is encouraging to know that someone is praying for you. As a result of our growing friendship, he later stated, "Here's the number for my daughter Jill." His future bride chimed in, "[My dad] knew that I was having two dates coming up from two friends setting me up, so he was trying to get his guy in there first, and he won."
Derick was quite literally hand-picked by Jim Bob for Jill, but it's important to recognise that their (chaperoned) courtship made a significant difference in helping them connect on a deeper level. It came out that despite the latter's having grown up in a much more guarded, conservative, fundamentalist milieu, their views on fundamental values, marriage, and religion were perfectly in line. They also came to the realisation that they were both committed to working on local, national, and international missions to combat poverty, illiteracy, and other humanitarian issues.
Jill and Derick made the decision to get married on June 21, 2014, just three months after getting engaged in March 2014. At the time, she was 23 and he was 25. Less than a month later, the couple learned they were expecting their first child, and Israel David was born in 2015, followed by Samuel Scott in 2017 and Frederick "Freddy" Michael in 2022. And as depicted in the Prime Video original production, having this family is what finally caused the Dillards' entire attitude towards the Duggars as well as TLC/reality television to turn for the better.
Although Jill and Derick freely said they didn't want to, they were compelled to do so by the terms of the contracts they ostensibly had no control over for their TLC spin-off series "Counting On." Then, when they attempted to receive payment for the same, they were informed that her father had previously received payment; however, Jim Bob hadn't ever delivered the money to his children before Jill demanded it. The Dillards apparently reached a point where they had to rely on food stamps due to this financial imbalance, at which point they decided enough was enough and left the show to pursue other opportunities.
Where Are Jill and Derick Dillard Now?
Jill's own account claims that while she is proud of many aspects of both her personal and professional lives, she does regret publicly defending her older brother Josh. She was essentially forced to defend him since he had assaulted her, other sisters, and a few young girls while he was a teenager in the early 2000s, but this just came to light in 2015 and threatened to ruin the family's reputation. She was prepared to testify against Josh when he was arrested for child pornography in 2021, which led to the cancellation of both 'Counting On' and '19 Kids and Counting,' but prosecutors obtained depositions from others instead. This nevertheless resulted in the cancellation of both shows.
View this post on Instagram
Regarding Jill and Derick's current whereabouts, they are still living in Northwest Arkansas, where they bring up their children in a worldly yet fervently Christian home. They are no longer close to the Duggars, which is understandable given that they claim there were "red flags" from the beginning but that either no one noticed them or they were simply ignored. The book, titled "Counting the Cost," will be published in January 2024, and it will be written by Jill together with other proud parents, bloggers, and YouTubers.
This book is a memoir that "meant to reflect a story that has been difficult, yet hopeful," according to the couple. The difficulties we have encountered, such as disregard for boundaries, greed, deceit, and betrayal, are not all that dissimilar from those that many of our audience members have encountered. However, more than 15 years of reality television, which is supported by deception and lies, amounts to stoking the flames of our conflict. God has started turning our scars from our wounds because of time, tears, the truth, and therapy. We want to use our voice to demonstrate to others that there is hope beyond the suffering, even though we would never have chosen this route and it has cost us much.
Our Team DCS includes 5 different writers proficient in English and research based Content Writing. We allow them and encourage them to follow the Entertainment news all day long. Our posts, listicles and even the exclusives are a result of their hard work.