'The Great British Baking Show,' also known as 'The Great British Bake Off,' has consistently proven effective in enthralling bakers all over the world due to its fame and allure. As a result, many people were not surprised when they discovered how much they enjoyed learning about Joshua "Josh" Smalley, who made an appearance in the fourteenth season of the British programme available on Netflix. Given how he has dazzled the globe with his prowess with an oven, many are curious about where he is right now. Fortunately, we are here to investigate the same.
Josh Smalley's The Great British Baking Show Journey
Josh Smalley's expertise as a chemistry expert undoubtedly gave him an advantage in some of the more delicate areas of this culinary art, given how many people believe baking to be a very precise science. He entered the British series with the goal of fusing his passions for science, baking, and perfection to produce mouthwatering meals for the judges. The baker pleased many people and was able to carve out a position for himself in the competition thanks to his skills.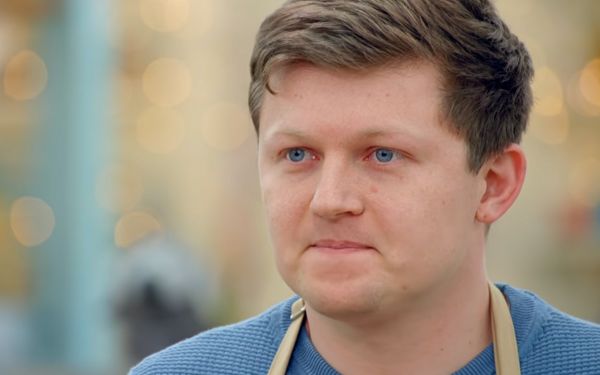 Josh has to finish three different tasks for Cake Week in order to advance to the next round of the tournament. A tropical vertical layered cake that was intended to demonstrate both his personality and his ingenuity served as his Signature Dish for the week. He had to make yet another cake for the Technical challenge, where he finished eighth out of a total of 12 competitors. Even though it wasn't actually the final round yet, there was still one assignment that might quickly change the outcome of the match and decide who would be sent home.
Josh created a "Mum's Highland Cow" Cake in response to the ShowStopper Challenge's request for an animal-themed cake. The dish earned mixed reviews from the judges, and while he wasn't the week's top performer, he managed to stay out of the danger zone and wasn't last on either judge's list. Josh was more determined than ever to demonstrate to the world how he performed his culinary magic after advancing to the second round.
Where is Josh Smalley Today?
View this post on Instagram

Josh Smalley is a multi-interested individual who currently resides in Leicester, England. He earned his doctorate in chemical biology from the University of Leicester in August 2022, and the following month he started working as a postdoctoral research associate. The reality television personality adores playing rugby and has been a member of his local team for more than 15 years. In fact, his coworkers eagerly anticipate Josh's monthly gift of delectable baked pastries, especially following rigorous training sessions.
View this post on Instagram

Josh also enjoys gardening. The student enjoys displaying his harvest and has even won prizes for it, including the September 2023 Swithland exhibition. With Halloween excitement in full swing, his latest crop of enormous and exquisite pumpkins is undoubtedly a testimonial to his abilities in this area as well. Josh, also known as Dr. Christmas, happily announced that one of his recipes is included in the upcoming book "The Great British Baking Show: Kitchen Classics," which will be published on October 17, 2023.