For some people, getting through the excruciating anguish of adolescence is difficult. The protagonist of "No Hard Feelings" is Maddie Barker, a young woman who is on the verge of filing for bankruptcy and is also going to lose her childhood home. When her car is repossessed and she is unable to continue working as an Uber diver, the situation worsens. She searches Craigslist for a solution to her problem and comes across helicopter parents looking for someone to help their 19-year-old son Percy open up before he departs for college.
The titular leads in the coming-of-age sex comedy film, directed by Gene Stupnitsky, are played by Jennifer Lawrence and Andrew Barth Feldman. Maddie discovers that her task may not be as simple as it first appears as she works to understand Percy's pervasive shyness. So, here is a list of films for you to watch if you also liked how a poor woman and a bashful youngster were depicted in humorous conflict. Several of these films, including "No Hard Feelings," are available to stream on Netflix, Hulu, or Amazon Prime.
American Pie (1999)
This cult favourite tells the tale of a group of East Great Falls High School students who strike a deal to lose their virginity by prom night. The group comes up with several plans after realising that losing their virginity as a group would not be that simple. This coming-of-age comedy, which is helmed by Paul Weitz and stars Jason Biggs, Seann William Scott, Alyson Hannigan, Tara Reid, and Mena Suvari, follows the same pattern of humbling humiliation that comes with the anticipated rite of maturity. Therefore, 'American Pie' will be as entertaining if you liked 'No Hard Feelings' for its comic unpredictability.
Blockers (2018)

'Blockers' stars Leslie Mann, John Cena, and Ike Barinholtz as a group of overprotective parents who go to absurd lengths to prevent their daughters from losing their virginity on prom night. The film, directed by Kay Cannon, has a wholesome premise with humorously surprising scenarios that always catch the trio off guard. "Blockers" also tells the tale of overly involved parents who are interested about their children's lives. In other words, if you enjoyed watching "No Hard Feelings" for the upbeat couple of helicopter parents, you'll enjoy this comedy just as much.
Booksmart (1999)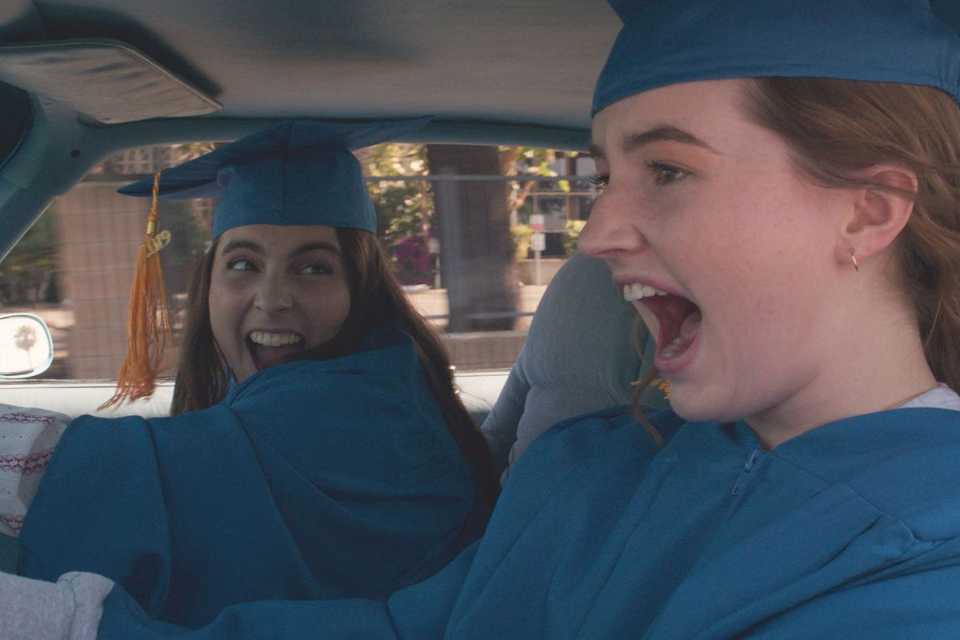 In this comedy, two overachievers in the classroom discover that they did nothing but study throughout high school. Amy and Molly set out on a chaotic trip to try and complete all the socially prescribed high school events in an effort to gain an advantage over their friends and feel the high of youth. This comedy, which is being directed by Olivia Wilde and stars Kaitlyn Dever and Beanie Feldstein, is the perfect film to watch after "No Hard Feelings" since it tells the tale of two high school nerds who want to get out of their shells and try new things.
Can't Buy Me Love (1987)
The titular leads in this classic comedy from the 1980s are played by Patrick Dempsey and Amanda Peterson. Ronald Miller is an ordinary high school student who doesn't have anything to brag about. However, the nerdy and unpopular child suddenly becomes important and prominent when he persuades Cindy Mancini, the popular cheerleader, to become his girlfriend for $1,000. Similar to 'No Hard Feelings,' 'Can't Buy Me Love' tells the tale of a young man who is unnoticed by others until he meets a woman who transforms him into a cool and popular guy. So 'Can't Buy Me Love' is the perfect movie to watch next because it follows a transactional deed, just like Maddie, whose poor financial situation forces her to take on a challenging position.
Just Go With It (2011)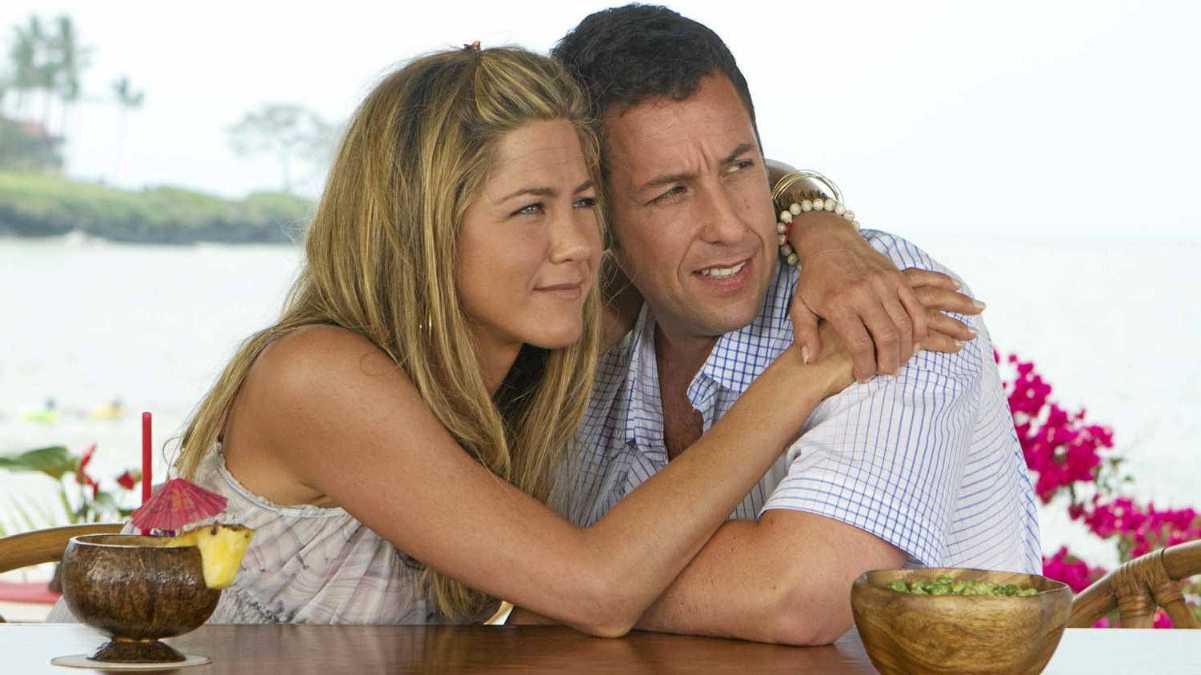 In the movie "Just Go With It," starring Adam Sandler and Jennifer Aniston, Danny Maccabee, a cosmetic surgeon, meets the lady of his dreams only to learn that his good looks and charming demeanour won't be enough to win her over. Danny conscripts his secretary and her kids to pose as his ex-wife and kids in an effort to win her over. The gang discovers that actual feelings cannot be kept buried for an extended period of time as they gradually move from acting to reality. Similar to 'No Hard Feelings,' 'Just Go With It' is based on the idea of a fictitious relationship that develops in a comic plot.
The 40-Year-Old Virgin (2005)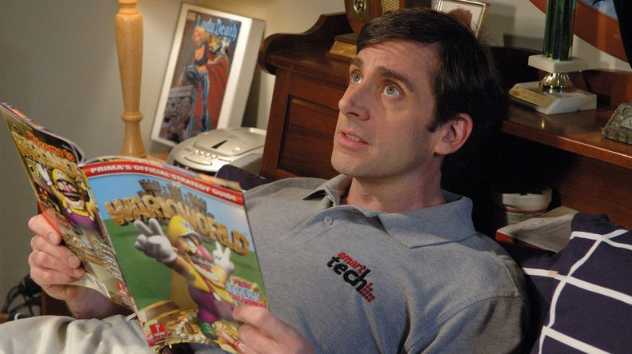 Andy Stitzer is a homebody who enjoys collecting action figures and playing video games in his spare time. His friendly demeanour has enabled him to live a life without friends and romance at the age of 40. He is able to have a flimsy romance with local store owner Trish, nevertheless, when a chill coworker encourages him to do so. 'The 40-Year-Old Virgin' stars Steve Carell, Paul Rudd, and Seth Rogen as a warning that social pressure will always be present, whether you're a grown man or a youngster getting ready to graduate from high school. So, if you liked watching Percy come out of his shell in "No Hard Feelings," you'll like Judd Apatow's masterpiece just as much.
The Girl Next Door (2004)
'The Girl Next Door,' yet another cult classic comedy, tells the tale of Matthew Kidman, a high school student who falls in love with Danielle, a woman who has moved in next door. The movie follows the same trepidations and sexuality exploration that make Percy's experiences in "No Hard Feelings" funny and comical after discovering her former job as an adult film actress. The Girl Next Door, starring Emile Hirsch and Elisha Cuthbert, is the ideal film to see next since it explores the interactions between a geek and a self-assured, attractive lady.
The To-Do List (2013)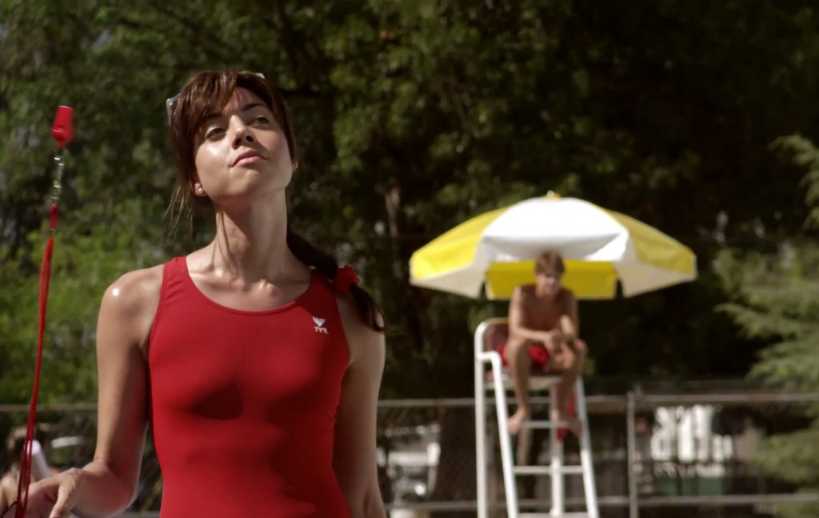 The To Do List, starring Aubrey Plaza, tells the tale of valedictorian Brandy Kark, a high school student whose stiff demeanour has kept her in the minority group throughout her scholastic career. She makes a list of everything she wants to do before heading off to college, including having sex, and sets out on her summer of unrestricted possibilities, only to run into a number of obstacles. The To Do List is a fantastic movie to see after Percy in "No Hard Feelings" because it likewise tells the narrative of a high school student determined to emerge from her cocoon before heading off to college.