Can You See Us, a Zambian coming-of-age drama film on Netflix, is about a little kid who was born with albinism and is directed by Kenny Mumba. Kennedy, Joseph's biological father, rejects the family when Chama gives birth to him because of the boy's unusual features. The episode serves as a turning point in his life as he develops with the support of his mother and Martin, his adoptive father, but also faces criticism from others. Nevertheless, Joseph discovers his affinity for music and sets out on a path to success and pleasure despite the deck being stacked against him.
With real sincerity, "Can You See Us" is a poignant tale about the challenges and triumphs in Joseph's life. Viewers must be questioning if the musician's climb to stardom is real because Joseph's life story depicts such a relevant path and exposes the hardships of minority and disadvantaged groups in society. Let's investigate!
Is Can You See Us a True Story?
Yes, 'Can You See Us' is inspired on a true story in part. The albino musician John Chiti, a well-known modern African musician, served as the basis for the movie's inspiration. His gospel and R&B tunes, such as "Lawyer Wanga" and "Ifindingile," are highly known. As an alternative, the artist is a UN Goodwill Ambassador and the founder of the Albino Foundation of Zambia, through which he campaigns for and increases awareness of other people who were born with albinism.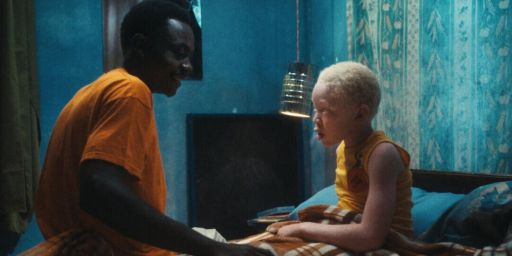 John Chiti, the oldest of a family of six, was born in Copperbelt, Zambia, in 1985. At first, Lawrence Chiti, the boy's father, rejected him, but after Elizabeth Muzuni, the boy's mother, passed away in 1995, Lawrence changed his mind. Chiti grew up with his stepmother before going back to his father's house. He encountered prejudice from his classmates and teachers, which presented him with a number of difficulties at school. Speaking on this, Chiti remarked, "My life was miserable at the time because I was the only albino student at the school. Because of my disability, teachers and my fellow students avoided me. I recall that not even the students could sit at the same desk as me.
Chiti eventually found his true calling in music after joining and taking the lead in his high school band. He acquired a recording contract in 2007 and rose to fame in Africa's music scene, making it an important year for him. As a result, Chiti's life does in fact parallel Joseph's tale as it is presented in "Can You See Us." The movie clearly draws inspiration from Chiti's experiences, despite the fact that it does not accurately portray the musician's life and that it uses its own artistic freedom to some extent at its discretion.
The author additionally worked with the filmmakers as a scriptwriter alongside Lawrence Thompson, Andrew Thompson, and others. Therefore, it's easy to assume that the film draws much of its authentic beats from Chiti's input and first-hand experiences. In addition, director Kenny Mumba emphasised the significance of accurately capturing an albino person's perspective while still addressing the social rejection that person experiences.
This story is incredibly human. And if you're a human being, whether you were born with albinism or not, I believe this is a narrative you can relate to, Mumba remarked in an interview with Miss AJ Tube. In this way, the movie tells a larger story of social injustice and prejudice by highlighting Joesph's setbacks and victories as a member of a marginalised minority.
"It [the movie] really answers those issues about spotting potential in people, about looking past colour and gender and really focusing on someone's capacity to perform. In the same interview, Mumba added, "That we're all members of the human race, and we're not classified in all these other groups we're put in. In the end, "Can You See Us" is based on a genuine story and acquires a sense of realism from its connection to John Chiti's life. However, the narrative's sincerity and authenticity play a big part in how relatable and socially relevant it is in general.