The fantasy adventure series "One Piece" on Netflix tells the tale of a young pirate and his band of misfits as they embark on a grand journey to recover a stolen treasure. Monkey D. Luffy, the story's main character, longs to track down the fabled One Piece and ascend to the position of King of the Pirates. He meets a bounty hunter named Roronoa Zoro along the way, and a thief named Nami joins his company, albeit reluctantly. The programme, which was created by Steven Maeda and Matt Owens, follows Luffy as he grows his team and contends with some perilous enemies. Here is everything you need to know about the series' beginnings if you're interested in learning more.
Is One Piece Based on an Anime?

The Japanese manga series "One Piece" by Eiichiro Oda, which debuted in a Weekly Shnen Jump anthology magazine in July 1997, served as the inspiration for Netflix's adaptation. An anime based on the manga debuted in 1999 and has now produced over a thousand episodes. The series has been tremendously successful because it has also been adapted into films and video games. When Oda first began to write it, he considered finishing it after five years. However, as he continued, the characters began to develop, and he saw he needed to continue writing until the story reached its inevitable conclusion.
Oda's inspiration to write "One Piece" came from his love of manga and his desire to produce a story that he would have enjoyed reading as a child. He claimed that the market at the time had become saturated with tales of heroes and demons, so he set out to create something new. "I desired to create something unique yet relatable. Friendship became a recurring subject for me because I realised how many individuals had supported and helped me get where I was.
He had the idea that he wanted to write about a young pirate, so he instinctively developed Luff's persona and appearance. As the plot developed, he realised he wanted to include more pirates and give each of them a unique narrative and appearance. Additionally, he was concerned with providing female characters deeper arcs since he didn't want them to exist "just to be rescued." I refrained from writing a tale about women being abducted and rescued. I show strong women who can stand up for themselves and don't require saving. Their shipmates will aid them if they ever find themselves in a situation where they are outnumbered, he continued.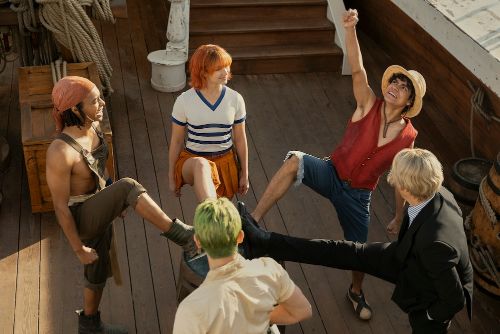 Oda wanted "One Piece" to be made into a live-action film because of its success and appeal across several platforms, but he didn't believe it was feasible until he watched "Shaolin Soccer" and understood that technology could assist produce a true adaptation. A live-action version has been promised on numerous occasions over the years, but none have come to pass until now. When Netflix was given the opportunity to adapt "One Piece," they made the decision to not proceed without Oda's consent. The streaming service didn't want to make the same mistake of disappointing the fans as they had with the unsuccessful adaptation of another well-known manga series, "Cowboy Bebop."
Having Oda involved in every choice they made along the road was the only way to be sure they were heading in the right direction. In order to make sure the material was being adapted properly, he "read the scripts, gave notes, and acted as a guard dog." To make sure everything, including the necessary adjustments to the script, was done correctly, he was involved in post-production and the casting approval process.
Ever since the beginning of our partnership with Eiichiro Oda, we have been working closely to bring the ONE PIECE live action to you — we welcome everyone to this adventurous world! pic.twitter.com/Woki8YZ27H

— Netflix (@netflix) May 4, 2023
Steven Maeda and Matt Owens, the creators of the show, wanted to create something that, "when you looked at the show, you thought this was a live-action version of the manga that just felt like another feather in the legacy of Oda." Although they attempted to remain as true to the source material as possible, some adjustments had to be made in order to condense the first 100 chapters of the manga into an eight-episode season. They made sure to do right by the Luffy fans who have been invested in his narrative for so long and to deliver something thrilling to the audience that will be hearing this story for the first time by getting Oda's approval for everything.