Oliver, Charles, and Mabel team up for the third season of "Only Murders in the Building" to investigate yet another intriguing murder case. While trying to revive his Broadway career in season 3, Oliver suffers a serious setback when his lead actor, Ben Glenroy, is killed in the Arconia. In the third episode, while Oliver tries to save his play by making it into a musical, Charles and Mabel look for the murderer. However, Mabel's run-in with a missing person yields a crucial piece of information. Here is everything you need to know about the conclusion of 'Only Murders in the Building', season 3, episode 3, in case you're curious in what Mabel discovers and what it implies for the team's investigation! Spoilers follow!
Only Murders in the Building Season 3 Episode 3 Recap
Oliver begins the third episode, "Grab Your Hankies," by composing music for his production in an effort to persuade Donna and Cliff Demeo to support his adaptation of "Death Rattle." While looking into Ben Glenroy's murder, Charles and Mabel begin work on the new season of their podcast. Oliver offers Donna and Cliff "Death Rattle Dazzle," a musical adaptation of his murder mystery drama. Donna, though, is not persuaded and declines to contribute any additional funds to the performance.
To persuade Donna that the play can function as a musical, Donna advises that Oliver create an electrifying musical number. Charles and Mabel come to the conclusion that the crew member who is missing the handkerchief Ben gave them is probably the murderer. Charles makes the decision to check the crew's handkerchiefs as Mabel looks about Ben's penthouse for more information. But Tobert, the documentary filmmaker, is also caught by Mabel sneaking into the flat to get his gear.
Charles seizes the chance to persuade his employees to bring handkerchiefs and use them to make a tribute for Ben as Oliver gathers his team for the musical play rehearsal. When Oliver begins rehearsing, the cast is not supportive of his idea for the musical adaptation of the murder mystery play. When Loretta, who had been absent from the practise, finally shows up, she confesses that she had gone to an audition for a significant network television programme. Oliver receives assistance from Loretta in writing the musical's anthem. When Dickie, Loretta's new agent, reveals that she has been cast in the musical, things get sticky. She must, however, relocate to Los Angeles from New York.
In order to keep Loretta from quitting his play, Oliver upholds the terms of her contract. Both Mabel and Tobert are aware that they are deceiving one another. They each have different goals in mind as they search Ben's flat. At some point, Tobert says he left behind a flash drive with video from the night Ben died. Ben Glenroy, a well-known actor, was murdered by Gregg, his biggest fan, according to Tobert, who wants to tell the tale using the video from his documentary. Mabel, however, persuades Tobert that Ben was killed and steals his flash drive in order to look for hints regarding the real murderer.
Only Murders in the Building Season 3 Episode 3 Ending: Were Ben and Kimber Together?
After deciding to collaborate and unravel the mystery behind Ben's death, Mabel and Tobert examine the flash drive together in the episode's climactic scene. On opening night, just before the actor took the stage, someone is seen on the flash drive's video footage in Ben's dressing room. Additionally, it appears from the chat that Ben is speaking with someone with whom he has had a love relationship. In the meantime, Loretta makes the decision to go to Oliver's play practise and performs the captivating song she wrote with Oliver.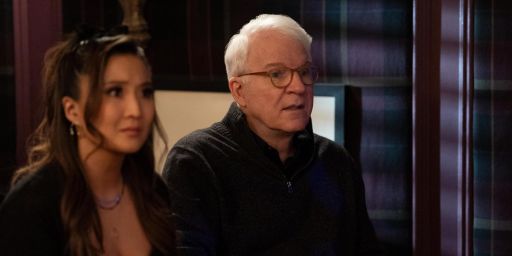 The song persuades Donna and Cliff to support Oliver's team and the play's revised version. They therefore approach the play with increased enthusiasm. In addition to declining the part in the new series, Loretta decides against relocating to Los Angeles. She is grateful that Oliver found her and wants to support him in realising his playwrighting goals. As a result, Oliver and Loretta confess to having feelings for one another and kiss. Charles, on the other side, uses the handkerchiefs to assemble Ben's monument.
However, he notices that Kimber's handkerchief is missing, which supports his and Mabel's hypothesis that the teenage TikTok celebrity was responsible for Ben's passing. Ben apologised to Kimber for making things difficult between them after being revived, hinting that they were hooking up. The video on the flash drive and the lost handkerchief give some indication that Ben and Kimber's relationship deteriorated before Kimber killed Ben. Kimber is presented as the main suspect in Ben's killing by the episode's conclusion, but Charles and Mabel will need to conduct additional research and gather hard evidence to establish Kimber's guilt.
Our Team DCS includes 5 different writers proficient in English and research based Content Writing. We allow them and encourage them to follow the Entertainment news all day long. Our posts, listicles and even the exclusives are a result of their hard work.