Despite the fact that Raised By Wolves' debut season did not attract a large audience when it premiered on HBO Max in September 2020, the cerebral sci-fi drama nonetheless attracted enough viewers to warrant a renewal.
Raised By Wolves is a film directed by Ridley Scott and written by Aaron Guzikowski, who also wrote Prisoners. It is set in the 22nd century and follows two androids, Mother (Amanda Collin) and Father (Abubakar Salim), who are tasked with raising a group of children on an uninhabited planet called Keplar-22b after Earth is ravaged by a war between militant atheists and the Mithraic religious order. However, things do not go as easily as the robotic parents had intended, as they must protect their children from the numerous predators that lurk above and beneath the planet's surface.
Here's all you need to know about Raised By Wolves Season 2 if you're interested in continuing this epic adventure of intrigue and introspection.
Watch the Trailers For Raised By Wolves Season 2
Before the HBO Max adaptation of Denis Villeneuve's Dune, a teaser for Raised By Wolves Season 2 appeared, indicating that the show would return in early 2022.
On December 3, 2021, HBO Max released a new teaser, this time with a more concrete release date of February 3, 2022.
On January 13, 2020, a full-length teaser was released, providing viewers the most in-depth look at what to expect from the following season.
When Is Raised by Wolves Season 2's Release Date?
Raised By Wolves Season 2 will premiere on HBO Max on February 3, 2022.
Who Is in the Raised By Wolves Season 2 Cast?

All of the main characters from Season 1 of Raised By Wolves will return for Season 2, including Amanda Collin (A Horrible Woman), Abubakar Salim (Jamestown), Winta McGrath (Doctor Doctor), Niamh Algar (Wrath of Man), Travis Fimmel (Vikings), Jordan Loughran (The Infiltrator), Felix Jamieson (Game of Thrones), Ethan Hazzard (Girl/Haji), Aasiy (Narcos).
Peter Christoffersen (When the Dust Settles), Selina Jones (Fragments), Morgan Santo (The Watch), James Harkness (Spencer), Kim Engelbrecht (The Flash), and Jennifer Saayeng are among the newcomers to the cast (Cursed).
Who Are the New Characters in Raised By Wolves Season 2?

Cleaver will be played by Peter Christofferson, an atheist soldier and combat veteran who has committed to protect a supercomputer.
Grandmother, an omnipotent robot developed on Kepler and who has lived on the planet for hundreds of years, will be played by Selina Jones.
Vrille, an unstable android clone of a long-dead human lady named Vrille Pell, will be played by Morgan Santo.
Tamerlane, a rebellious atheist infantryman who isn't happy about sharing Kepler with the Mithraic inhabitants who have already colonized the planet, will be played by James Harkness.
Decima, played by Kim Engelbrecht, is a vicious weapons engineer who still bears some remorse for the horrific things she's done on Earth.
Nerva will be played by Jennifer Saayeng, an agnostic who has a soft heart for children having losing her own on the journey to Kepler.
How Many Episodes Does Raised By Wolves Season 2 Have?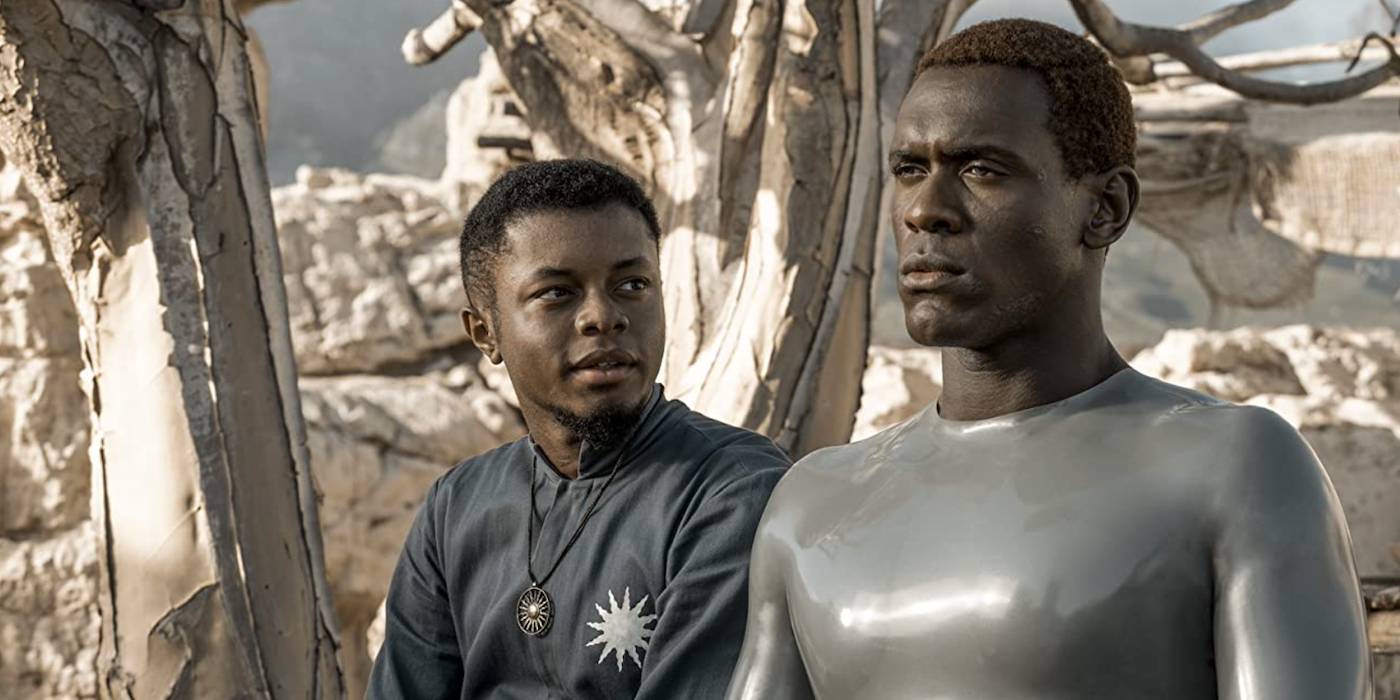 Despite the fact that the first season of Raised By Wolves had 10 episodes, Guzikowski told Collider's Adam Chitwood in October 2020 that Season 2 would most likely contain eight:
"It remains to be seen, but it was always going to be 10 for Season 1. Season 2, we'll see. It could potentially be eight, but we'll see. Eight or 10. I think eight is the new 10 now is what I'm hearing for streaming… I think eight is enough."
When and Where Was Raised By Wolves Season 2 Filmed?
Season 2 of Raised By Wolves began filming on March 8, 2021, and ended on August 15, that same year. Despite the fact that Raised By Wolves was once again shot in South Africa, Guzikowski revealed that Season 2's filming sites were changed to match the show's extreme change in scenery:
"The one thing I can say is that Season 2 will take place in a very different region on the planet. So a lot of the lessons that I learned in [physically making] Season 1 won't even apply. So it's kind of like I've been in California in Season 1, and now I'm going to Michigan for Season 2. The climate is very different, and the geography and all that good stuff."
This "other region" is most likely referring to the tropical zone, which was discussed repeatedly throughout the first season. The trailers even reveal a location that appears to be far more lush and friendly than Season 1's harsh and dismal wastelands. Of course, that doesn't rule out the possibility that Mother and her offspring will be confronted with whatever hazards the tropical zone has to offer, but what those risks are remains to be seen.
Will Episodes of Raised By Wolves Season 2 Be Released Weekly or All at Once?

The first three episodes of Season 1 of Raised By Wolves were all released on the same day, with further episodes being uploaded to HBO Max two at a time until the finale. There's no word on whether the same strategy will be used for Season 2, but if Guzikowski's claim about the shortened episode count is correct, HBO Max will likely release the season's first three episodes on the same day before releasing only one new episode per week until the finale, rather than two, as the streaming service does with its Peacemaker series.
What is the Story of Raised By Wolves Season 2?

The following is the plot synopsis for Raised By Wolves Season 2:
Mother (Collins) and Father (Salim), together with their brood of six human children, join a newly founded atheistic colony in Kepler 22 b's unknown tropical zone in season two of RAISED BY WOLVES. But navigating this odd new society is only the beginning of their difficulties, as Mother's "natural child" threatens to wipe out the human species.
The huge levitating space snake that Mother gives birth to in the season finale is most likely this "natural child."
Marcus, an atheist-turned-religious zealot who believes he is hearing the voice of Sol, the Mithraic sun god, is another returning threat. Guzikowski said the following when questioned about the character's journey in Season 2:
"He's gone as crazy as one can go. So the question is where do you go from there and then what's the next step? He's kind of been broken down to nothing. He grew up on Earth as a child soldier. He was completely powerless and he got to this planet and suddenly he was hearing a voice and everyone was worshiping him and he lost his mind, essentially. And in the process, he's kind of been broken down into his most essential elements, as it were. So I think in Season 2, we're going to see a sort of rebirth, as it were. He's going to kind of redefine himself in Season 2."
Guzikowski also hinted that in Season 2, we'll discover more about this mystery voice. Perhaps we'll learn more about the devolved humans and strange visions from the previous season.
Our Team DCS includes 5 different writers proficient in English and research based Content Writing. We allow them and encourage them to follow the Entertainment news all day long. Our posts, listicles and even the exclusives are a result of their hard work.