A saree looks stunning on every occasion, whether it's a wedding or a religious ceremony. Even if it's tough to handle, the outfit exudes elegance. When recorded in a photograph, it appears to be breathtakingly lovely. When you strike a beautiful pose, the photo's beauty doubles since only then will the graceful style of your style be visible.
Because sarees aren't often won, you might want to consider various positions to capture some enticing saree stills. In this article, I've gathered a collection of saree poses that will help you improve your posing abilities.
Let's get down to business. Your sense of style isn't limited to your attire. But it also includes how you handle yourself in images that will last a lifetime. You must be skilled when posing for shots, especially when the frenzy of Instagram and Facebook is at its zenith.
You can't afford to let yourself down in front of your friends, families, and other well-wishers who are following you on all social media platforms. Let's talk about how to pose in a saree today. If you're a selfie-obsessed fashionista, you should know that it's difficult to capture the elegance of a saree in a widely used close-up selfie image.
To catch the entire drape without losing any details, you'll need a helping hand or a mirror. Don't do your saree shots by yourself if you have a friend or sibling who can shoot a perfect full shot. By all means, enlist the assistance of others. There's no need to panic if you don't have any. To catch the full magnificence of your saree style, find a suitable full-length mirror. If you don't have access to a large mirror, utilize the timer functions on your phone or camera to take the shots.
Of course, taking a satisfying photo using the last option takes a lot of patience, but you have to do it if you want a comprehensive picture of yourself!
Girls' Floating Pallu Saree Poses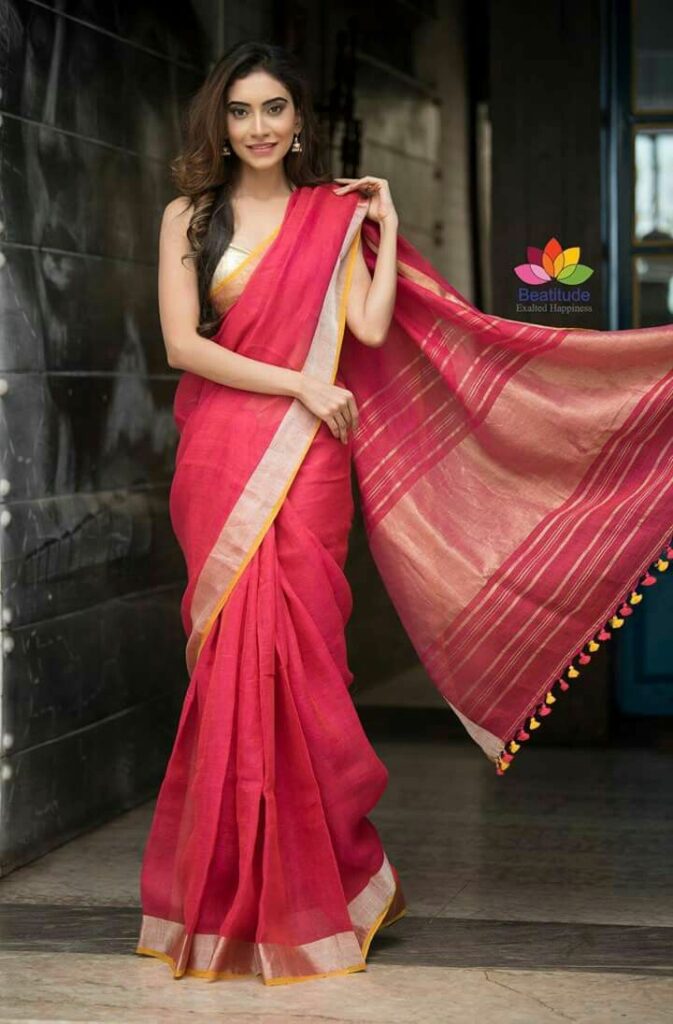 You'll need a fan to assist you float your saree in this stance, as well as a natural grin. You may also match it with a great hairstyle or keep it messy for a more natural effect. Make sure your pallu is beautifully arranged.
Bengali Saree Poses with a Slightly Downward Look
The saree is all about grace. To achieve this look, you must glance down with elegance, as if you are interested in something. You can click it while standing or sitting because it works in both cases.
Displaying Plate Poses on a Saree
To show off your saree plates, stand upright or sit with your legs crossed. And a lovely smile will get all the attention you desire. This is one of the most basic positions.
The Ideal Girl Saree Poses For At-Home Girls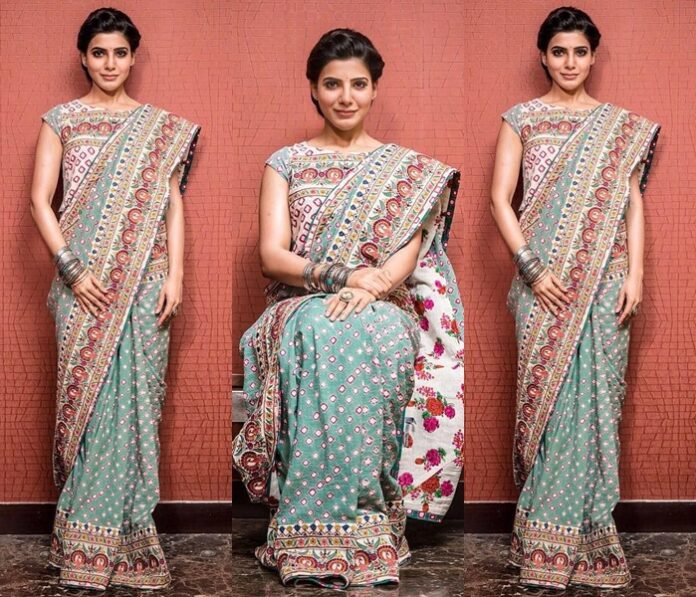 There are countless ways to model sarees. A basic yet exquisite girl pose, on the other hand, will never go out of style. A little smile combined with a basic sitting stance will give you the perfect feminine look. Check to see if your background matches your saree.
Photoshoot Pose With A Traditional Saree
Keeping things simple might sometimes help you get the desired aesthetic. Simply pose gracefully near a large closet for a simple yet stylish saree shot. Your click is positioned right with a small bend or side pose and a natural smile.
Saree Pose With Mirror Reflection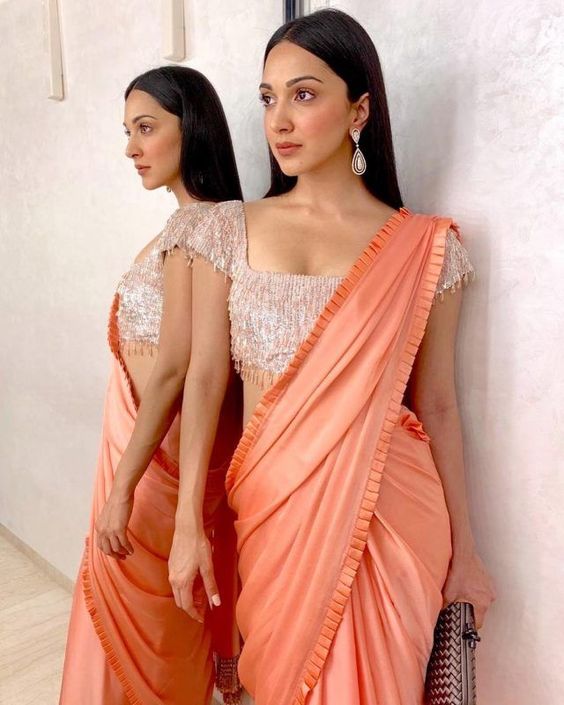 The use of mirrors for saree poses is becoming popular these days. When you don't have any appropriate properties f or your home photoshoot, mirrors become your ideal solution. Leaning against the mirror without gazing at your reflection is a beautiful way to achieve this pose. Make sure the photographer doesn't ruin your photoshoot.
Half-Saree Poses: Standing Straight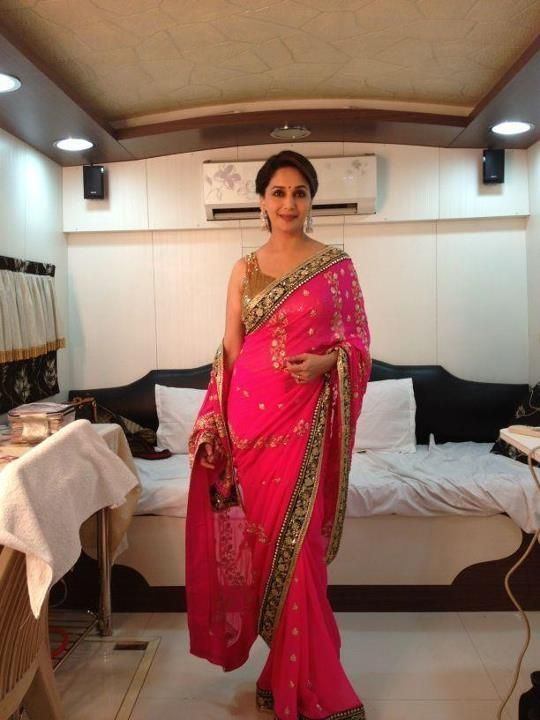 The most basic saree position at home is the straight pose. There are no properties required for a straight position. It does, however, take a certain amount of self-assurance to appear stunning when you're not holding anything. Look at the camera and keep your posture straight with your hands on your waist when posing in the straight style. You're done if you keep your chin down a little and smile strangely.
Play With Pallu Saree Poses For Girls No. 8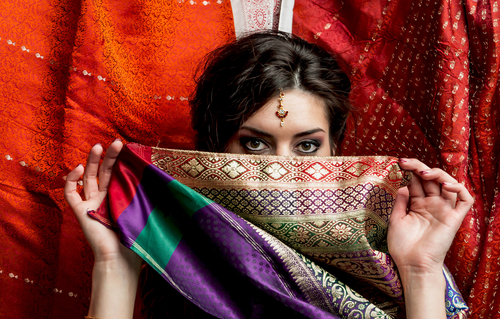 Do you have trouble deciding what to do with your hands when you're posing in a saree? Play with your pallu when posing for shots at home to appear more natural. This allows you to effortlessly achieve another iconic saree position.
Saree Bend Down Poses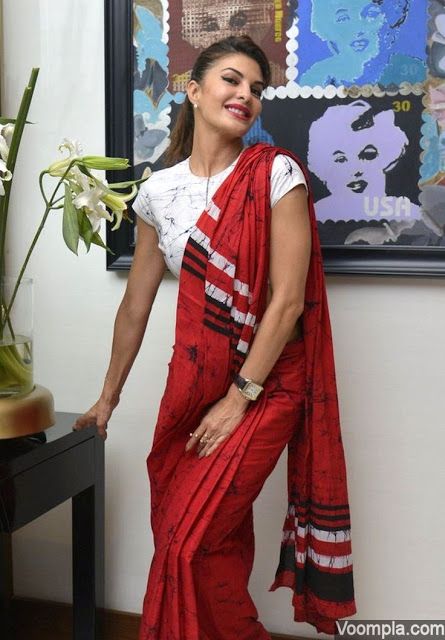 Instead of standing firmly, you can bend down a little towards the front to make your saree position more fascinating. It will give your shot a bit of zing.
The Relaxed Saree Pose For Photoshoot is number ten.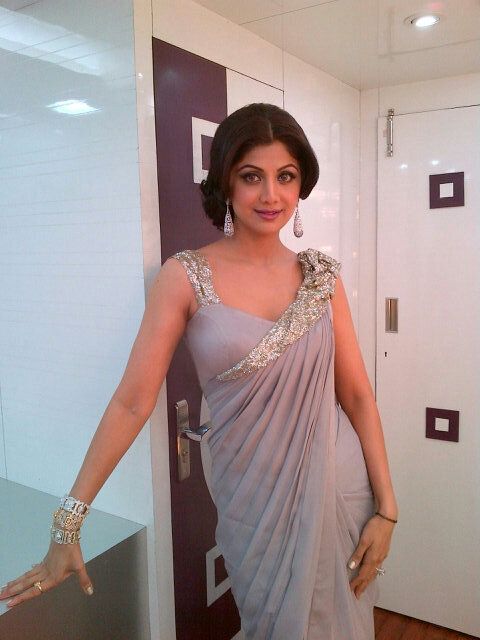 When posing for saree shots, it's important to have a calm demeanor. With one hand on your waist or thighs and the other on a side table, you can stand carefree. The lesser-known relaxed pose has many fashionistas swooning.
Nauvari Saree Poses in Light and Hues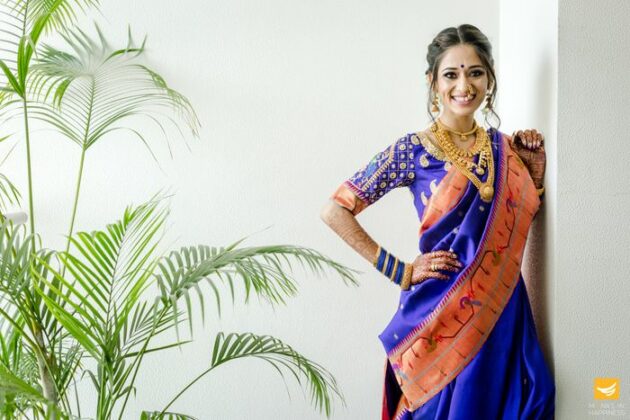 You might also acquire a flawless photo by using a perception trick. All you have to do now is experiment with the colors. It will stand out if you wear a light-colored suit against a dark background. It would elevate your saree posture to new heights.
For a photoshoot, use traditional saree poses inspired by nature.
If you like brightly colored sarees, you should let nature speak for itself in your next photograph. The wooden furniture in your garden would be an excellent touch to give your photos a more artistic sense. A natural location with a green background is a terrific way to go.
Poses for a Mystery Magic Half Saree
Playing with light might help you create an excellent saree position for your home photography. If you have light shining on your face, look away from the camera with an intense glare. It has the potential to create a lovely atmosphere.
For Girls, The Diligent Diva Saree Poses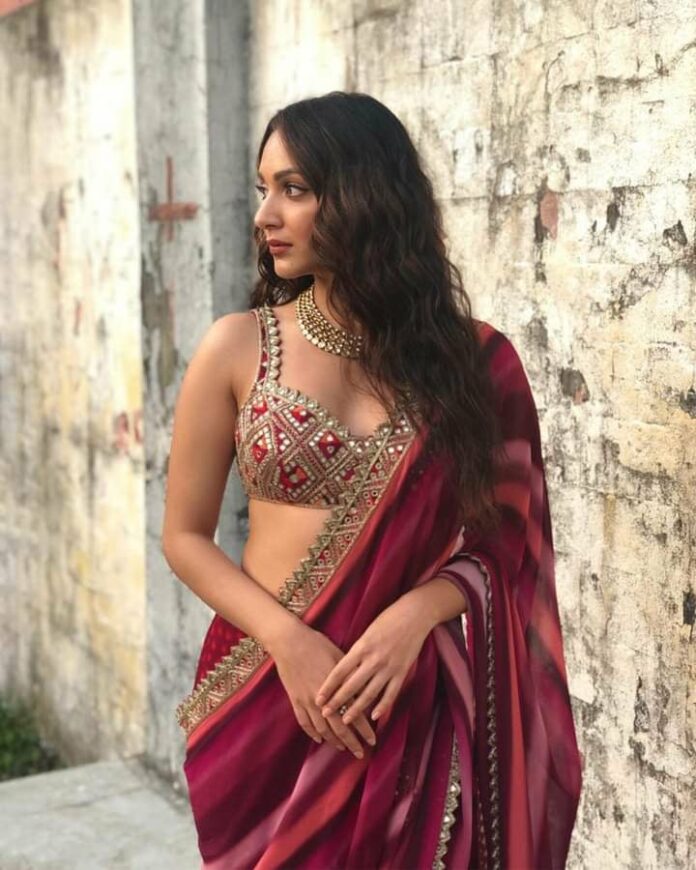 If you want to do close-up poses in a saree for your next photograph, you should surely try this dedicated diva position. Simply avoid making eye contact with the photographer to achieve the ultimate diva appearance. Like a boss lady, strike this position.
Establish Your Curves Pose for a Photoshoot in a Saree
Your curves would be highlighted in sarees. Simply bending a little to emphasize those curved features can make you look as attractive as ever. Make sure there's enough light and that you're smiling.
Photoshoot Pose With Confidence In Traditional Saree
If you're wearing a vibrant saree, don't forget to flaunt your sass. You must stand confidently in order to achieve a strong saree position in a photo session. You're good to go if you feel like you can dominate the world. Don't let anyone weaken your resolve.
Saree Poses For Girls At Home That Are Royal And Regal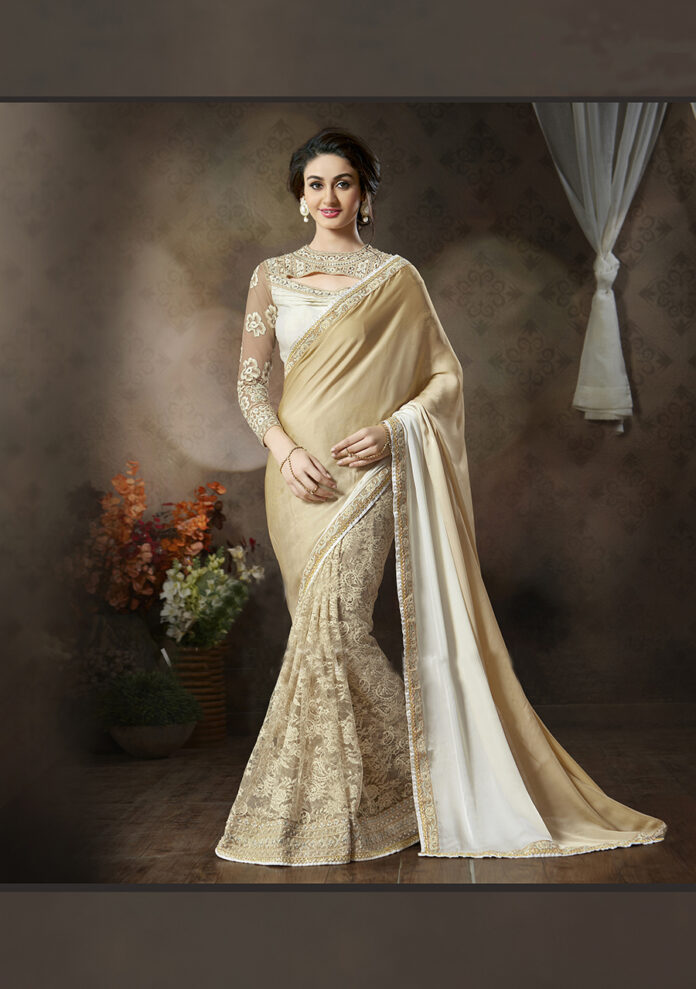 When you have an expensive saree, it is imperative that you flaunt it. Wear your intricately designed saree like a queen. It will work wonderfully for your shot, whether it is a standing or backward stance.
Nauvari Saree Poses That Are Calm And Cool
Gone are the days when girls had to be shy in front of the camera. Allow your hair to hang down or wrap it into a bun with flowing drapes to seem cool and comfy in this relaxed pose. It's time to take sarees to the next level.
At-Home Color Contrast Saree Poses for Girls
It's a terrific idea to use the color contrast method to make any saree posture look beautiful. Remember to choose a background color that complements your saree properly. Even the most basic stance will stand out with this.
Bengali Saree Poses in Perfect Poise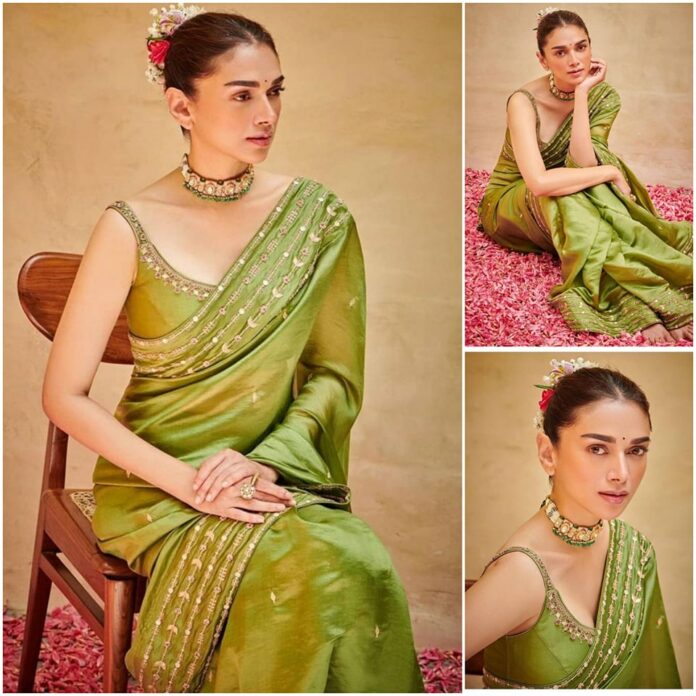 You may go places with a simple and stylish attitude for a detailed saree. Simply sit comfortably or stand straight in front of the appropriate background to create the most attractive photograph. Always maintain a graceful posture.
At Home, Tilt Your Face Saree Poses
For your home photographs, try this easy and classic saree position. A tiny bend in the waist or a slight tilt of the neck can make a huge difference in the quality of your shots. Make sure the photo is taken in a stable leaning position. Also, don't forget about your lovely smile.
Royalty's Sitting Half-Saree Poses
At home, you'd undoubtedly enjoy a unique sitting stance for your saree. It gives you a royal and calm look and makes you feel like a queen. All you need to do now is get a sofa and a nice background. With a seated stance, you'll look much more beautiful in casual picture shoots.
Saree Poses For Girls Leaning Against The Wall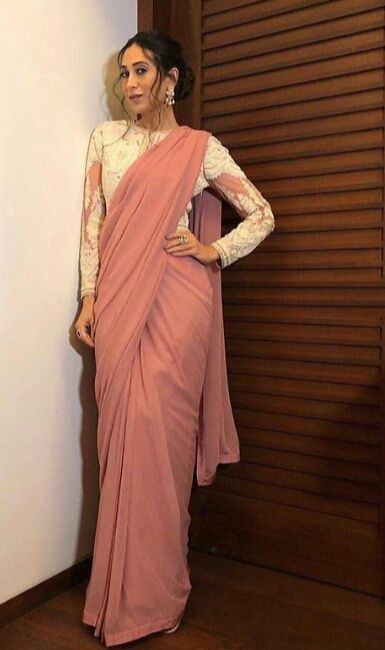 The first step in producing the best saree poses at home is to use your background wisely. Leaning against the wall allows you to play with your earrings or simply keep your hands on your hips. Your images will come out unique and vivid in any case.
For Nauvari Saree Poses, keep it natural.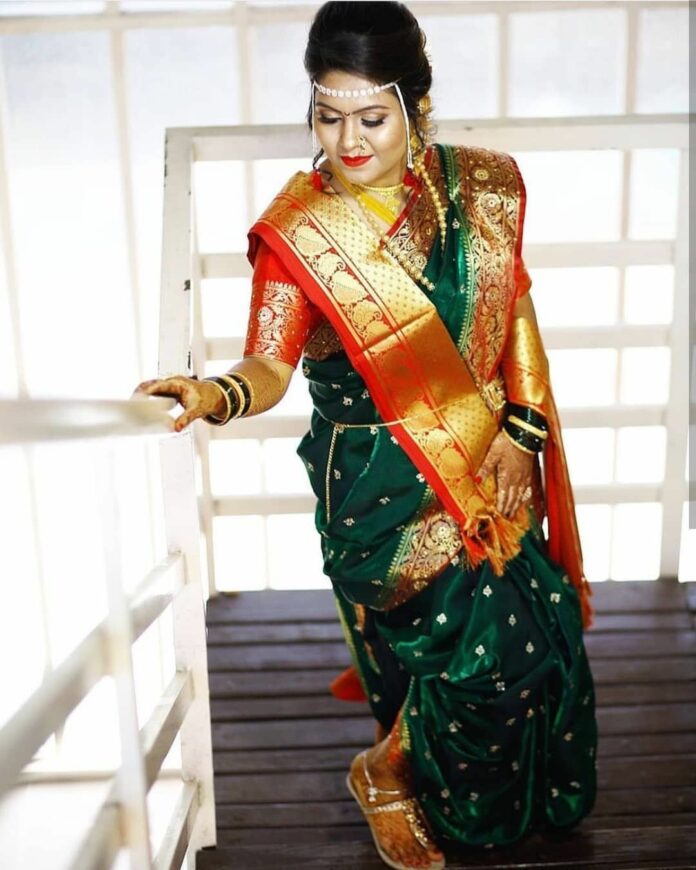 A simple standing position in your garden or walking down the stairs can sometimes make a better pose than some deliberately candid poses. Whether you believe it or not, your finest photographs are always taken when you are at ease and in your natural state.
For Bengali Saree Poses, Showing the Back
The back posture will bring vitality to your photos, whether you're wearing a regular or expensive blouse. With a back posture that emphasizes your oomph factor, the viewers' gaze will naturally be drawn to your curvy back. While standing in front of a wall or curtain, you can reveal your back. Make sure your hair is flipped to the front and the pallu is flowing freely.
Saree Pose Photo for Girls
Posing a Saree in a Simple Way
Keeping things simple might sometimes help you get the informal appearance you want in your photo. So, if you want to look plain yet sassy, simply pose gracefully alongside a large wall or closet, as shown below. Your click can be made right with a tiny bend and a charming smile.
Background and Light Experimentation
If you're wearing dark colors, choose a beige or mild cream background for your images to give them a trendy touch. Even so, black complements black. As shown below, a black background with a bright light on the floor can completely modify your appearance.
Nature and the outdoors will be given a new look.
If you're wearing bright colours that go well with nature, such as green, yellow, or orange, your saree will need to be worn outside to get the best photos. If feasible, use a wooden element in the background (chairs, tables, etc.) to give your images a natural look.
For a highlight, use a contrasting color.
Another technique to make your saree images stand out is to choose a background with a lot of color. Make sure the color you choose is both opposing and complementary to your saree. With such beautiful color in the back, even your default postures can be made to look too good.
Pose of a Perfect Girl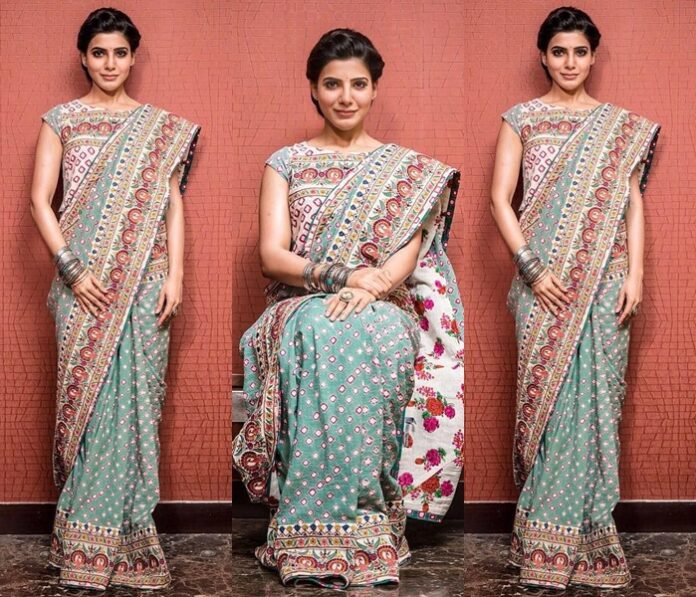 While there are countless ways to pose for sarees, a simple sitting stance and a tiny grin will do wonders for achieving the perfect girl look. Make sure your background matches your saree, as seen below.
The Look of a True Diva
If you want to look classy in your saree images, choose a comfortable bed or couch and avoid making eye contact. Take inspiration from the image below for close-up images of sarees.
To show off the curves, you'll need to bend.
To bring out the finest in your images, sarees that define your structure require a unique pose. If you're wearing a saree like this, strike a stunning pose like the one below. Make sure you have enough lighting to capture the entire scene.
To pique interest, be mysterious.
You can sometimes let the light work its magic on your images. This is especially true when wearing sarees, so go to evening or night celebrations. These sarees typically have a glistening quality that, when enhanced with the right lighting, can look stunning in images. To build the tone for such pictures, provide a secretive gaze or a smile.
Daring to Be Bold
If you want to appear confident and adventurous in your photographs, try the position below. So, if you want your saree photo to reflect your true personality, if you want your photo to speak for you, this is the stance you should use.
For the Expensive Drapes, the Regal Pose
All of your pricey sarees require a professional photograph to capture their full beauty as well as how you appear dashing in them. You'll need a close-up shot in these situations to catch the nuances of your outfit as well as how it makes you seem gorgeous. Make a stance like the one seen below!
Photo of You Looking Cool in Your Saree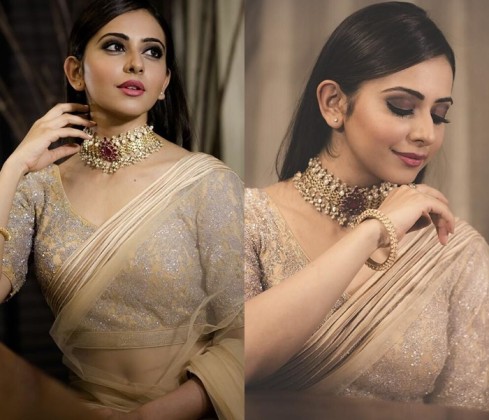 You'll need a cool pose like the one below if you want a calm, comfortable snapshot that you can send to your bestie and get praises on.
Bring out the best in your outstanding sarees and your breath-taking stances to capture the perfect self-portrait that you will treasure forever. Let's prove to them that no one can rock it like a lady! Posing in a saree is a unique ability that can enhance the impact of your images. Remember that even the nicest sarees will not flare well in photos if the background isn't appropriate or you don't know how to carry them in photo shoots.
Also, instead of repeating the same selfie and mirror images, try the new styles we've shown you in the article when you're wearing sarees. Simple posing tactics can actually help you look better in your lovely saree photographs.
Note : Please contact for Photo Credits