Bollywood is notorious for rumors of scandalous relationships and scandals. Raveena Tandon's affairs have also made headlines in the past. Raveena Tandon, a well-known Bollywood actress, has made a name for herself. From her films to his friendship with Akshay Kumar, there have been a lot of headlines. Mr. Khiladi was apparently preparing to propose to her. Her romance with Akshay Kumar, on the other hand, did not survive long after she found him red-handed with Rekha and Sushmita Sen.
Her name has been linked to a number of persons in addition to Akshay Kumar. Rahul Dravid, our renowned former Indian cricket team batsman, was one of the notable names among them. Yes, you read that correctly. In the year 2002, there was a lot of talk about actress and Indian cricketer Rahul Dravid's affair. The story became viral to the point where they are about to marry. Raveen, on the other hand, was taken aback when she learned of this.
Raveena Tandon

The actress admitted that she must have met him once with a friend, but that she knows nothing about Rahul Dravid. In contrast, she was candid about her relationship with Akshay.
Raveena Tandon And Akshay Kumar Relationship
The love story between Akshay Kumar and Raveena Tandon began during the filming of "Mohra." Although the couple was ready to marry, Akshay Kumar's name became associated with Rekha. As a result, their relationship deteriorated and they divorced. However, neither Akshay nor Rekha ever said anything about it. Raveena was candid in the conversation regarding her split.
Raveena Tandon and Akshay Kumar photoshoot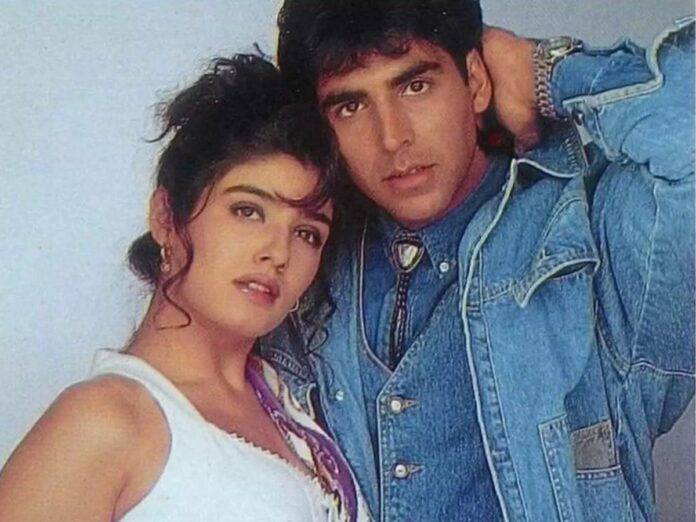 According to the actress, Akshay's connection with Rekha was the catalyst for his split from Raveena. Raveena even claimed to have seen Akshay red-handed with Rekha and actress Sushmita Sen.
Rumor Of Raveena Tandon Dating Indian Cricketer, Rahul Dravid
Rahul Dravid was an eligible bachelor in the year 2002. Perhaps this is why, despite never having met, Raveena Tandon was romantically linked to the cricketer. Many folks were likewise under the impression that they were set to marry. In an interview with Filmfare, the actress, however, rejected the accusations, claiming she doesn't even know him personally.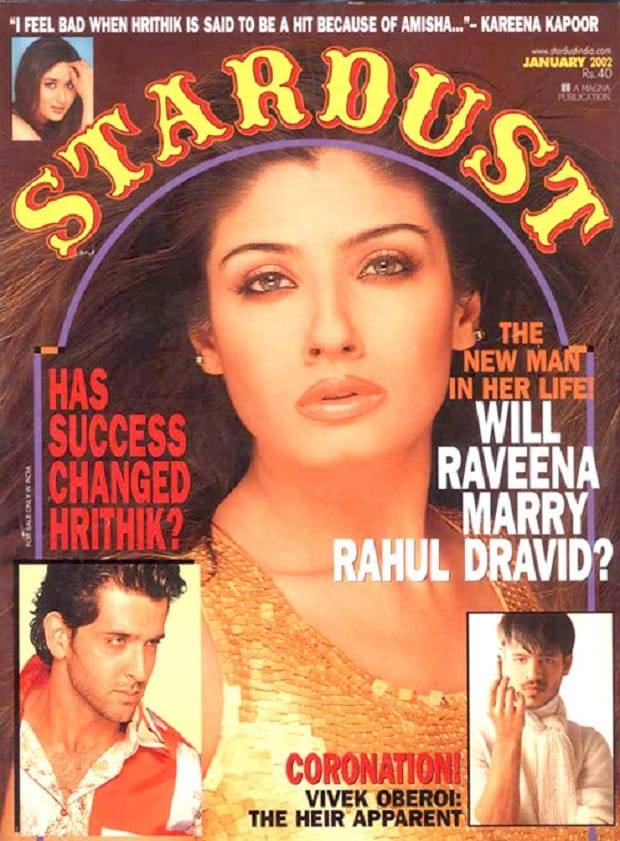 In an interview with Filmfare, she was asked about her suspected relationship with cricketer Rahul Dravid, and she stated,
"For God's sake, he is not even an acquaintance. I would have understood had he been a friend or something." She further continued, "Poor fellow, I don't have anything against him, but it's very upsetting. At the moment I am focusing on my work only."
However, Raveena agreed that she had met Rahul Dravid before. And, also added that she has many male friends in Bollywood and Dravid is surely not one of them. The actress said, "I have met him at functions and there was, as usual, polite exchange of pleasantries. And I go out with friends quite often. He must have been a part of it." She further clarified, "I haven't met him, alone, simply because I don't know him so well. I have male friends like Govinda, Suniel Shetty, and Salman Khan. He doesn't figure anywhere."
Reason Behind The Rumors Of Raveena And Rahul Dating
Raveena was questioned in an interview with Filmfare if she knew the cause behind the notion that she and Dravid were dating.. She said, "I don't know how the whole thing started. Maybe because I am not seeing anybody and he is also an eligible bachelor. People link up when you don't have any remote idea." She explained with another rumor, "Recently, I was linked up with Sandeep Chowta (Music Director), for heaven's sake, I don't even know him. The poor fellow called up the next day to apologize. It's ridiculous."
While finalizing the interview, it was asked if it will be now awkward if she meet Dravid. To which she replied, "To an extent, yes, it spoils relationships, however polite it is. I will try to be normal if at all I meet him, but I don't think I will bump into him." She continued, "Don't you think it's high time to take control of situations? Yeah, I will do that, but it will take another six to eight months for me to properly get into that frame of mind. To stop all this I need to see somebody. But work is my focus now."
Life Of Raveena Tandon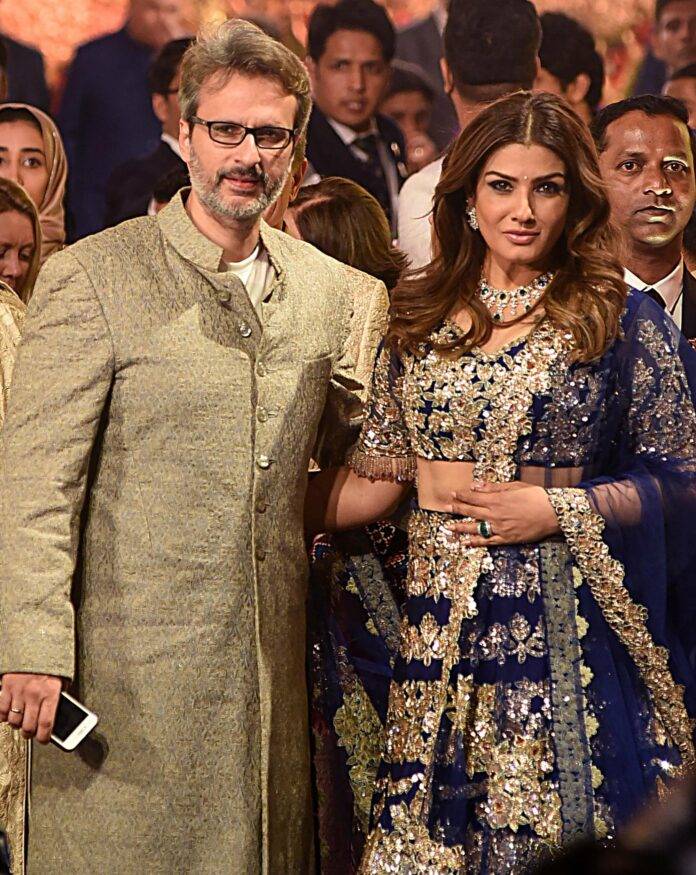 Raveena Tandon made her acting debut in 1991 with the film "Pathar Ke Phool," in which she co-starred with Salman Khan. After then, the actress was unstoppable, delivering smash picture after hit feature. Anil Thadani, a director and distributor, married her in 2004. She was thereafter blessed with three children and a boy. She began by adopting two of the elder girls. She also has two children from this marriage later on. She is the mother of four children and is a wonderful and legendary actress.
Our Team DCS includes 5 different writers proficient in English and research based Content Writing. We allow them and encourage them to follow the Entertainment news all day long. Our posts, listicles and even the exclusives are a result of their hard work.