We all rely on movies and Tv series to give us a break from our normal lives. While some movies give us hope, some keep us in suspense all the time. But what exactly is a suspense film? What distinguishes it from a thriller? Both will get your heart racing, but we'd argue that suspense films also include a dash of dread for good measure. This type of film sits between between thriller, horror, and mystery, filling you up like an uncomfortably long held breath.
If that seems like what you're searching for, we've scoured Netflix for the greatest of them. Those who are easily frightened should proceed with caution — and if you're looking for more traditional thrills, check out our selection of the finest Netflix suspense thrillers.  For those who love to explore such movies, you should definitely explore the best suspenseful movies on Netflix, listed below :
Please note that this post mostly includes latest entries from the list of best suspenseful movies on Netflix :
Awake (2021)
Gina Rodriguez, who played Jane the Virgin on Jane the Virgin, stars in the gripping thriller Awake, which is set after a global event destroys society's capacity to sleep. Rodriguez plays a traumatised ex-soldier who strives to save her family as the world unravels.
A Fall From Grace (2020)
Expect plot twists on top of plot twists in Tyler Perry's A Fall From Grace, a dramatic drama in which Grace (Crystal R. Fox), a lovely, law-abiding citizen, admits to killing her husband, Shannon (Mehcad Brooks). However, a dubious lawyer appointed to the case sets out to discover the truth. The gripping thriller also stars Phylicia Rashad and Cicely Tyson.
AVA (2020)
Do we need more assassins with red hair? Duh. Especially if Jessica Chastain is in the lead. The Oscar-nominated actress plays Ava, a badass trained killer who works for black ops and specialises in high-priority kills. When a hit goes wrong, she is forced to fight for her life and the safety of her estranged family.
Bird Box (2018)
This film, based on Josh Malerman's best-selling novel of the same name, is set in a town where people are compelled to commit suicide if they make eye contact with the manifestation of their worst fears. Malorie Hayes (Sandra Bullock) is determined to find a place of refuge for her two children and goes on a frightening journey while completely blinded. Bird Box is one of the most watched suspenseful thrillers on Netflix.
Dangerous Lies (2020)
Camila Mendes, who starred in Riverdale, plays a destitute caregiver who suddenly inherits her patient's estate—along with sinister secrets that trap her in a web of deception and murder. To live, she must question everyone around her, including those she loves.
Deadly Illusions(2021)
Kristen Davis (Sex and the City) stars in this twisted and erotic thriller. The plot revolves around a best-selling author who employs a young babysitter to look after her children. As the author focuses on finishing her next big project, the barrier between reality and the tale she's writing blurs.
Freaks (2018)
Freaks, starring young actress Lexy Kolker, is about a seven-year-old girl who lives locked away from the rest of the world by her eccentric father (Emile Hirsch). When the young girl begins to explore the outside world, she discovers her hidden secrets.
Fatal Affair (2020)
Best Man actress Nia Long plays Ellie, while Love and Basketball actor Omar Epps plays her old buddy David in Fatal Affair. The two's brief meeting turns terrifying when their reconciliation evolves into an obsession that threatens everyone Ellie cares about.
Gerald's Game (2017)
Gerald (Bruce Greenwood), Jessie's (Carla Gugino) husband, dies of a heart attack during a kinky sex game between a married couple. As a result, Jessie is left tied to a bed in an isolated house with no key. Worse, her history starts to haunt her, and she begins to hear weird voices. Gerald's Game was touted as the best suspense thriller of 2017.
Hush (2016)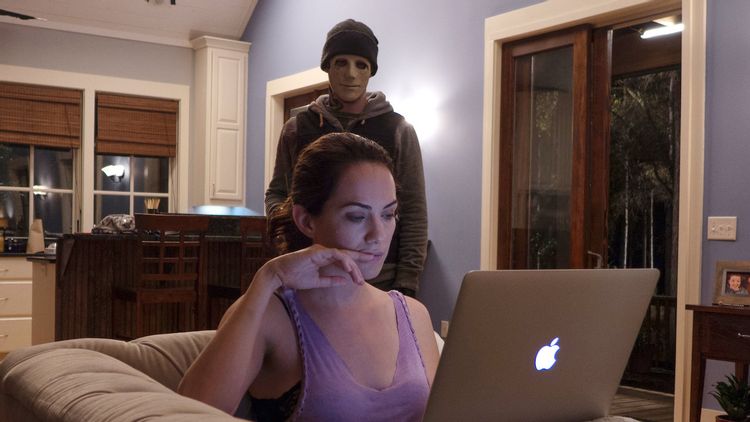 Hush, one of the best suspense Netflix original, is a scary and effective slasher about a deaf author (Kate Siegel) terrorised by a masked home intruder (John Gallagher Jr.). Hush owes a lot to John Carpenter's Halloween [as do many of the best horror films these days] and even more to Audrey Hepburn's Wait Until Dark from 1967, but Mike Flanagan's taut direction and knack for suspense are enough to make Hush stand on its own. It's a suspenseful thriller that delivers exactly what you'd expect from a film like this.
I am mother (2019)
The issue with robots is that you never know what they're thinking. This is a lesson we've been taught repeatedly in the sci-fi genre, and Grant Sputore's future mystery — about a girl raised by a robot in a post-apocalyptic bunker — is no different. The suspense in this one, starring Hilary Swank, Clara Rugaard, and Rose Byrne, begins with the blank, impenetrable gaze of Mother (the robotic nurse in issue), before ramping up when a stranger's appearance raises doubt on the metal guardian's true purpose.
In the Shadow of the Moon (2019)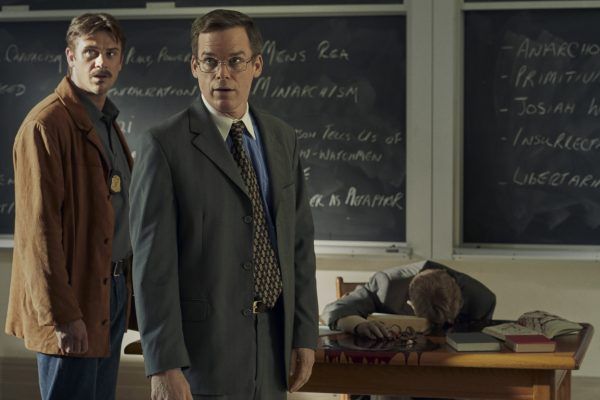 With this underappreciated Netflix original, Jim Mickle's sci-fi crime thriller combines time travel, Zodiac-like levels of obsessive detective work, and a dash of politics. Boyd Holbrook plays a police officer who becomes embroiled in a horrifying series of crimes and finds himself trapped in a cat-and-mouse game that will define decades of his life… and mix him up in some twisted, tragic time-travel saga that could save the country's future. In the Shadow of the Moon is an obsessive crime drama that mostly keeps it low-key despite the high stakes. It has the unfortunate habit of thinking it's more ahead of the audience than it really is, but it's still an intriguing, engrossing, and damn good-looking time-travel saga that's well worth a watch. It is a good watch and definitely deserves a mention in a list of best suspense movie on Netflix in recent times.
Intrusion (2021)
Intrusion is one of Netflix's newest suspenseful thrillers, starring Freida Pinto as Meera Parsons from Slumdog Millionaire. The film tells the narrative of a husband and wife who move to a smaller town, but a house invasion traumatises the wife about her new surroundings.
I Care a Lot (2020)
I Care a Lot is the thriller for you if you want a jaw-dropping, gripping thriller that will leave you dumbfounded. The plot revolves around a shady legal guardian who defrauds her clients for personal gain and traps them in her horrible care. However, a woman she tries to cross has serious consequences. Rosamund Pike from Gone Girl and Peter Dinklage from Game of Thrones star in the film.
Level 16 (2018)
Level 16 is an excellent dark thriller for fans of The Handmaid's Tale. Two young girls discover the reality behind their training at a boarding school that teaches girls the significance of passivity and become motivated to escape.
Nocturnal Animals (2016)
Nocturnal Animals can be somewhat dark, especially when Ray enters the picture, yet the underlying ideas and interwoven plots are superbly executed. If the plotline isn't enough to entice you, know that Ford transfers his visual prowess to the film medium, and the performances of the performers are fantastic.
Oxygen (2021)
As Liz (Mélanie Laurent) battles for survival after waking up in a cryogenic unit, you'll be holding your breath. Before she runs out of oxygen, she needs to know who she is. She has no way out, no memory of what happened, and only 90 minutes to live. Will Liz be able to flee in time?
Self Less (2015)
Damian Hale (Ben Kingsley), a business magnate, discovers he has a terminal illness, but with the assistance of a brilliant professor, he is able to survive by transferring his consciousness into another person's body. However, as he settles into his new life, he is haunted by a series of disturbing images.
Sightless (2020)
You should be terrified of the dark because you are blind. Ellen Ashland, played by Riverdale actress Madelaine Petsch, is blinded in a terrible attack. She becomes sceptical of her surroundings and the individuals she meets as she adjusts to her new life. Sightless is one of the newest suspenseful movies on Netflix and it won't disappoint you.
Secret Obsession (2019)
Brenda Song, a Disney star, plays Jennifer, who is currently recovering from an injury that caused her to lose her memory. As her memory returns, she realises she is in danger as she attempts to return to the normal life she has forgotten.
Synchronic (2019)
Synchronic stars Jamie Dornan and Anthony Mackie as two New Orleans paramedics who come to doubt their own reality after witnessing strange fatalities. The deaths are related to a new medicine that defies time's laws. When the drug epidemic hits close to home, what will the two have to give up to save the people they care about?
Stowaway (2021)
Stowaway, starring Anna Kendrick, Toni Collette, and Daniel Dae Kim, takes you on an adventure as a three-person crew sets out to explore Mars. When an unexpected passenger jeopardises everyone on the ship, the crew is forced to make a difficult decision.
Shutter Island (2010)
Few things are more frightening than the sense of being watched. In Martin Scorsese's Shutter Island, U.S. marshals Teddy Daniels (Leonardo DiCaprio) and Chuck Aule (Mark Ruffalo) visit an island-bound psychiatric facility where not everything is as it seems in search of a patient who has gone missing. The screenplay by Laeta Kalogridis (adapted from Dennis Lehane's novel) is full with intriguing hints and eerie encounters, and this one will keep you thinking until the unexpected climax.
The Clovehitch Killer (2018)
The psychological thriller is loosely inspired on the true storey of Dennis Rader, also known as the BTK Killer. After a killing spree, Rader took a ten-year hiatus before writing police taunting letters that led to his arrest. While The Clovehitch Killer has some predictability, its appeal lies in the cast's outstanding performances and the ominous tone that keeps the audience on edge throughout.
Takers (2010)
Takers is a must-see for everyone who like high-stakes money heists. The late Paul Walker, Idris Elba, Zoe Saldana, Michael Ealy, Michael Christensen, and Matt Dillon are among the stellar cast members. A former associate persuades a crew of skilled bank robbers to take on one final job that could turn out to be one of their largest heists. As the gang prepares to rob an armoured car, a detective and his partner devise a strategy to put a halt to the robbery. Will the group prevail, or will they fail miserably?
The Guilty (2021)
Antoine Fuqua, director of The Equalizer and Training Day, does not disappoint in this plot-twisting thriller. The Guilty, starring Jake Gyllenhaal, follows a demoted police investigator, Joe Baylor (Gyllenhaal), who is assigned to 911 operator duty. Baylor must try to save a caller who is in danger in a single morning, but he soon realises there is more to the storey. This latest suspense movie on Netflix.
The Guest (2014)
The Guest depicts the storey of David Collins (Dan Stevens), a US soldier who unexpectedly pays a visit to the Peterson family. He begins to reside in their home after identifying himself as a friend of their late son, who died while serving in Afghanistan. A sequence of strange deaths occur in their town not long after his arrival.
Till Death (2021)
Megan Fox's comeback is in full swing as she stars in Till Death, a winter survival thriller. Emma, played by Fox, is tied to her dead husband as part of a revenge plan. Things swiftly go from bad to worse when two assassins come after her in search of the job.
The Platform (2019)
With holes in the floor and ceiling, prison cells were stacked one on top of the other. Levels are given at random and change every month. And a food platform that gently drops from the very top, getting sparser and sparser with each floor. This is the idea at the heart of Spanish filmmaker Galder Gaztelu-The Urrutia's Platform, an unsettling sci-fi thriller that wears its capitalist analogies on its sleeve. It's one of those rare diamonds where the execution is as powerful as the basic premise, thanks to a terrific screenplay by David Desola and Pedro Rivero that's dripping with horror and tension. If you appreciate movies like The Cube or Saw, you'll enjoy this.
The Strangers (2008)
The Strangers, a 2008 horror hit, will make you reconsider taking a holiday in isolation. When unexpected guests abruptly interrupt a couple's time together at a quiet getaway home, the nail-biting sensation ensues. The two must survive three mask-wearing assassins. Scott Speedman from You and Liv Tyler from Lord of the Rings star in The Strangers.
Things Heard and Seen (2021)
Things Heard and Seen, starring Amanda Seyfried, is based on Elizabeth Brundage's critically acclaimed novel All Things Cease to Appear. A woman and her family move into a charming farmhouse, but she soon realises that both her husband and her new home are hiding sinister secrets.
There's Someone Inside Your House (2021)
There's Someone Inside Your House is an adolescent film based on Stephanie Perkins' horror novel of the same name. It follows Makani (Sydney Park) and her high school classmates as they struggle to identify and apprehend a masked killer who is exposing students' deepest secrets.
The Call (2020)
Lee Chung-The hyun's Call is a dark, unsettling South Korean mystery that you can't put down. It's not the 2013 Halle Berry film or the vengeance horror film of the same name, but it's based on Matthew Parkhill's 2011 supernatural horror film The Caller. When Kim (Park Shin-hye) visits her family, she loses her phone, then begins receiving strange, distressing calls and discovers a connection to a woman named Young-sook (Jeon Jong-seo). You'll never be able to predict where this picture will go from here, so paying attention isn't an option. This bizarre and terrifying voyage across time and reality is made possible by strong performances, unsettling use of sound, breath-taking cinematography, and a well-woven structure.
Uncut Gems (2019)
To be honest, Adam Sandler was cheated out of an Academy Award nomination for this. He should have won in the first place. In Ben Safdie and Josh Safdie's riveting crime caper about a jeweller who bets the farm on the gamble of a lifetime, the oft-criticized megastar gives his best performance to date. Idina Menzel, Adele Da-no, Idina Menzel, Idina Menzel, Idina Menzel, Idina Menzel, Idina Menzel, Idina Menzel, Masterful Uncut Gems is so exciting that you might have a nervous breakdown. At its core, this is a depiction of an addiction.
Under the Shadow (2016)
Writer/director Babak Anvari's feature debut, an exquisitely crafted and thoroughly unsettling chiller, blurs the line between supernatural terror and the horrors of the real world like few films you'll ever see. Set in 1980s Tehran during The War of the Cities–the backdrop of Anvari's own fear-filled childhood–Narges Rashidi stars as Shideh, a medical student who isbarred from continuing her studies due to her involvement in revolutionary politics.
Velvet Buzzsaw (2019)
If you enjoyed Nightcrawler, you should see writer/director Dan Gilroy's insane Netflix film Velvet Buzzsaw. The film is set in the art world and revolves around a cache of art discovered to have been created by a mysterious and deceased artist. It is part thriller, part slasher. People start dying in gruesome ways once it's on display. The film contains a lot of dark humour, and Jake Gyllenhaal gives a really colourful performance as Gilroy goes for the jugular in the art world.
If you liked this list, we suggest you bookmark it for future, so you won't have to Google every weekend "best suspense movies on Netflix". We ensure you, we'll keep updating this list on a bi-weekly basis. Also check out our OTT  related lists so you know exactly what to watch when you sit-down for an entertaining weekend.