Before you read further be reminded that following Ray movie Review is a personal opinion and not a comment on whether Ray movie is good, great or mediocre.
Anthologies are always under a radar of being compared with themselves and like most anthologies, Ray movie too is a mix of dazzling and mediocre – the standout is Abhishek Chaubey's "Hungama Hai Kyon Barpa". With films like Udta Punjab and Sonchiriya, Abhishek has established himself as the teller of gritty tales. But here he abandons his trademark realism for artifice, elegance and poetry. This not Netflix's first anthology series. We have seen attempts at anthologies before and none of them really stands out.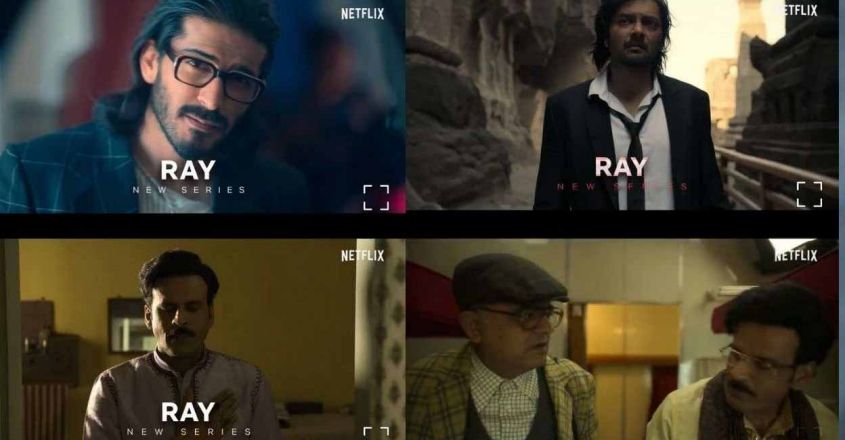 Ray Movie Review :
The title comes from the celebrated Ghulam Ali ghazal, in which the poet Akbar Allahabadi. The story is about a ghazal singer named Musafir Ali, who embarks on an overnight train journey from Bhopal to Delhi. His co-passenger in the compartment, Aslam Baig, seems instantly familiar. As it turns out, the two have an earlier connection. Musafir of course means traveler and fittingly, the pivotal moments of his life take place on a train.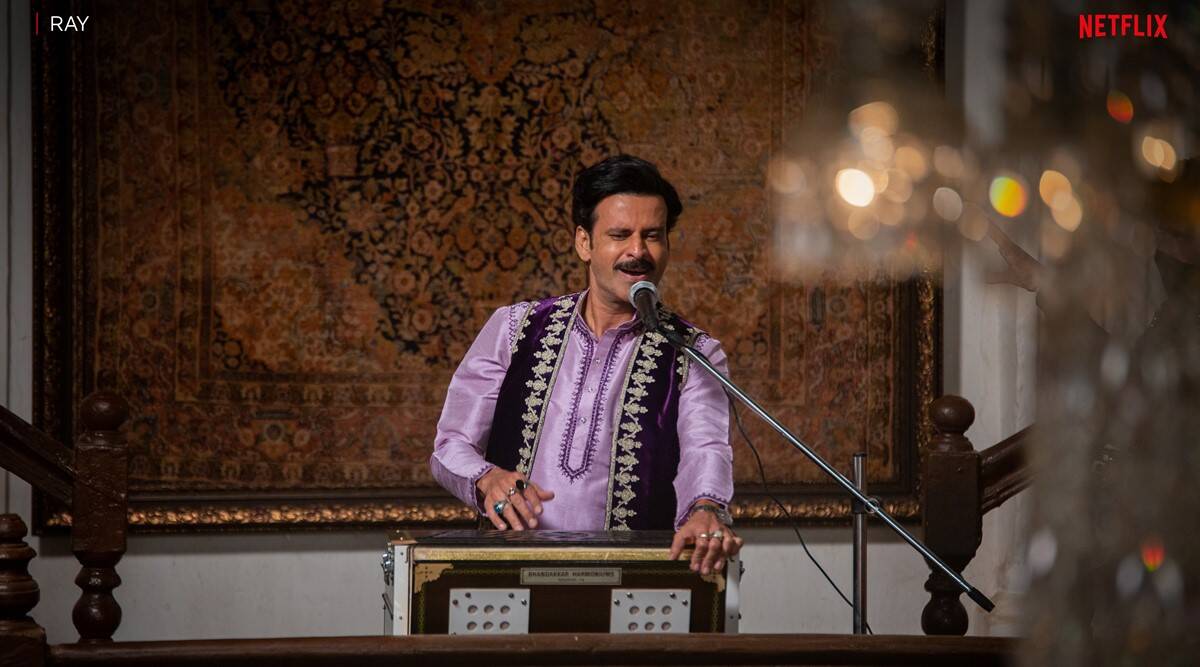 The language used in the story is enhanced by the visuals – in a lovely, fluid dream sequence, Abhishek establishes Musafir's ascent to fame and glory. Production designer Aditya Kanwar, DOP Anuj Rakesh Dhawan and editor Manas Mittal do top-notch work.
 If you're only watching one, make it Hungama Hai Kyon Barpa.
Apart from Manoj Bajpayee and Gajraj Rao as Musafir and Aslam, Raghubir Yadav and Manoj Pahwa also star in this segment of Ray Series. There is a certain romance about stories set on trains, because the journey is at once, literal and metaphorical. The idea of chance encounters with strangers is in itself, thrilling and mysterious. Abhishek taps into this, without letting go of the humor – note the meta reference to Ray's short stories. Each episode in this anthology clock in at about an hour each.
All that glitters is not gold : Ray Series Review
The weakest links in the anthology Ray are the first two films – Forget Me Not and Behrupiya – directed by Srijit Mukherji and written by Siraj Ahmed. Both are about men who slowly become unhinged and lose their connection to reality. The first features Ali Fazal as Ipsit, a ruthless corporate man, who author Tom Wolfe would have classified as a master of the universe.
Forget Me Not is mostly set in swanky offices and apartments. The film opens at a rooftop bar, with a glittering city in the backdrop. Srijit and DOP Swapnil S. Sonawane creates some striking visuals, including a climactic sequence in which the mystery is explained. But it isn't enough to shore up these lengthy stories.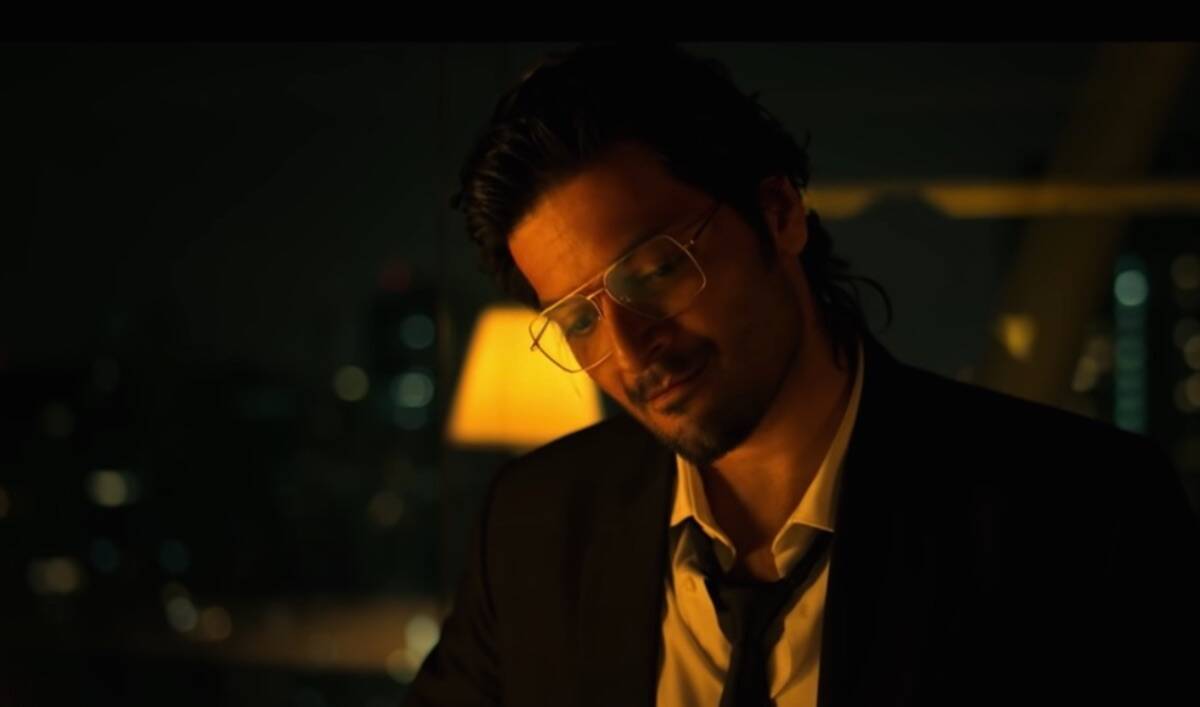 The second features Kay Kay Menon as Indrashish, a timid man who uses his skill at the art of prosthetics and make-up to avenge himself against the cruel world. The actors are both solid, but Srijit's telling is overripe. There's no room for nuance here. Everything is underlined. The ending of Behrupiya is explained  in a confusing way and is left for interpretation.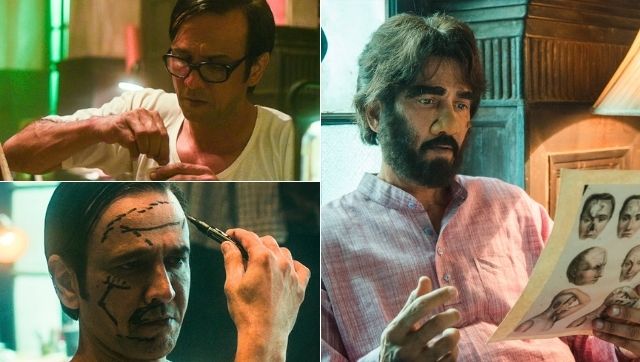 The idea of contemporary directors interpreting Ray's writing is instantly magical, but this anthology is just too uneven to do it justice. The master deserved better filmmaking. We suggest you start with Spotlight, followed by Behrupiya, then Forget me not followed by Hungama hai kyon Barpa in the end.
Ray Bahrupiya Ending Explained  (Spoiler Alert)
A lot of people were left confused after watching the second story, Bahrupiya. We watched it again to understand what might the reason behind the confusion. Below is our interpretation of the ending, Ray Bahrupiya explained.
When Indrashish meets Peer Baba face to face, Baba quickly breaks him down. This motivates Indrashish even more, when he notices a man called Rakesh Singh on TV. He transforms into Rakesh and runs into Peer Baba again. Peer Baba gets to the bottom of Indrashish's background for the second time in a succession, prompting him to establish that he is Rakesh.
Peer Baba cautions him about his actions. Indrashish realises his poor habit has paid off a few moments later. He was unable to get rid of his Rakesh face and will be stuck with it for the rest of his life. To conclude the show, he enters a barbershop and carves his face. He may have perished or been left with a damaged face as a result of his makeup blunders.
If you liked the review of Ray series Netflix, read our other reviews too and show us some love by sharing it on social media.