MTV's "The Real World," which focuses on the lightheartedness of youth and interpersonal connections, features seven strangers who choose to live together. The first season of the show, which debuted in 1992, follows young people as they negotiate friendships, relationships, heartbreaks, and other issues. The programme, which is frequently credited with creating reality television, takes place in a New York loft in SoHo. Many people are interested in knowing what happened to the seven characters from season 1 of "The Real World" after it was released decades ago. Therefore, if you're interested in learning more as well, look no further since we've got all you need right here!
Where is Eric Nies Now?
Eric, who is best known for his beautiful looks, quickly won over the hearts of viewers with his cheery demeanour and interactions with his castmates. Since then, he has had several appearances on reality television programmes such as "The Grind," "Real World/Road Rules Challenge: Road Rules: All-Stars," "I Love the '90s," and many others. The Brady Brunch Movie, Confessions of a Teen Idol, and Days of Our Lives are a few other shows he has been on.
View this post on Instagram
He was confronted with a catastrophic occurrence in 2000 while he was still forging his career as a model and entertainment icon. After three years of hosting "The Grind," a business manager stole $250,000 for him, which caused Eric to also consider suicide. He has dedicated his life to spiritualism ever then.
View this post on Instagram
He founded the nonprofit Moment of Hope, Children of the Rainbow in 2001, and since then, he has discovered several ways to truly be at peace. In addition to studying Buddhism, Eric has chanted with 2,000 monks in the Himalayas, fasted for 40 days in the desert, collaborated with the Shipibo Tribe of Peru, and worked with them. Together with his spouse Penny, he currently runs the health and beauty company Songsaa Hawaii, where they offer therapeutic oils for the body and face and are licenced aromatherapists.
Where is Kevin Powell Now?
Kevin Powell was a vocal supporter of social rights even as a young man. Kevin's position on racism has always been obvious, whether he was reporting on a racially motivated death before arriving at the MTV show or engaging Rebecca in a contentious discussion about it. Kevin joined the VIBE magazine and started his writing career after quitting the show. He wrote about Tupac Shakur, Snoop Dog, and other celebrities here. His work has appeared in numerous prestigious magazines throughout the years, including Esquire, The Washington Post, The New York Times, TIME, BBC, and many more.
View this post on Instagram
'In the Tradition: An Anthology of Young Black Writers,' for example, is just one of Kevin's books. "My Mother, Barack Obama, Donald Trump, and The Last Stand of the Angry White Man" and "The Education of Kevin Powell: A Boy's Journey into Manhood." His prolific output includes poetry, articles, blogs, and even an anthology. The activist has been married twice, is an advocate for civil and human rights, and even wrote a book called "Grocery Shopping with My Mother" as a tribute to his mother.
Where is Rebecca "Becky" Blasband Now?
When she was 24 years old, Rebecca brought distinct perspectives to the MTV reality show than her fellow cast members. Rebecca's time on the show was cut short after a contentious discussion about racism with co-star Kevin Powell, but her brilliant career was still in front of her. Rebecca left the programme once more in 2021's reunion episode, "The Real World Homecoming: New York," amid allegations that she was a racist.
After leaving the programme in 1992, Rebecca followed a career in music and soon after signing with Warner Chappell Music Publishing and Mercury Records, she published her album, "The Rebecca Blasband." Rebecca has supported performers like Chris Whitley and Jon Bon Jovi on tour over the years. Rebecca started creating sound and music for television and movies in California after her record label went out of business. She experimented with scripting and worked with others on the major motion picture "The Strange Case of Wilhelm Reich." Since 'HERE' was released in 2017, she has concentrated on travelling and savouring art, music, and movies.
Where is Andre Comeau Now?
Andre Comeau, a native of Detroit, Michigan, has been the epitome of Generation X. Andre has kept honing his craft as a rock musician, both back then and now. He has appeared in the films "The Metal Summit" and "The Mystic Masseur," in addition to his time on "The Real World." He has performed on numerous tours and created EPs and singles over the years.
View this post on Instagram
He has collaborated with musicians including Steve Dawson, Gary Wicks, and Darren Elphant. Andre is a member of the band River Rouge, which frequently goes on tour. Andre hasn't put his personal life on the back burner despite a busy schedule. Andre, the young girl's father, makes a special effort to make time for his daughter on a regular basis. He frequently updates Instagram with photos from their adventures.
View this post on Instagram
Where is Heather B. Gardner Now?
When Heather arrived at the MTV reality show, she was already a working artist from Jersey. 'The Real World' gave Heather the career break she wanted after she completed a tour. She secured a record deal after quitting the programme, and in 1996 she released her debut album, "Takin' Mine." Heather's music has always served to further the cause of opposing gun violence, and she has always made use of her work for worthwhile causes. Her musical career has evolved over time to include acting and writing as well.
View this post on Instagram
Her acting credits include roles in films such as "Dead Presidents," "Death Wish," "Luke Cage," and "The Wedding Video," which was directed by fellow graduate Norman Korpi. She has made appearances on both radio and talk shows. In addition, Heather has written for the television shows "Turnpike" and "Somewhere Between" as a screenwriter. On the personal front, Heather married fellow hip-hop musician E. Grey in 2001 after meeting him on a tube train. She frequently posts on Instagram about her family and husband.
Where is Julie Gentry Now?
At the time of her appearance on the programme, the aspiring dancer was only 19 years old. After more than thirty years, Julie's life has drastically changed. She is no longer a generous young woman eager to try new things. Julie decided to start seeing Joshua, a young man she had first met in a youth group at the church in her town, rather than continue with reality television at the moment. After being married, the couple moved back to Homewood in 1999, bought a home, and started volunteering in the neighbourhood.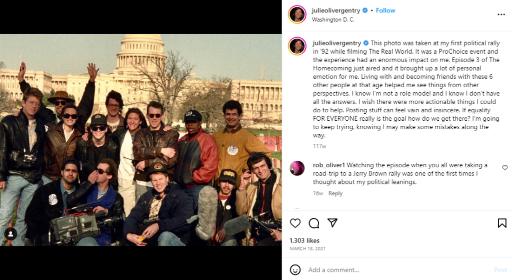 Since then, Julie has managed a community garden while raising two children, a husband, and herself. Through the College Choice Foundation, she encourages young kids as well. She also frequently shares photos of her life on Instagram. Since their reunion in 2021, Julie's castmates have thrown her a surprise birthday party, demonstrating the close relationships they developed years ago even though they have been apart for years.
Where is Norman Korpi Now?
Norman had already started painting murals on buildings when he first appeared on "The Real World" as a young man, and he was even a Presidential Scholar in the Arts. The fact that he was the first openly gay person to appear on reality television, though, made him much more unusual. He kept up his rising trajectory of success after he departed the show. Norman has expanded into commercial design, advertising, production design, and art over the years.
View this post on Instagram
In 1997, he founded Fruit Films, a production studio, and created "The Wedding Video," a parody of Korpi's homosexual wedding. Additionally, Norman had roles in "The Gauntlet" and "Making the Boys." Most recently, he was appointed CEO of Adaptive Origins, a business that uses partnerships to promote new goods. Although Norman is not dating anyone right now, he is still an adventurer who enjoys travelling and posting bits of his experiences on social media.