The box office king right now is Scream VI! The follow-up to the 2022 movie Scream is the sixth entry in the horror series. Courteney Cox, Jenna Ortega, Melissa Barrera, Jasmin Savoy Brown, Mason Gooding, Henry Czerny, Liana Liberato, Dermot Mulroney, and Samara Weaving all have significant roles in the horror movie.
The latest Scream movie centres on a new Ghostface who hunts down those who have survived the "Woodsboro Legacy Attacks." The movie was released in theatres on Friday, March 10, 2023, and it is now doing quite well at the box office.
Fans of the well-known horror series are now interested in learning more about the romantic relationships of the Scream VI cast members. Find out if American actress Samara Weaving is married or single by reading on.
Is Samara Weaving married?
Samara Weaving is a contented wife. The Scream 6 actress and her writer husband Jimmy Warden, according to a Daily Mail article, first met in 2015 while filming The Babysitter.
The two of them kept their romance a secret until Jimmy began posting pictures of them together on the social media site Instagram in 2016. Samara, on the other hand, didn't start sharing images of the couple on social media until 2017.
View this post on Instagram
At that time, it appears that the actress from The Babysitter: Killer Queen was attempting to keep her relationship with Jimmy hidden from the prying eyes of the media. When Weaving was photographed by the paparazzi sporting a magnificent engagement ring in 2019, the couple's engagement rumours began to circulate. All those rumours about an engagement turned out to be genuine in the end.
In 2022, Samara Weaving referred to Jimmy Warden as 'her husband' in a media interaction
Weaving revealed all in a May 2022 interview with Australian newspaper the Herald Sun. She continued by referring to Jimmy as her "husband" and revealed that she and her boyfriend had secretly married.
The Out of the Blue said, "I'm actually about to go and work with my hubby," to the outlet. I'm going to go work on the movie he wrote and is directing, which will be a lot of fun.
View this post on Instagram
According to sources, Samara and Jimmy appear to have exchanged vows in the year 2019. The couple has, however, been able to keep their relationship's specifics private. The pair occasionally posts pictures of themselves on social media.
Weaving most recently shared a carousel of images of herself and her husband Jimmy from what appeared to be the Cocaine Bear movie premiere on February 24, 2023. The two wore identical black clothing to the occasion. Warden wrote the screenplay, which Elizabeth Banks directed.
The 'COCAINE BEAR'
View this post on Instagram

How many years ago was it that Jimmy drove me to work? "I think I have a movie concept," he remarked as he turned to face me. A bear who uses cocaine is the subject. Then, this entire situation occurred. I'm so proud, it's disgusting. I adore you. By @georgieeisdell, makeup By @hairbyaviva for hair "Styled by @dorso Film by @jimmywarden_," she commented next to a collection of images from the Cocaine Bear movie premiere.
Samara Weaving and Jimmy Warden have worked on a film together
Yes, it is what you read. Samara and her husband Jimmy collaborated on a brand-new movie called Borderline. For those of you who don't know, we'll tell you that the film is a comedy-thriller.
A helplessly romantic psychopath who escapes from a psychiatric hospital and breaks into the home of a 1990s pop star is the central character of the movie Borderline. She only wants to live, and he only wants to be loved.
Variety said that the comedy-thriller Borderline had its official announcement in September 2022. Jimmy's Instagram account states that the movie's filming was completed in July 2022. Ray Nicholson and Eric Dane are also featured in the film.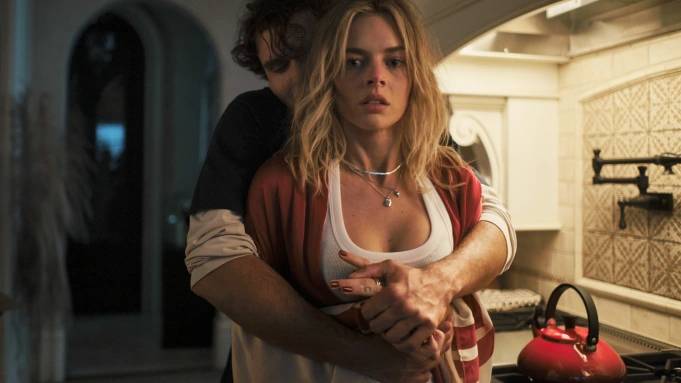 Jimmy Warden makes his directorial debut with Borderline. He also wrote the screenplay for the movie, which was selected for the Black List, a prestigious annual list of the best scripts.
The movie's producers are Hadeel Reda of Red A Entertainment, Brian Duffield of Red A Entertainment, and Tom Ackerley and Josey McNamara of LuckyChap Entertainment. The movie will debut in 2023.
Shawn Williamson and Jameson Parker from Brightlight Productions, Mimi Steinbauer from Radiant Films International, and Colleen Camp, William G. Santor, Andrew Chang-Sang, and John Hills from Productive Media Inc. served as the movie's executive producers (PMI). The movie's co-producers also include Denise Loren and Bronte Payne from LuckyChap.
Jimmy Warden is pretty active on Instagram
Jimmy Warden has a profile on Instagram, much like the majority of people who work in the entertainment sector. He has somewhere in the neighbourhood of 6.6k Instagram followers as of this writing. He has 200 posts as of this moment on his Instagram page.
We looked through the writer's Instagram account and discovered a few behind-the-scenes shots of him with the Cocaine Bear actors and crew, a number of photos of him and his wife Samara Weaving, and a few random pictures of him from his daily life.
View this post on Instagram

Warden recently posted a tribute to his wife Samara Weaving on Instagram. He posted a nice message on his Instagram account on February 23, 2023, wishing his ladylove a very happy birthday. She recently turned 31 years old.
He captioned the Instagram photo, "Happy birthday to a wife from a wifeguy. Samara may be seen in the image wearing a white shirt and a crown while Jimmy gives her a tender gaze.
View this post on Instagram

Did you enjoy the slasher film Scream VI? Please share your thoughts on the most recent installment of the well-known franchise in the comments box below. Keep checking back with us for the most recent information from the entertainment industry.
Being a binge-watcher himself, finding Content to write about comes naturally to Divesh. From Anime to Trending Netflix Series and Celebrity News, he covers every detail and always find the right sources for his research.