Jason Patric plays Sean Beckwith, a rancher and former Marine whose daughter, Leigh, unexpectedly vanishes with her best friend near the Mexican border while on vacation in Mexico, in the action thriller "Shrapnel," directed by William Kaufman. He decides to take matters into his own hands and cross the border in search of her missing daughter after receiving little to no assistance from the local authorities. Sean learns that a dangerous Mexican cartel is to blame for the disappearance of his daughter with the help of a former Marine and his close friend Max Vohden.
The crew is getting ready to take on the deadly cartel and attempt to save Leigh. A talented cast of actors, in addition to Patric, can be seen in the crime film, including Cam Gigandet, Kesia Elwin, Mauricio Mendoza, Teresa Decher, Efrain Villa, and Guillermo Iván. You may ask if "Shrapnel" is based on actual events given the topics of kidnapping and cartels in Mexico, which are not unheard of in real life. Fortunately for you, we have gathered all the facts required to permanently quell your curiosity.
Is Shrapnel a True Story?
'Shrapnel' is not based on a factual story, to be clear. In truth, the explosive and captivating plot of this thriller movie was the result of the collaboration between screenwriters Chad Law and Johnny Walters. Along with Walters, Chad Law, who is known for writing stories with intense action and drama scenes, developed a cast of likeable characters and complex storylines that kept viewers interested from the start to the finish. In order to create a compelling yet convincingly realistic screenplay for the William Kaufman directed film, the team made the most of their inventive wits and excellent handwriting.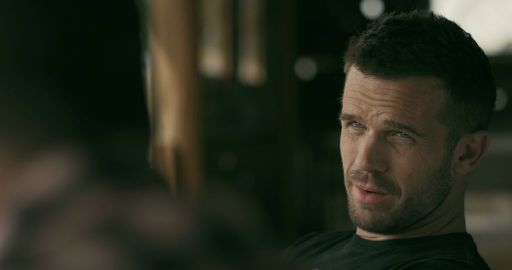 The script for "Shrapnel" is said to have been written more than ten years ago by Chad Law, who then collaborated with co-writer Johnny Walters to put it together and give it the final touches. In a July 2023 interview for Action Reloaded, co-screenwriter Chad Law was asked to list some of the sources of inspiration for the movie's action sequences and lead character. That all began, he admitted, "when I saw a real story on the news several years ago that obviously played out in a very different way."
"A different way than I had wished things had gone," Law continued, "and it just got me wondering: what if this had happened but they had actually f-ked with the wrong dad, you know? Too big of a bite for them to chew? And that is how it all began. And of course, I believe that all of us would want to believe that we would go to the lengths that Sean, the main character, would to defend our families or loved ones. That is holy ground. You don't screw around with family. Of course, that is nothing novel or original in the world of films. Everything from 'Commando' to 'Taken' has featured it.
The screenwriter even listed 'Die Hard' and 'Rolling Thunder' as two iconic action films that he paid homage to and drew some inspiration from because he thought he produced a nice addition to the genre. The ideas and components of "Shrapnel" may seem familiar and real to you since they have previously been explored in a number of films and television programmes. In the 2017 action thriller movie "Taken Heart," for instance, the mother of the kidnapped daughter, Kate Johnson, decides to take matters into her own hands and sets out on a mission to infiltrate the cartel and rescue her. The plot of the movie revolves around the theft of the daughter by the human organ trafficking gang.
Given the aforementioned considerations, we think you will certainly notice some similarities between the themes of "Shrapnel" and "Taken Heart," as both of them feature a protagonist battling a cartel to save their kid. Overall, it is safe to say that 'Shrapnel' is a work of fiction and is not grounded in truth, despite the fact that it contains a number of genuine topic areas.
Our Team DCS includes 5 different writers proficient in English and research based Content Writing. We allow them and encourage them to follow the Entertainment news all day long. Our posts, listicles and even the exclusives are a result of their hard work.