In the same way that the cowboys of the American West are identified with being strong, morally upright individuals, they are also connected to homosexuality. Although I'm sure that will be the main point of comparison for viewers of Pedro Almodóvar's short film Strange Way of Life, this didn't start with Brokeback Mountain. The country music song "Cowboys Are Frequently, Secretly Fond of Each Other," written by Ned Sublette in 1981 and notably performed by Willie Nelson, or Jane Campion's 2021 film "The Power of the Dog," which includes a secretly gay rancher, are two examples. Westerns frequently use the cliche. However, unlike some of these other works, Strange Way of Life does not centre on a pair of males who are having sexual identity issues. They are two cowboys who first got together 25 years ago and have since broken up and attempted to go on, but they can't seem to let go of the memories of their first love. Strange Way of Life emphasises the past more than the present—previous romances, past commitments, and past regrets.
'Strange Way of Life' Is About More Than Just Romance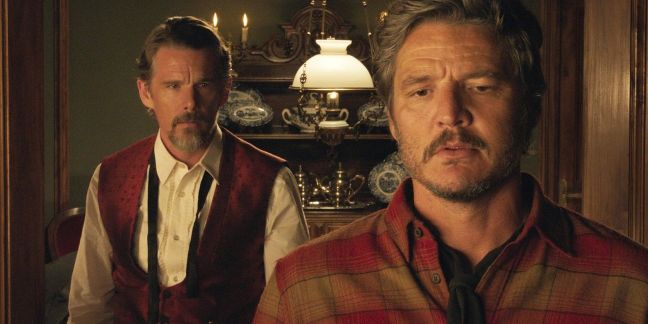 Silva, a rancher played by Pedro Pascal, arrives in town and runs across Jake, an old flame portrayed by Ethan Hawke. Their first encounter is electric and chemistry-filled, and the two of them click right away. But what appears to be a romantic encounter eventually turns out to be a trip with a purpose. The town's sheriff, Jake, is determined to bring Silva's son (Manu Rios), the murderer, to justice. Silva is here to argue for his son. The murder serves as the catalyst for the reunion, but the short focuses on Jake and Silva's evolving friendship. A young Jake (Jason Fernández) and a young Silva (José Condessa) initially fall in love while serving as hired shooters 25 years prior, marking the beginning of their affair. Even two and a half decades later, the romance is still having a significant impact on both men.
There is no denying Pascal and Hawke's smouldering chemistry. Jake is angry that Silva has been gone for so long and doesn't want to revisit the past, but he also can't avoid the man. Silva is still deeply enamoured with Jake while also occasionally being jealous of the life the two of them might have had together. Defining these two characters is difficult because both actors bring intricacy to a script that can occasionally be weak and clunky. Although Almodóvar's dialogue frequently seems monotonous, it works well with his very colourful visual style and camera work.
Pedro Pascal and Ethan Hawke Have Sizzling Chemistry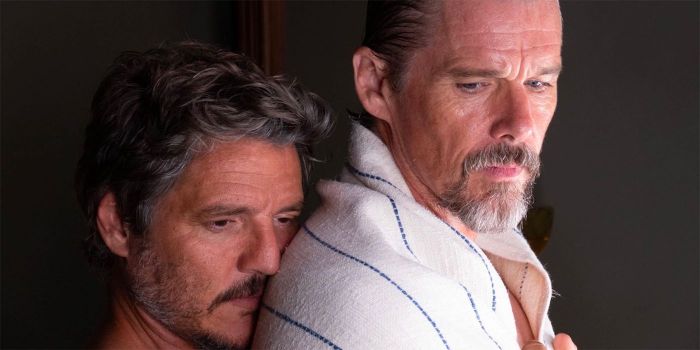 Both in the present and 25 years ago, Pascal and Hawke have sensual and intense scenes together. The 31-minute film makes the most of the two performers' talents and presents us with a nuanced view of their relationship. The two men's disagreement isn't strictly about coming out to the public. Yes, that probably accounts for why the two split up years ago, but right now, Jake's familial pledges and Silva's fatherly responsibilities to his son are what are keeping the two apart. Because of this, Strange Way of Life presents the two characters as reluctant enemies rather than allies.
This short features a lot of Almodóvar's distinctive style. His vibrant colour scheme gives the movie a sort of picture-book feel. Additionally, despite being visually appealing, it occasionally comes off as too much like a movie production, detracting from the tale of two lovers. Silva has travelled across the desert, but his horse and saddle are spotless. The local jail is spacious, light, and clean. It frequently has the impression of being a contemporary Western illustration, losing the genre's realism. That said, it's not always a terrible thing. This aesthetic provides a potent means of telling the story in a short film. Despite having a brief running time, it feels like a full-length movie. Almodóvar rekindles passion for the genre, but he doesn't really add anything new to the archetype. Strange Way of Life is an artistic and enchanting vignette in the lives of two lovers because to his concentration on his leading performers.
Rating: B-
Strange Way of Life had its world premiere at the 2023 Cannes Film Festival.
Our Team DCS includes 5 different writers proficient in English and research based Content Writing. We allow them and encourage them to follow the Entertainment news all day long. Our posts, listicles and even the exclusives are a result of their hard work.