Tammy Slaton is telling her fans about how she lost a lot of weight. The 1000-Lb. Sisters star recently posted a bunch of pictures of herself on Instagram, which is a social networking site.
Slaton didn't write a caption for her most recent Instagram photo. She let her pictures speak for her. Keep scrolling to learn more about Tammy Slaton's journey to lose weight.
Tammy Slaton reveals her weight loss transformation on social media
On Monday, the reality TV star posted nine pictures of herself that showed her weight loss journey on Instagram. Fans of her TLC reality show and people who follow her on Instagram gave her a lot of praise and support for the picture that didn't have a caption.
One of the people who liked the Instagram post wrote in the comments, "I think I speak for everyone when I say WE ARE SO PROUD OF YOU." Then a second person wrote, "Tammy, I am so proud of you! I knew you could do it from the start."
View this post on Instagram
Another person on social media said, "OMG Tammy, you look great! No more breathing tube! Every episode this season has made me cry. You did it, you crazy girl! I'm so happy for you!"
A user wrote about how happy he was about her journey on the TLC show this season. "You look great, and we can tell you're really happy," the follower wrote. I can't wait to see you become the person you were meant to be!"
Tammy Slaton has been inactive on social media
Tammy hasn't done much on the social media site Instagram lately. Her last Instagram post was on February 14. It was her first post on Instagram since March 2022.
In the most recent season of 1000-Lb. Sisters, viewers get to see more of her private life. Fans got to see what it looks like that she just got married to Caleb Willingham.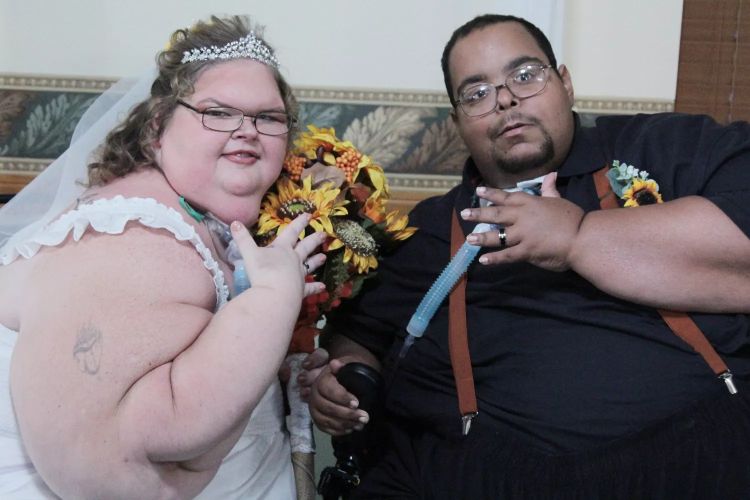 For those who don't know, let us tell you that Tammy and Caleb met for the first time at a rehab centre in Ohio. When Caleb proposed to her out of the blue, she couldn't say a word.
Tammy Slaton lost enough weight to meet her goal so she could have bariatric surgery.
Slaton reached her goal weight on a recent episode of the show. She had to drop from 717 pounds to 550 pounds before she could have weight loss surgery. And Tammy had faith in herself, which helped her get down to 534 pounds.
Tammy said on the February 7 episode of the show, "When I got on the scale and saw 534.7, I kind of stopped breathing for a second." I'm like 14 lbs. under my goal weight. "That's a big drop from over 700."
She went on to say, "I'm happy, proud, and excited—just all kinds of feelings. I showed that everyone was wrong. I finally got back at everyone who had doubts about me. My moment of "I told you so!"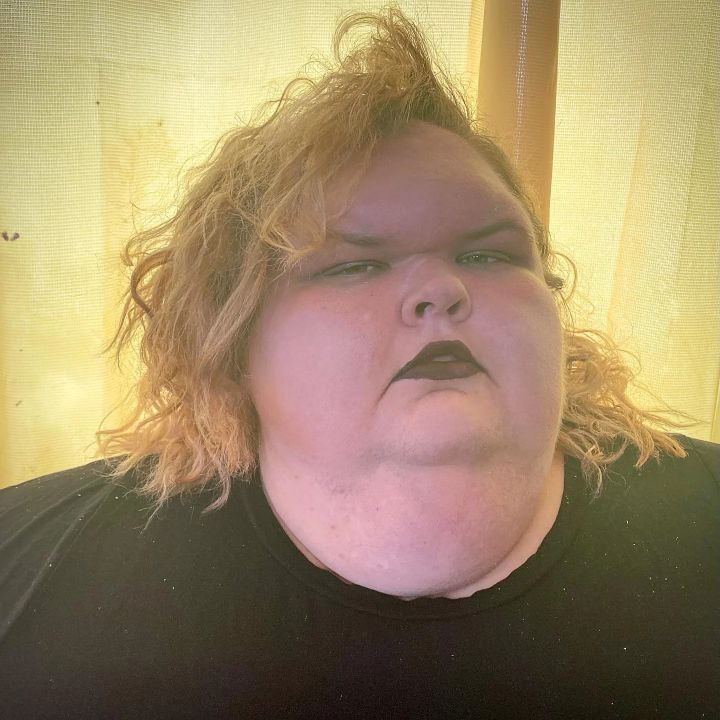 Now that Tammy weighs 534 pounds, she is a candidate for bariatric surgery with Dr. Eric Smith, which is a type of weight loss surgery. Right now, we don't know if the procedure has already happened or not.
In an episode of the show that aired on February 28, Tammy's whole family greets her as she leaves the rehab centre in Ohio to have the weight loss surgery.
Slaton said in the episode, "They had a poster for me to read, and everyone had written a little something on it to celebrate me. I mean, b—s, this is all about me because I'm the queen."
Tammy had tears in her eyes when she saw how much her family loved her. She said she "needed to know that they love me no matter what" before the surgery. She went on to say, "I needed to know they were there for me. They care for me. That was one of the most important things that kept me going and helped me get to where I am now."
Amy, Slaton's sister, was very nervous as she talked about the surgery that would change Tammy's life. She said during the episode, "I'm worried about Tammy. During surgery, anything could happen. I can't imagine living without my sister."
Tammy Slaton's weight loss journey explored
Over the years, Tammy Slaton's fans have seen her deal with serious health problems. Now, as she tries to lose weight, they are there to support and cheer her on. Fans of Tammy and her sister Amy have been watching the TLC show since it started in 2020 to see them fight the scale so they can live the lives they want.
At the time, Amy was set on losing weight so she could have children. She is now the proud mother of two boys. She and her husband Michael Haltermann brought their sons into the world. On the other hand, Tammy wanted to lose weight so she could live a healthier life and avoid being forced to stay in bed because of her weight.
After getting sick from carbon monoxide in November 2021, Tammy was put on life support. She had a tracheostomy around the same time, and by some miracle, she lived and did well.
During the season 3 finale of the TLC show, which aired in January 2022, Tammy's brother, Chris Combs, said that she had already lost 115 pounds while in a rehab centre in Ohio after being released from the hospital.
Soon after that, Tammy made a TikTok video to show off how much weight she had lost. She hit rock bottom in the footage shot before the season 4 premiere of 1000-Lb. Sisters, which aired in January 2023. This made her decide to get help. Now that she's lost weight, she's happier than ever and proud of her new body.
We just want to say, "You did it, Tammy Slaton." We are so happy for and proud of the reality TV star. The show 1000-Lb. Sisters airs new episodes every Tuesday at 9pm ET/PT on TLC. Don't forget to check back with us to find out what's going on in the world of show business.
Our Team DCS includes 5 different writers proficient in English and research based Content Writing. We allow them and encourage them to follow the Entertainment news all day long. Our posts, listicles and even the exclusives are a result of their hard work.