Christopher Storer's comedy-drama series "The Bear" on Hulu examines the demands of the restaurant industry via the perspective of Chef Carmen "Carmy" Berzatto. Carmy, a former chef who achieved great success in New York City, relocates to Chicago to take over his brother's failing eatery. Despite facing significant obstacles in the first season, Carmy fails to rescue the restaurant but forges an endearing bond with his staff.
After discovering the large sums of money his brother had left behind, Carmy shuts down the restaurant at the end of season 1. The second begins with Carmy preparing to use the recently discovered money to reopen the restaurant under a new name. However, in order to have even a remote chance of thriving in the fiercely competitive industry, he must juggle several obligations and conquer unimaginable obstacles. Here is all the information you need to know about season 2 of "The Bear" if you're looking for answers to Carmy's journey. Spoilers follow!
The Bear Season 2 Recap
The Original Beef of Chicagoland, the restaurant that his brother formerly owned, is being attempted to reopen in season two of "The Bear" by Chef Carmen "Carmy" Berzatto. Carmy joins forces with Sydney and his sister Natalie "Sugar" Berzatto to transform the former sandwich business into a full-fledged fine-dining establishment after discovering the money left behind by his brother Michael "Mikey" Berzatto. The group is faced with numerous obstacles, the first of which is a lack of funding. Uncle Jimmy is reluctant to offer Carmy money, but he persuades him to do so in exchange for the deed to the restaurant's property. Uncle Jimmy agrees, but with the caveat that Carmy either pays back his loan in full within 18 months or relinquishes the deed.
Carmy, Sydney, and Natalie rapidly map out a schedule for the launch of the new eatery "The Bear," but they soon come to the conclusion that they must open in 24 weeks in order to turn a profit and pay off the debt on schedule. Carmy asks Tina and Ebraheim, his two senior line cooks at a nearby cooking school, to help them hone their talents. While Tina succeeds in her new surroundings, Ebraheim leaves the institution quite shortly. Sydney and Carmy are developing the menu for the new restaurant while looking to Chicago for ideas. In contrast, Carmy and Claire pick up where they left off when they cross paths. Marcus is assigned to Luca, a pastry chef and former friend of Carmy, in Copenhagen, Denmark, to complete his training there.
Richard "Richie" Jerimovich, on the other hand, finds it difficult to fit into Carmy's new, showy ambitions for the restaurant. He frequently disagrees with Sugar and Neil Fak, the handyman who is assisting in the restaurant's renovation, as a result. The team is up against a tough struggle because they have to follow the regulations set forth by the regulatory bodies and pass many safety inspections. Sydney is under more strain as a result of Carmy spending more time with Claire. A flashback describes the tense bond between Carmy and Sugar and their mother, Donna. In order to restore Carmy's confidence in Richie, Richie is brought to Ever, a restaurant where Carmy once worked. A few days before opening night, the group soon returns to the restaurant, but Carmy still has a lot of problems to sort out.
The Bear Season 2 Ending: How Does the Opening Night Go?
Carmy gets his Chef's team ready for the grand launch of their new restaurant in the season 2 finale. While Carmy appears to have plateaued, players like Tina, Marcus, and Richie have greatly raised their game. As a result, the opening of the finale poses the concern of whether Carmy's laziness will undermine his efforts and those of his recently leveled-up staff. Suga's announcement that their mother, Donna, has been invited, sets up the implosion theme early on. Carmy apparently had anxiety disorders and fled Chicago as a result of an event in which Donna drove a car through their home.
Carmy maintains his composure for the most part as service gets underway on opening night. Everything runs smoothly during the mis-en-place because everyone is aware of their duties. When the true mayhem begins, Carmy enters the walk-in refrigerator. After a newly hired line cook leaves his station, Carmy steps in to fill the void left by the lost worker. Despite numerous reminders throughout the season, Carmy is unable to adjust the door handle and becomes stuck in the walk-in.
Sydney, Tina, and Richie are forced to step up to the plate and captain the ship home without their captain. The crew has just five minutes to plate the orders and get them out for service, so things are becoming tight. In the end, the gang did not suffer at all from Carmy's absence. Instead, they appear to prosper without him now that they have learned everything from their Head Chef. In view of the crew's ability to prevent a crisis on opening night, it is possible that Carmy's restaurant has a chance of succeeding despite all odds.
Do Carmy and Claire Break Up?
Carmy becomes anxious in the episode's climactic scene after being imprisoned in the walk-in. He acknowledges that he let his colleagues down in a conversation with Tina through the door. Sydney pulls Tina aside to manage her station as she tries to soothe Carmy. Carmy, however, keeps talking passionately and accuses himself of being stupid and preoccupied. Carmy's girlfriend, Claire, enters the kitchen in the meantime to wish her lover well and say farewell. She instead overhears Carmy referring to their relationship as a distraction and blaming it for his lack of focus.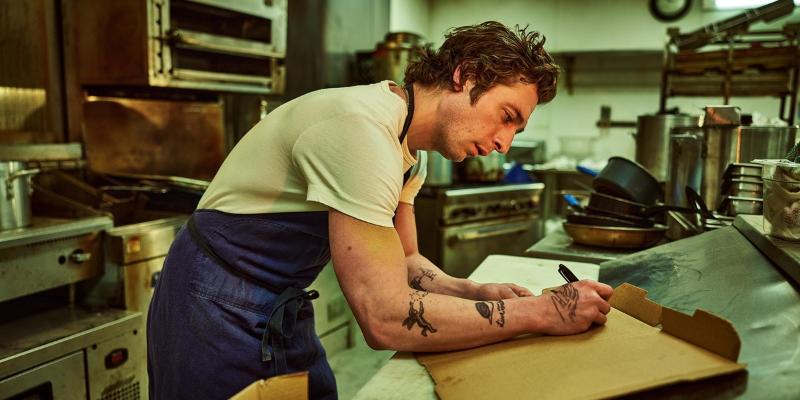 Carmy comes to the conclusion that he shouldn't pursue amusement and pleasure because doing so simply makes him subpar at his profession. Carmy's critical assessment of their relationship shocks Claire, who is undoubtedly the most good-hearted and sincere character we encounter in the series. Claire is crushed. Her parting comments to Carmy give away that she can no longer sustain their connection as she departs distraught. Therefore, although if it isn't said clearly, it appears that Carmy and Claire's marriage has fallen apart as a result of Carmy's challenging self-identity issues. Carmy's admission earlier in the season that Claire is giving him greater life clarity makes the moment even more sad.
Does Carmy Get Out of the Walk-In?
The season finale's pivotal scene—Carmy getting trapped in the walk-in freezer—marks a significant deviation from the protagonist's typically linear route of personal development. With references to sports, the moment is hinted at multiple times throughout the season. The equivalent of benching your star player during the Super Bowl is Carmy being locked in the freezer. Carmy's absence, though, forces others to step up to the plate. The main source of affection and solace in Carmy's otherwise turbulent existence is his relationship with Clarie; nevertheless, being imprisoned looks to be his downfall as he destroys that bond.
It also results in Carmy and Richie arguing, with Richie verbally abused and insulted despite Richie's substantial efforts to actively contribute to the restaurant. Carmy now turns into his own worst fear since he starts to resemble Donna, his mother. When we consider Carmy's path during the season as he strives to mature by devoting more responsibly, the similarities between Carmy and Donna become obvious. However, a guilty Carmy breaks down at the first sign of disorder and transforms back into his old self. Despite a handyman slicing open the freezer door, the finale finishes without Carmy coming out.
One could interpret Carmy being trapped in the freezer as a metaphor for him being caught in limbo. Because of his relationship with his family and the violence he experienced in the hostile environment of a professional kitchen, Carmy is coping with complex mental health concerns. When they need a minute, chefs frequently head to the frigid freezer. It represents the chefs' lack of inspiration, drive, or concentration. As a result, Carmy's experience in the freezer compels him to consider his life choices and adds complexity to the character's problems. It means that before taking on the duty of managing a commercial kitchen, Carmy needs to put himself first. It also raises the prospect of Carmy making a stronger comeback in the future. With the Chef stranded in the freezer as the credits roll, the second season finishes with Carmy needing to come to terms with himself before facing his friends, family, and the outside world.
Being a binge-watcher himself, finding Content to write about comes naturally to Divesh. From Anime to Trending Netflix Series and Celebrity News, he covers every detail and always find the right sources for his research.