The Girl I Like and I Saw a Confession Together" is the title of episode 7 of "Suki na Ko ga Megane wo Wasureta" or "The Girl I Like Forgot Her Glasses," in which Komura and Mie-san spend some time playing in the park as the former is concerned for the latter. It transpires that he had simply been overanalyzing everything. Later, Komura overhears Azuma-kun talking to a student from the school. He interrupts her unexpectedly as Mie-san is ready to listen in on their talk. Here is everything you need to know about episode 7 of "The Girl I Like Forgot Her Glasses," also known as "Suki na Ko ga Megane wo Wasureta." Spoilers follow!
The Girl I Like Forgot Her Glasses Episode 7 Recap
It begins to rain as you're leaving for school one morning. Mie-san, who has forgotten her spectacles, goes out for a walk with Komura when she steps into a puddle of rainfall. She is obviously disappointed when her socks and shoes wind up becoming wet. Komura discovers Mie-san having fun on the swing the next day. He complies when she instructs her to push him from behind. Oddly enough, Komura feels anxious as he touches her back for the first time, but his concern soon turns to something else.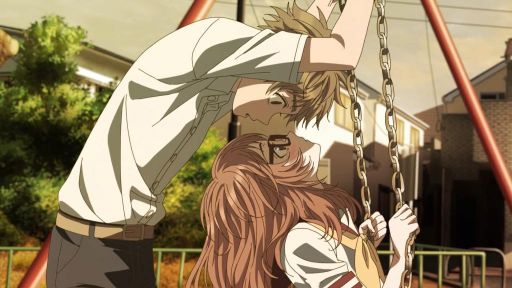 Komura believes that the people in front of her can see her under her skirt because Mie-san is swinging pretty high. He immediately stops pushing and catches her as she is swinging back in his direction because this bothers her so much. Mie-san is aware of Komura's motivations despite his attempts to justify his rash behaviour. He need not fear because she demonstrates that she is actually wearing trousers underneath her skirt.
Attempting to get to sleep one evening, Komura receives a call from Mie-san. She has a sleepover at Asuka's house, it turns out, but she can't find the bathroom. While still on the phone, Komura makes sure the caller locates the lavatory and gets back to the room without incident. The next day, during a swimming lesson, some of the children in the class see Komura gazing at Mie-san.
The Girl I Like Forgot Her Glasses Episode 7 Ending: Why Does Komura Hug Mie-san?
One day after school, Komura-kun notices a cat making its way towards the school's grounds' rear. He does so and is met with an embarrassing circumstance. Azuma-kun is, in fact, standing there with a girl. Komura-kun sneaks up behind a nearby tree to avoid interfering with the two as they talk. Even though he says he is not trying to listen in, it seems like that is exactly what he is doing in this instance. Unfortunately for him, despite his attempts to avoid drawing attention to himself, the cat there observes him and keeps meowing at him. He finds himself there at the exact same time as Mie-san, which only makes matters worse for him.
Mie-san can't see clearly without her spectacles, yet despite this, she is still searching for the cat. Komura worries that she could see the cat since she constantly calling for him. Fortunately for him, the cat does respond and decides to go to Mie-san. Mie-san, however, could hear someone speaking there, and she showed great interest. Komura is now quite anxious since he understands that she shouldn't end up destroying the time between Azuma-kun. The girl finally admits her affections for Azuma-kun and tells him that she only has a partial understanding of him.
The young lady says she would like to get to know Azuma-kun better. Mie-san is preparing to approach the pair from behind and divert their attention at that particular moment. Komura yanks her behind the tree as a result, and the two embrace. Mie-san is obviously frightened and says little. The moment is not ruined at all because Komura-kun eventually apologises and avoids being seen by Azuma-kun or the girl as well.