Armie Hammer still had his greatest acting years ahead of him at the young age of 36, it might be said. Although he has been around since the early 2000s, most of his acting roles during that time were limited to unimportant guest roles on programmes like Arrested Development. Hammer's career took off after landing his breakout part in The Social Network in 2010, when he had a lot more experience under his belt. Since then, he has made appearances in over 20 movies, many of which have become enormous hits.
In light of his divorce from TV star Elizabeth Chambers, he is now perceived as a mysterious figure who has experienced both immense success and a stunning fall from grace. His various affairs were ultimately discovered to be the cause of his divorce, and Hammer later found himself at the centre of an Instagram scandal after an anonymous account uploaded messages it claimed he had sent to several other women.
The communications conveyed a distressing image of an actor who had previously cultivated a very polished persona. The communications exposed some rather gruesome obsessions, like cannibalistic tendencies and violent, rape-related dreams. Hammer admitted to being emotionally and sexually abusive to the women he was in relationships with, however he denied any illegal activity.
Hammer, the son of an oil tycoon, has experienced a luxurious life, but one that was nonetheless characterised by a difficult upbringing. Prior to the epidemic and all the drama that followed, his career seemed to be booming. There is currently a significant degree of uncertainty regarding whether he will be able to revive his career or if, in light of all the controversies, it will merely fizzle out. Here's a look back at Armie Hammer's best flicks before his public image got so damaged.
Call Me by Your Name
Armie Hammer received a good deal of praise for the critically acclaimed movie Call Me by Your Name. The film was one of the top 10 movies of 2017 according to the American Film Institute and was nominated for Best Picture at the 90th Academy Awards. It tells the epic story of a love affair between a young child and an older man.
The movie gained Hammer numerous nominations for different awards because of the role's reputation as a risky one that he masterfully carried off. Timothée Chalamet, the co-star, received plaudits as well; the movie helped take his career to incredible new heights.
Free Fire
In the well-liked dark comedy film Free Fire from 2016, Hammer played one of the lead roles opposite Sharlto Copley and Brie Larson. The movie was largely lauded by critics and received a relatively high rating for good reason. It had a very Tarantino-esque feel to it. It basically turns a shootout, or "Mexican standoff," into a full-length movie, and Ben Wheatley has a great time forgoing the more serious themes in favour of the more humorous ones.
Despite being entertaining and receiving favourable reviews, the movie bombed at the box office. Still, the movie was fantastic to watch for its entertainment value alone and had a really brilliant cast.
Hotel Mumbai
Hotel Bombay thoroughly deserved all the plaudits it garnered for being a masterfully crafted movie that amps up tension and suspense to terrifying heights. The fact that the entire movie was modelled on the actual events of the 2008 terrorist strikes at The Taj Mahal Palace Hotel in Mumbai, India, is what made it so unsettling and unsettling.
Armie Hammer played one of the principal roles and his performance as a tourist caught up in the attacks was magnificent. Hammer must find a means to escape when the renowned hotel is overrun by terrorists in some of the movie's most frightening scenes, a situation made even more terrible by the presence of his wife and little child.
Mirror Mirror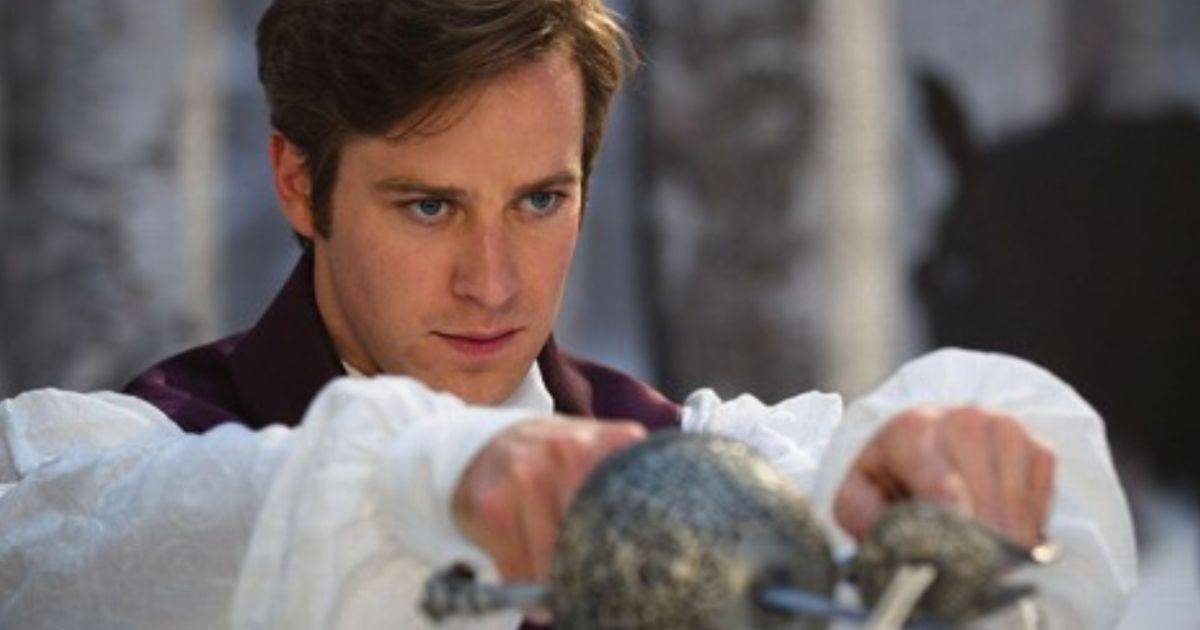 Mirror Mirror, a popular fantasy movie based on the well-known story about Snow White, starred Julia Roberts and Anne Hathaway in the key characters. Armie Hammer, who played the Prince of Valencia, adapted the Prince Charming type role and was a fantastic match for it thanks to his traditional good looks.
Although the movie did well at the box office, the critical response was somewhat muted. It wasn't entirely praised by reviewers, but neither was it particularly beloved either. Hammer, though, did a good job in the character and shown that he had far more range as an actor than many people may have realised before the movie.
Nocturnal Animals
In the critically acclaimed movie Nocturnal Animals, which also starred Amy Adams, Jake Gyllenhaal, Michael Shannon, and Aaron Taylor-Johnson, Hammer played a wonderful tiny supporting role. The movie, which was marketed as a neo-noir thriller, delves into some incredibly unsettling situations that make spectators uneasy.
Here is what Roger Ebert's website film critic Glenn Kenny had to say about it:
This movie could or might not be among the greatest of 2016, but it's unquestionably among the most intriguing. Or perhaps I should say least dull. I'm confused, if I come across that way. Kind of. a tiny amount. "Nocturnal Animals" is a movie that is designed to remain with you a little bit, but it is also a work of remarkable, obvious skill. In fact, writer/director Tom Ford expresses his vision at moments with such vehemence that you'd think he'd be disappointed if a viewer wasn't at least mildly enraged by the film.
On the Basis of Sex
Hammer played a notable part in On the Basis of Sex as the husband of one of the most renowned Supreme Court Justices in US history. The movie was even more moving because it came out two years before the illustrious Justice's tragic death.
Although it was a fantastic movie with excellent acting, Ruth Bader Ginsburg's genuine inspirational and trailblazing life probably pales in contrast. Yet, both the biography and Hammer's performance in it garnered favourable reviews.
Rebecca
In the 2020 romantic suspense film, Rebecca Hammer portrayed the mysterious Maxim de Winter, a prosperous widower who harbours murky secrets concerning his ex-wife. Hammer appeared to be the ideal choice for the job and executed his part flawlessly.
Nonetheless, the movie received fewer favourable reviews and was largely derided by critics. Yet, Hammer and Lily James' on-screen chemistry and tension were palpable since they both played off of each other brilliantly in the movie.
Sorry to Bother You
Although Hammer had a little part in the black comedy movie Sorry to Bother You, it was a memorable one. Hammer plays Steve Lift, a sadistic and cocaine-addled CEO who employs exploitation in a genuinely nightmare manner. Hammer is almost too adept at portraying an immoral, exploitation-loving madman, embodying the worst of tech bros and exploitive bosses.
The movie, which maintains a whopping 93 percent approval rating among critics, was in a way a radical metaphor against capitalism and was well-received at the box office and among audiences. As a political satire, critics praised the movie for its masterful blending of humour and a conversation that was much needed.
The Man from U.N.C.L.E
When it comes to exhilarating entertainment and critical acclaim, Guy Ritchie movies rarely fall short. The Man from U.N.C.L.E., a fantastic spy movie starring Henry Cavill and Armie Hammer, was no exception.
The movie was a thrill-a-minute thanks to Guy Ritchie's signature approach, which combined intense action and amusement with a compelling story about spying at the height of the Cold War. A sequel to the movie may yet happen, and a videogame based on it even existed in 2017.
The Social Network
The Social Network, which gave Armie Hammer his major acting break, continues to be one of his best and most enduring performances. Given that he was still a relatively unknown actor at the time, the fact that he played twins in the movie further increased his attractiveness in it.
Despite this, he did a great job with the multiple roles, helped by the fact that the movie used CGI to superimpose his face onto a double. Hammer perfectly portrayed Cameron and Tyler Winklevoss, the identical twins who actually sued Mark Zuckerberg for allegedly stealing their idea for Facebook. They had an imposing confidence that spoke of a privileged life, arrogance, and subsequently dissatisfaction.
After discussing what to do about Zuckerberg with their friend and coworker, Divya Narendra, the twins flex in a humorous way in one of the movie's most famous exchanges from Hammer's characters:
Cameron Winklevoss: Do you intend to sue him using an IP attorney, I take it?
Divya Narendra: No, I want to get the Sopranos to use a hammer to beat the crap out of him!
Tyler Winklevoss: That's not even necessary.
That's correct, Cameron Winklevoss.
We are capable of doing that, says Tyler Winklevoss. I'm two people, 6'5″ tall, and 220 pounds.
As a biopic based on the actual events that led to the birth and meteoric popularity of Facebook, the movie was a smash success and was probably always going to be one. Armie Hammer became known as one of the most promising actors in the industry thanks to the film, which was nominated for and won too many prizes to name.
There is no questioning Hammer's extraordinary skill, even though his acting career is at best over and at worst, gravely in doubt. It remains to be seen if that skill will continue to appear on screens in the wake of all the scandals that have marred his private life.
Wounds
In the 2019 psychological horror film Wounds, Hammer appeared opposite Dakota Johnson and Zazie Beetz. Despite receiving mixed reviews from critics, the unsettling Netflix video (available on Hulu in the United States) remains a cult favourite among many horror aficionados because of its originality.
Wounds, a 2019 Sundance Film Festival release, later screened at the Cannes Film Festival. After Hammer's character sustains a wound that turns infected, the movie was a slow burner as it took viewers on an uncomfortable trip.
Being a binge-watcher himself, finding Content to write about comes naturally to Divesh. From Anime to Trending Netflix Series and Celebrity News, he covers every detail and always find the right sources for his research.