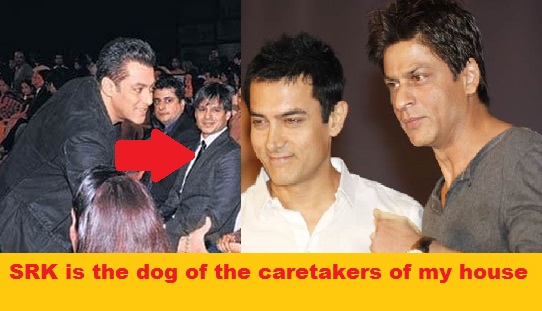 11 Bollywood Celebrities Who Don't See Eye-to-Eye : #11 Is INSANE!!
Who doesn't love some nice conflict or action scenes in our Hindi movies! But sometimes the onscreen anger gets translated to emotions offscreen, and fights ensue in real life!
1. Shahrukh Khan – Salman Khan

Our favourite Karan Arjun, who used to share incredible on-screen chemistry feel apart following controversies surrounding Sallu's then-girlfriend Ash. She was the lead in SRK's movie Chalte Chalte but had to back out because of the ruckus created by Salman. This misunderstanding stretched to higher proportions when the violent verbal exchange, which almost turned physical took place during Katrina's birthday party at Olive Garden!s does it?
In public's eye, they have patched up but in Salim Khan's words, "Salman and Shahrukh can never be friends."
2. Shahrukh Khan – Aamir Khan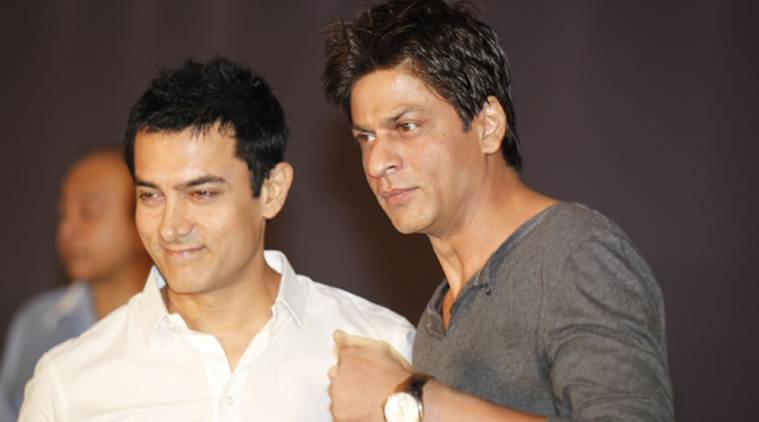 Although you may think these two superstars hardly have the time to be picking fights, they sure seem to enjoy taking digs at each other! This situation was not improved when Aamir named his dog Shah Rukh and posted that on his blog! Needless to say, King Khan was not amused.
3. Karan Johar – Ram Gopal Verma

Filmmakers Karan Johar and Ram Gopal Varma were engaged in a verbal fight ever since the latter provoked Johar by commenting on his movies. Karan did not take it all lying down, and retorted in his own snarky way. This ensured a Twitter battle between these two, which was a great source of entertainment for their followers.
4. Kareena Kapoor – Bipasha Basu

Working on a movie together back in 2001, Ajnabee, the two ladies had their own bag of troubles and differences. Did they shove it under the carpet like polished pretty girls? No way! A slap & a verbal spat later, the two went their own ways; however they have recently managed to be civil to one another at an event, under the benign eye of Kareena's husband – Saif, who is apparently good friends with Bips.
5. Shahrukh Khan – Shirish Kunder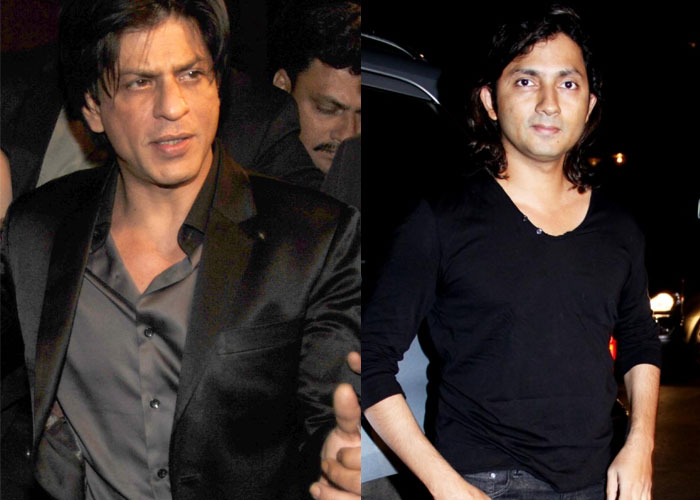 Shah Rukh Khan apparently punched and kicked Farah Khan's husband Shirish Kunder at a private party throw by Sanjay Dutt a few days ago! And although we aren't certain of the reason, it may have something to do with Shirish tweeting about how 'RA.One' was just "a 150 crore firework fizzle". It's a bit rich that this kind of comment was coming from the same guy who is responsible for the movie Joker.
6. Salman Khan – Vivek Oberoi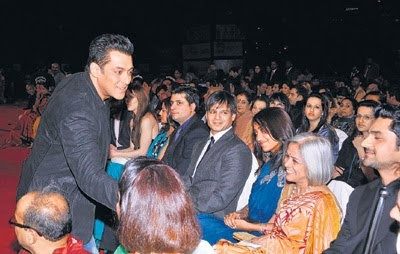 The love triangle between Salman, Vivek and Aishwarya exploded when Salman allegedly started sending threatening messages and drunk calling Vivek one night. Vivek took to the media and claimed that Salman was threatening him for dating Aishwarya. The funny part? Neither of them got the girl, who walked away with Jr Bachchan on her arm.
7. Ronit Roy – Aditya Pancholi

Back in 2010, once good friends Ronit Roy and Aditya Pancholi were seen yelling at each other in a Mumbai nightclub which got so out of control that Ronit ended up shattering a glass! This tiff ended only when Aditya's wife, actress Zareena intervened. However, all of them later kept quiet about the fight, with Pancholi claiming that there was no fight.
8. Sonam Kapoor – Aishwarya Rai

The brand new ambassador of L'Oreal, Sonam Kapoor got all excited and was dreaming to walk on the red carpet at Cannes with the Bachchan Bahu. But her dreams got shattered when the queen of Bollywood refused to walk with her. Kapoor actually made a mistake of referring the diva and her senior actress as 'aunty'. Aishwarya kept mum about it and with time the matter seemed to get resolved.
9. Deepika Padukone – Katrina Kaif

The numero uno actress of Bollywood, Deepika Padukone, has been in a battle with Katrina Kaif from quite a long time. The main issue between them is, of course, the player boy Ranbir Kapoor. It is said that Kaif is also upset because she was replaced by Padukone in the film "Yeh Jawaani Hai Deewani" and Imtiaz Ali's "Tamasha" also went to the latter actress.
10. Ameesha Patel – Kareena Kapoor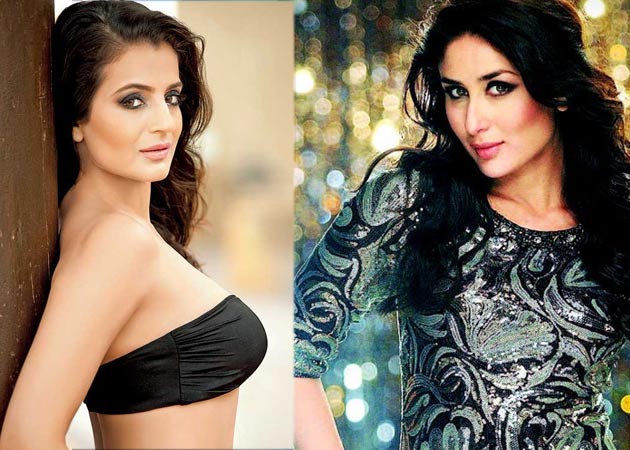 Ameesha Patel and Kareena Kapoor Khan have never been friends in the industry since the beginning. The two have shared cold vibes from the time Kapoor refused to work in the film "Kaho Naa… Pyaar Hai" and it was then offered to Patel.
11. Kangana Ranaut – Hrithik Roshan

The recent couple who is never going to get back to normal terms is Hrithik and Kangana. He recently explained his stand in an open letter saying :
"I choose to be on a path of creativity, productivity and constructive work. Anything that isn't in alignment with that, I tend to ignore, sidestep and treat as a distraction.
I believe that ignorance, non-reaction and staying on the path of dignity is the best way to discourage any persistent unwanted intrusions. But Just like a nagging health issue sometimes ignored can turn malignant, this situation for me has unfortunately turned malignant.
In case of the matter at hand, it seems the media has no intention of letting go.
I don't see any grace in adding to this circus by testifying in defence of my character in a situation that I have no involvement in whatsoever.


I have been dragged into a dirty perverse mess without a choice in the matter. This is something that is not of my making.
The truth is, I have never met the lady in question one on one in my entire life. Yes, we have worked together, but there has been no meeting in private. That's the truth
Please understand, I am not fighting against an allegation of an affair. Or being childish trying to uphold a 'good guy" image. I am very aware of my faults, I am human.
I am in fact protecting myself from something far more serious, sensitive and destructive than that.
Sadly, very few from the media or the public seem to be interested in the truth. This has been a hard-learnt fact for me.


If the people are comfortable with a lie because it doesn't threaten their model of the world where a girl is the victim and the man the aggressor then so be it. I am ok with that too.
Women have suffered centuries of abuse at the hands of men and it infuriates me how some men can be so brutal and they deserve the harshest punishment. But by that logic if it ordains that one man can't be vulnerable and one woman can't be a liar, so be it. I'm ok with that too.
An alleged 7-year long, passionate affair between two high profile celebrities with no trail left behind.
No evidence, no paparazzi pictures, no witnesses, not even a memento in possession like a selfie taken at the alleged engagement which is claimed to have happened in Paris in Jan 2014. Nothing that constitutes an exchange or any sort of proof of a romantic relationship.
Yet we want to believe the other party because the rhetoric is -why would a girl lie.
My passport details show no travel outside the country in Jan 2014, which is the date that this alleged engagement supposedly took place. In Paris.
The only so-called proof presented of this alleged "relationship", was a photoshopped picture in the media. This was immediately exposed, the very next day by friends including my ex-wife.

These questions are not even asked because we are taught to protect the woman, as we should. I myself have been brought up to think the same way, by my parents and the wonderful women in my life who have been my rock and support system. I'm deeply grateful to them. I will do my best to teach my children the same values of family and dignity. And yes, I will teach them to stand up for women. Always.

There are 3000 one-sided mails which either I have sent to myself or the woman in question has sent to me. The Cyber-Crime Dept. can prove or disprove either story, in just a few days. Towards that purpose, I have surrendered all my devices including laptops / phones etc which are still lying with the cyber cell , but the other party has refused to do so. The investigation hasn't been closed.
Which of these Bollywood celebrity fights were for real, and which do you think were staged for publicity?