A brand-new South Korean television programme called Black Knight debuted on Netflix on May 12. The science fiction programme is based on Lee Yun-kyun's webcomic of the same name. It takes place in a dystopian world where air pollution has significantly decreased the population and the survivors depend on specialised delivery workers known as Knights to bring them their essential supplies.
With only six episodes in the first season, viewers rapidly binge-watched the show and are eagerly awaiting its return. But has Netflix given Black Knight a season 2 renewal? Find out by reading on.
Is Black Knight Renewed for Season 2?
Black Knight's second season has not yet been renewed as of the time of writing. Fans need not fear, though, since it is still too early to predict the show's future given that the first season just recently made its debut.
Before determining whether to produce a second season, Netflix will examine the viewership figures for the first season throughout a number of days or weeks. Although South Korean television programmes typically have a single season and are finite, the recent success of Squid Game has permanently reversed this norm.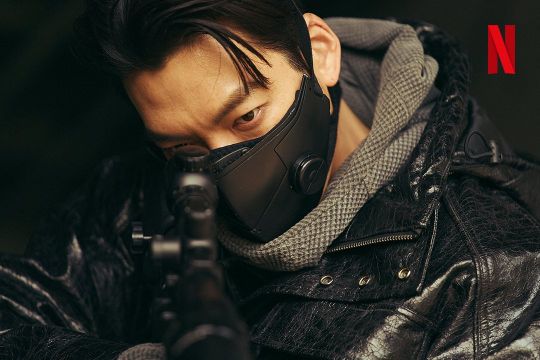 The first season's storyline came to an end with the conclusion, according to the story. However, there is still a substantial amount of webtoon source material that has to be covered. Therefore, if Netflix's projections for the first season's viewership are met, we can expect Black Knight to return with season 2.
By mid-2024, Netflix should have the second season if the show is renewed in the coming weeks. We must still wait for the streaming service to make an official announcement.
What is Black Knight About?
A large portion of the population on the Korean peninsula has died off as a result of air pollution in the dystopian television series Black Knight, which is set in the year 2071. Nowadays, people are required to wear respirators and depend on knights to provide their basic necessities, including oxygen cylinders. The main character of the programme is 5-8, the strongest of all the knights.
"In 2071, the Korean peninsula has been reduced to a wasteland and all but 1% of its original population has been wiped off due to excessive air pollution. The survivors are compelled to use respirators, and they depend on "Knights," or trained delivery drivers, to provide them the resources they need to survive, particularly new oxygen.
The official plot summary for the programme is, "One day, a legendary knight by the name of '5-8' finds a child by the name of Sa-Wol who desires to become a Knight exactly like him, and decides to train him so that he might realise his ambition in the dark and deadly world that they live in.
Who Stars in Black Knight?
Kim Woo-bin, known as "5-8," is the show's strongest delivery driver. Song Seung-heon, Ryu Seok, Kang Yoo-seok, Yoon Sa-wol, Esom, Chae Jin-kyung, Ryu Jae-jin, Roh Yoon-seo, and Lee Joo-seung also appear. Cho Ui-seok is the series' creator and director.
Netflix now has the first season's six episodes available for watching. Keep checking back for new information.
Our Team DCS includes 5 different writers proficient in English and research based Content Writing. We allow them and encourage them to follow the Entertainment news all day long. Our posts, listicles and even the exclusives are a result of their hard work.