In the last few years, the Korean actress Jung So-min has had professional success. The actress received plaudits for her portrayal of Mu-deok, the main character, in the first part of the Netflix Korean drama Alchemy of Souls. The drama, which was released in 30 episodes over the course of six months, was a success both domestically and overseas, particularly due to the chemistry between the principal performers. Even though he is still a budding actor, Jung has previously distinguished himself in the Korean entertainment industry.
She made her acting debut in the television series Bad Boy in 2010, and after that, she gained international notoriety as the lead in the Korean version of the Japanese manga Playful Kiss. Jung made a brief return to acting after taking a break to complete her academic degree. Prior to Alchemy of Souls, she worked on a number of well-known films, including My Roommate is a Gumiho and The Smile Has Left Your Eyes, which starred Seo In-guk. 30 Days, a romantic comedy starring Jung and Kang Ha-neul, is her forthcoming project (When the Camellia Blooms). These are thus far her best films and television shows.
Alchemy of Souls
The notorious Hong sisters made a comeback in 2022 with the Korean drama Alchemy of Souls, which viewers hailed as one of the greatest of the year. Despite its flaws, the show was one of the first in Korea to explore fantasy topics in depth, paving the way for more of its like. The feared assassin Nok-su switches her soul into the body of a weaker, blind girl named Mok-du via the alchemy of souls, which causes her to meet the Jang Uk, a nobleman looking for a master. Their encounter launches an epic tale replete with passion, treachery, and magic.
Be Melodramatic
Toward the end of the Korean drama Be Melodramatic's run, Jung makes a brief cameo appearance, adding to the already stellar cast. The protagonists of Be Melodramatic are a group of 30-year-olds who are attempting to organise their life for their golden years. Three of the closest friends all live and work in the media and entertainment industries, and their personal lives progressively influence their professional ones. Be Melodramatic is a fun show to binge watch since the three friends struggle with office romances, rising tensions with people on set, and their connection with one another.
Because This is My First Life
The actors of the 2017 drama Because This is My First Life are Jung So-min and Lee Min-ki. Jung plays a screenwriter who meets Lee's character after renting a room from someone she mistakenly believed to be a woman. She was shocked to learn that he was her new roommate. But instead of simply cohabitating like many others would, they decide to be married and sign a contract stipulating that they will do so for a period of two years. When the two strangers get to know one another more, this can only lead to catastrophe.
Homme Fatale
In Homme Fatale, which was published in 2019, the comical life of the first male gisaeng during the Joseon Dynasty is envisioned. Lee Jun-ho portrays this gisaeng. Although being seen as belonging to the lowest strata of society, gisaengs, or female courtesans, were schooled in the arts and entertained members of the upper class. The young guy will face some challenges in realising his dream of becoming a gisaeng in this conservative society, but with the aid of a woman with an eye towards the future (Jung), their path together can also be one of love.
Monthly Magazine Home
Jung plays the lead role in Monthly Magazine Home, a South Korean drama that aims to reflect the editorial sector via the perspective of a single home publication. Yu Ja-seong frequently crosses the path of Jung, the publisher of the monthly publication Home that offers advice on home decor (Kim Ji-seok). Her living condition is not ideal, despite the fact that she has a good work as an editor. When her co-CEO, Yu, rents her home to live in, things are going to get complicated very quickly.
My Father is Strange
In the 2017 film My Father is Weird, many well-known figures from the Korean entertainment industry are present. The television show's popularity during its run caused it to be renewed for an additional two episodes after the first 50 had been aired. It depicts the life of a family, consisting of the mother and father, three girls, and a son, who reside in the Seoul suburbs. A celebrity knocks on the door of a middle-class family and pretends to be one of the family's sons, giving them the shock of their lives.
Playful Kiss
Playful Kiss, which was based on a Japanese manga series of the same name, won Jung fans from all over the world when Jung made an appearance. It was also among her first acting jobs. She plays Oh Ha-ni, a student who is not well liked at school and has a character that makes her even less accepted by her peers. When an earthquake ruins her home and forces her and her father to live into Baek's house, she develops feelings for the well-liked Baek Seung-jo (Kim Hyun-joong). And while though he first disapproved of her, once they move in together, he gradually starts to feel differently.
Project Wolf Hunting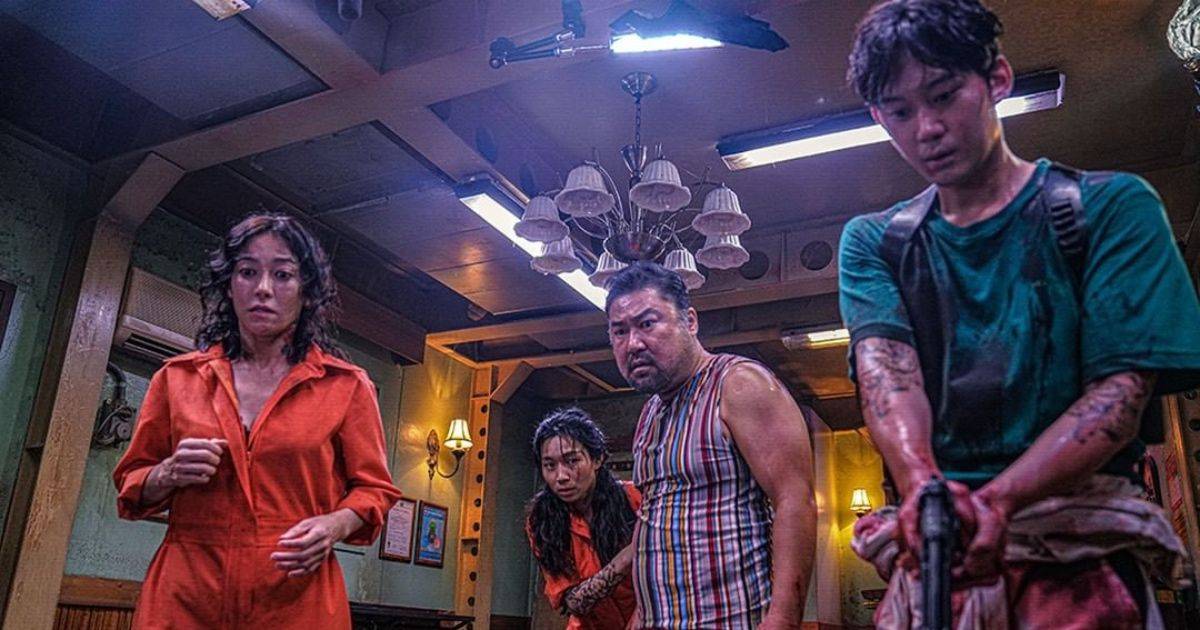 Seo In-guk and Jang Dong-yoon were Jung's former co-stars in the 2022 film Project Wolf Hunter. Lee Da-yeon is portrayed by Jung So-min. Project Wolf Hunting, a film by Kim Hong-sun, is set aboard a cargo ship sailing from the Philippines to South Korea. The ship is specifically designed to transport high-level criminals, but when they band together to plan an escape, chaos breaks loose and things start to become violent and bloody. Before the rights were sold internationally, Project Wolf Hunting made its world premiere at the 2022 Toronto International Film Festival.
Soul Mechanic
In Soul Mechanic, the well-known actor Shin Ha-kyun excels as a psychiatrist who treats his patients while using a positive outlook and humour to make even the harshest circumstances more bearable. His ability to manage people's emotions and patience will be put to the test when he is given the task of working with a young musician (Jung) who has a lot of promise to advance. He must be cautious because she struggles with controlling her wrath and might lose it at any time. Soul Mechanic excels because it demonstrates how individuals can lessen mental health concerns with the appropriate actions.
The Smile Has Left Your Eyes
When The Smile Has Gone Your Eyes, a drama that was a remake of a Japanese television programme that had premiered more than ten years earlier, came out, it was well received. In the drama, played by Seo In-guk, Jung So-min, and Park Sung-woong, a young man (Seo) who wanders and falls in love with a woman is the main character (Jung). The woman's brother starts to think that the man is a criminal because he can't remember anything about his history, but he is unable to prove it. Thus begins a difficult dance that will significantly shift when he gradually accepts the seriousness of his background.
The Sound of Your Heart
The Music of Your Heart is a 2016 Korean drama that manages to both endearing and odd. It features Lee Kwang-soo, a former Running Man cast member, as a graphic novelist or webtoon author who, despite his age, continues to live with his parents. He is coupled with Jung, who plays his future girlfriend and former high school classmate. During the course of twenty episodes, the two of them confront the world together and embark on a variety of adventures. The Korean webtoon with the same name served as the inspiration for The Music of Your Heart.
Twenty
The 2015 movie Next Entertainment World Twenty, starring Kim Woo-bin, Lee Jun-ho of 2PM, and drama star Kang Ha-neul, debuted to strong domestic box office numbers in South Korea. It shows three 20-year-old buddies who are about to embark on something new as they graduate from high school. One wishes to become a cartoonist, another is an excellent student who aspires to climb the social ladder, and the third is unemployed. They each bring their own problems to the table, but they have each other at least when life deals them a losing hand.
Being a binge-watcher himself, finding Content to write about comes naturally to Divesh. From Anime to Trending Netflix Series and Celebrity News, he covers every detail and always find the right sources for his research.