Storytelling is extremely crucial. It is, in reality, a responsibility. The world learns about a variety of topics through stories, ranging from the depths of human emotions to societal challenges. As a result, telling the stories of society's minority groups becomes an even more vital duty. Keep them at the center of a story and give the rest of the world a glimpse into their genuine life. This is why variety is vital not only in casting performers, but also in character development. The LGBTQ+ community rarely sees someone who looks like them at the center of a show; instead, they are generally relegated to the role of sidekick. However, times are changing, and LGBTQ characters are increasingly appearing in a variety of storylines. With that in mind, here's a selection of great LGBTQ series on Netflix that you can watch right now:
Dear White People (2017–)

'Dear White People,' created by Justin Simien, is based on his own 2014 film of the same name. The show, which is proudly contentious and self-aware, tackles subjects such as racism, classism, gender identity, and sexuality with an unorthodox flamboyance. In terms of depiction of the black LGBTQ+ community, 'Dear White People' is a groundbreaking work. It directly challenges the caricature that Hollywood has helped to establish on the subject by demonstrating the wide spectrum of black queerness.
Eastsiders (2012 -)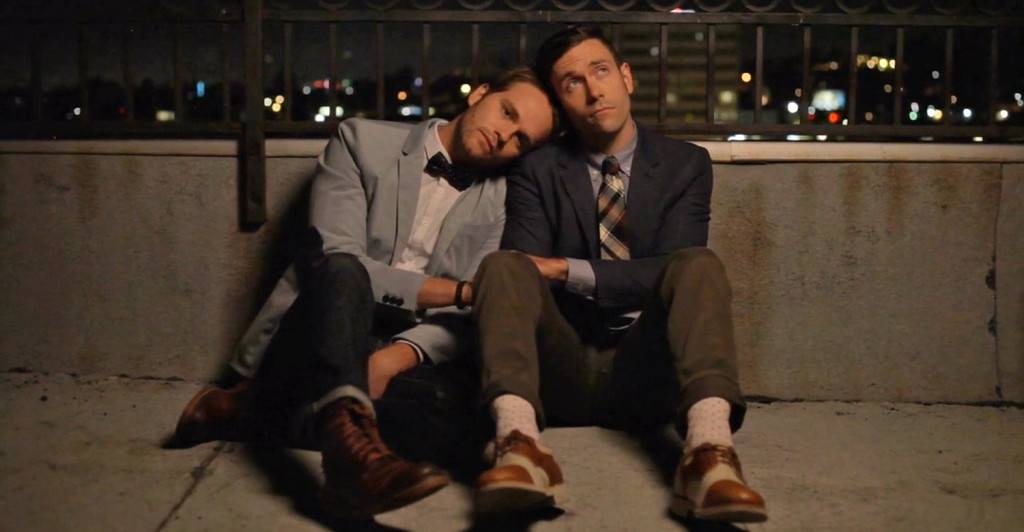 'Eastsiders,' situated in Los Angeles, tells the story of a gay couple trying to mend their relationship's dynamics. Cal and Thom have been dating for four years, but Cal discovers that Thom has been cheating on him with someone else, making it tough to keep the relationship going. He decides not to break up with Thom since he loves him too much for that, but he does agree with himself that retaliation is necessary. As a result, a succession of infidel affairs and unrestricted drug usage leads them down a perilous path. Aside from them, Kathy, Cal's best friend, makes appearances from time to time.
Everything Sucks! (2018)

If the title of this show sounds like the tagline of your life, you should check out Netflix's comedy department. 'Everything Sucks!' is one of those fantastic sitcoms that will brighten your day. Boring is a little town in Oregon where the plot of this show takes place. Two social outcasts are at the center of it all, attempting to do something radical by filming a film about their school. This serves as the foundation for future love and personal challenges. Kate, the principal's daughter, is the object of one of the lads' affections. She's a terrific character since she shows us someone who is exploring their sexuality and weighing all alternatives before settling on anything.
Elite (2018 –)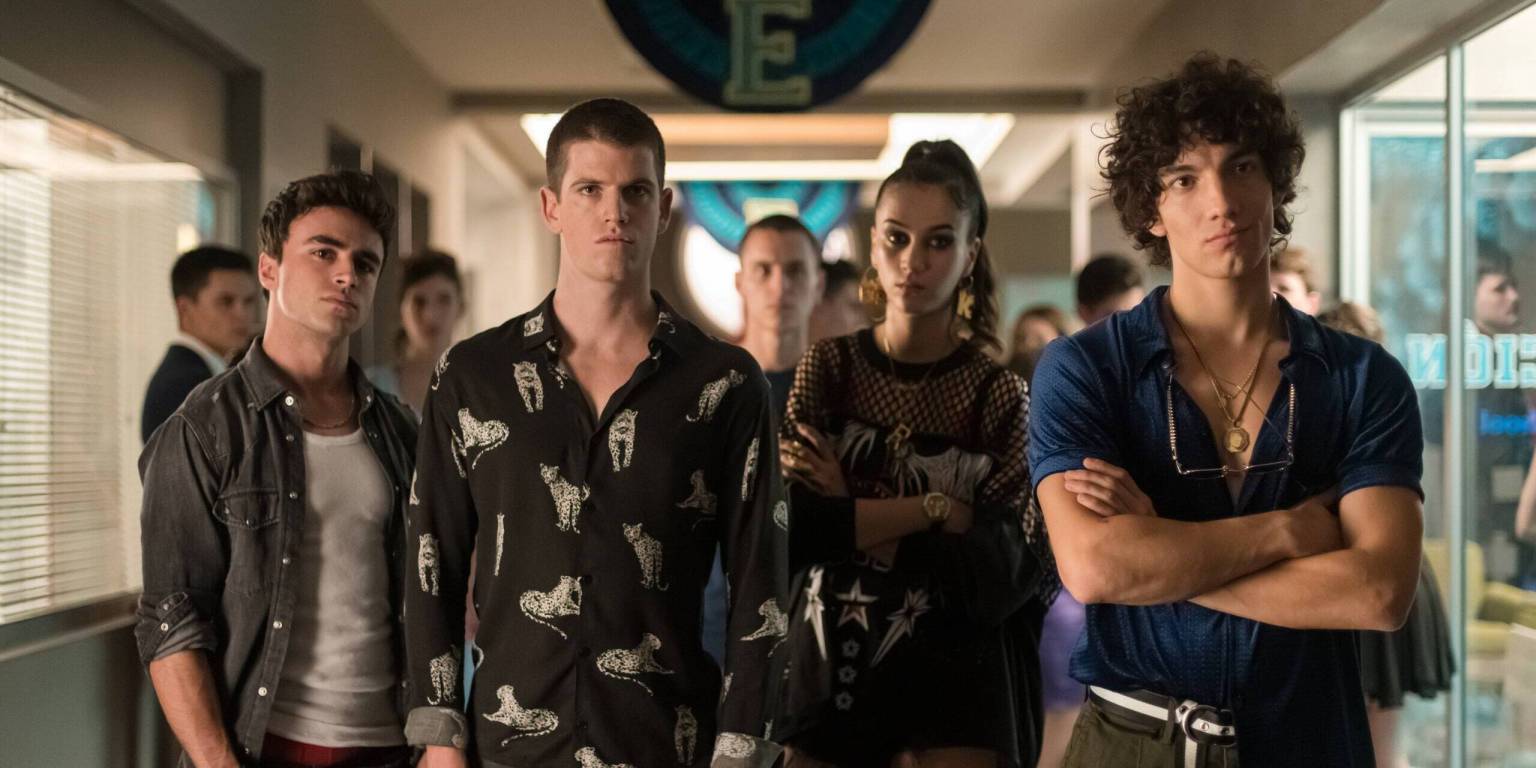 Despite the obvious overabundance of Netflix teen dramas, the Spanish series 'Elite' has managed to stand out with its daring portrayal of sexuality and willingness to reveal the other side of the ordinary. The show features a large ensemble cast. It centers on Samuel (Itzan Escamilla), Nadia (Mina El Hammani), and Christian (Miguel Herrán), three youngsters from low-income households, and their experiences once they enroll in a prestigious boarding school. Omar (Omar Ayuso) and Ander (Arón Piper) have one of the most popular romances on the show. The two protagonists embark on a wonderful journey together, culminating in perfect acceptance of their sexuality.
Grace and Frankie (2015-)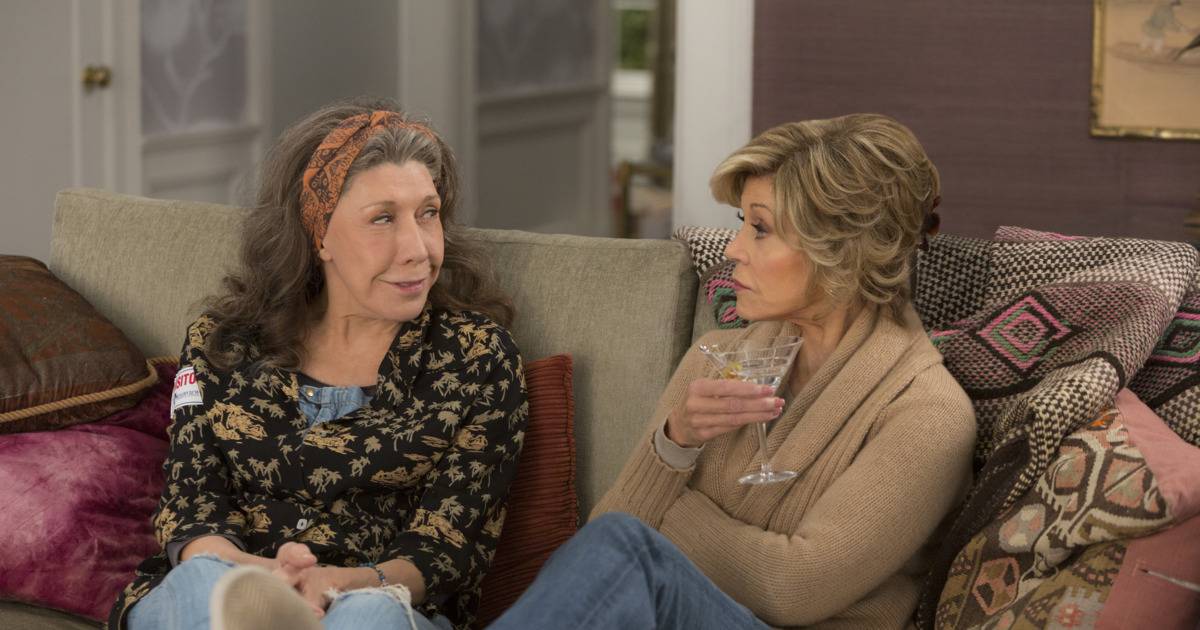 Set in San Diego, 'Grace and Frankie' chronicles the story of two women who are completely different from each other. Grace (Jane Fonda) is a cosmetics magnate who has fought her way to the top of her field. She is pragmatic, has a dry sense of humour, and is capable of being brutal. Frankie (Lily Tomlin), on the other hand, is an artist with a humble and compassionate demeanor. These two women get the shock of their lives when their husbands, Robert (Martin Sheen) and Sol (Sam Waterston), proclaim that they have fallen in love with each other. Grace and Frankie realize they have no choice but to live with each other while their former husbands find happiness together. Grace and Frankie begin to relearn all of life's pleasures as the story goes and their friendship deepens.
Gypsy (2017)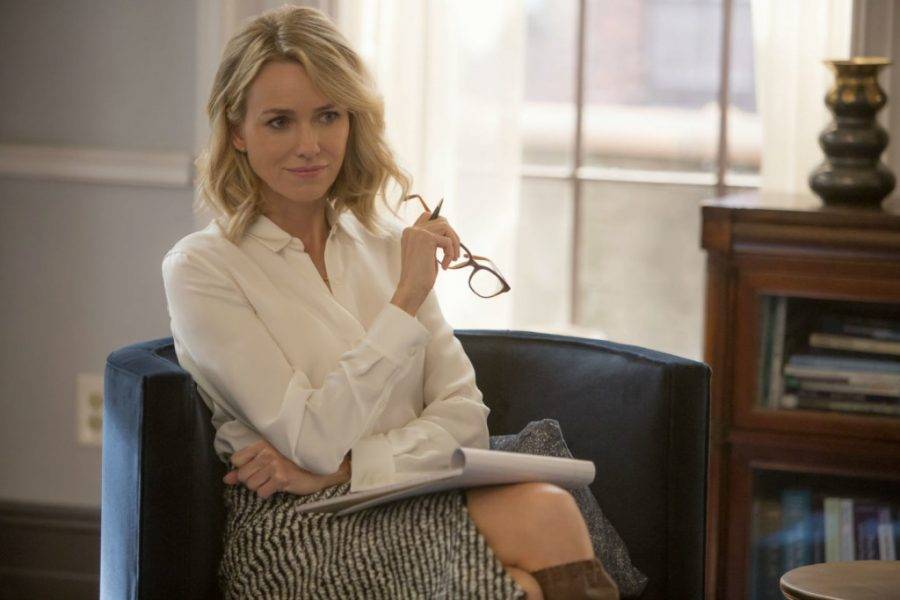 'Gypsy' stars Naomi Watts as Jean Holloway, a psychiatrist. She is married with a child, but she wants to break free from the monotony of her life and do something new. Her patients become a source of fascinating stories for her, and she chooses to advance her career. Under the guise of an alias, she begins to engage herself in their lives. When she falls for one of her patients' ex-girlfriend, her life becomes a little too interesting.
House of Cards (2013 – 2018)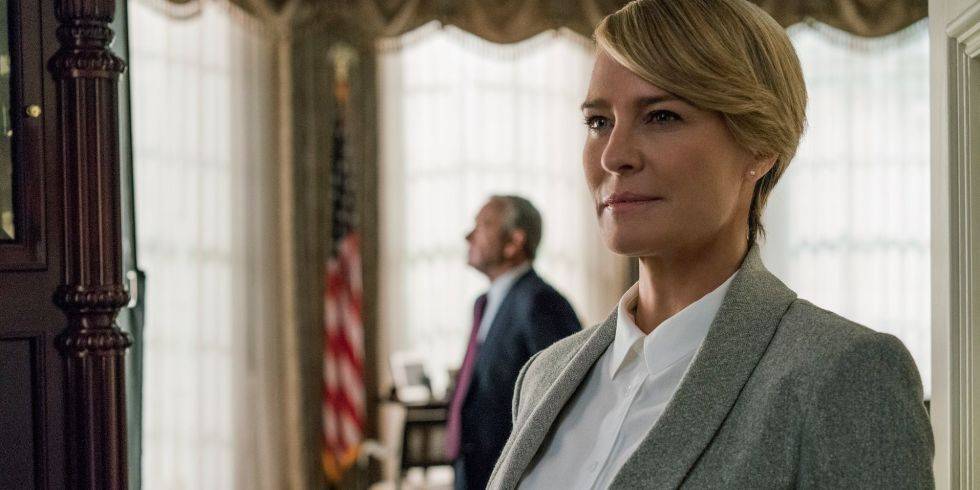 'House of Cards' on Netflix got off to a great start. It was even one of the most popular shows on the network. But then the Kevin Spacey controversy broke, and the show's ratings began to plummet. If you can get past the scandals, 'House of Cards' is still a great program to watch. It is primarily about politics, with a few brief detours in other directions. The show was fearless in many ways, one of which was Frank Underwood's portrayal as a bisexual guy. This show might not be perfect because the story didn't build much on that prospect. Even so, it's one of the few films that include an LGBTQ+ character in the lead role.
London Spy (2015)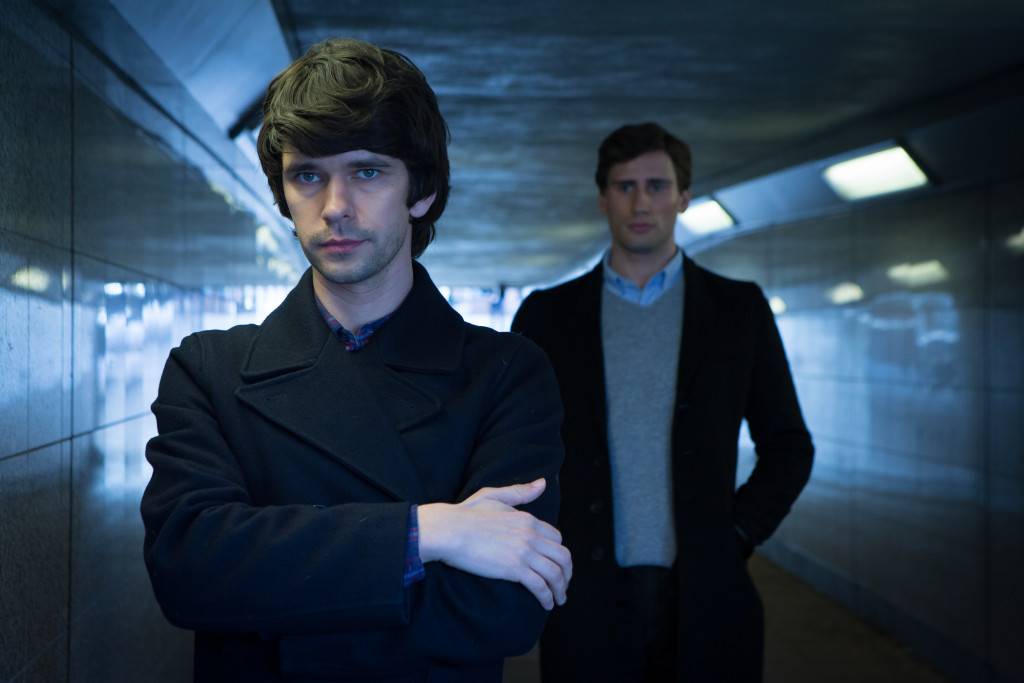 The character of a spy is one of the many stereotypes that the world has created. A good spy is either a suave, chick-magnet who can captivate any lady in his area or a Black Widow-like woman, whose charms are as deadly as her strength to murder you with her thighs in every film or TV show you watch! While the public enjoys these personalities, the issue remains: are only straight people suitable for this job? Why can't a member of the LGBT community do it? If you're curious about this, then 'London Spy' is the show for you. If you aren't, you can still watch it because it's really good. Daniel, played by Ben Whishaw, is a man who discovers that his boyfriend is a spy. Daniel goes on a mission to discover the truth about his death, which will pit him against some of the industry's fiercest characters.
One Day at a Time (2017-2019)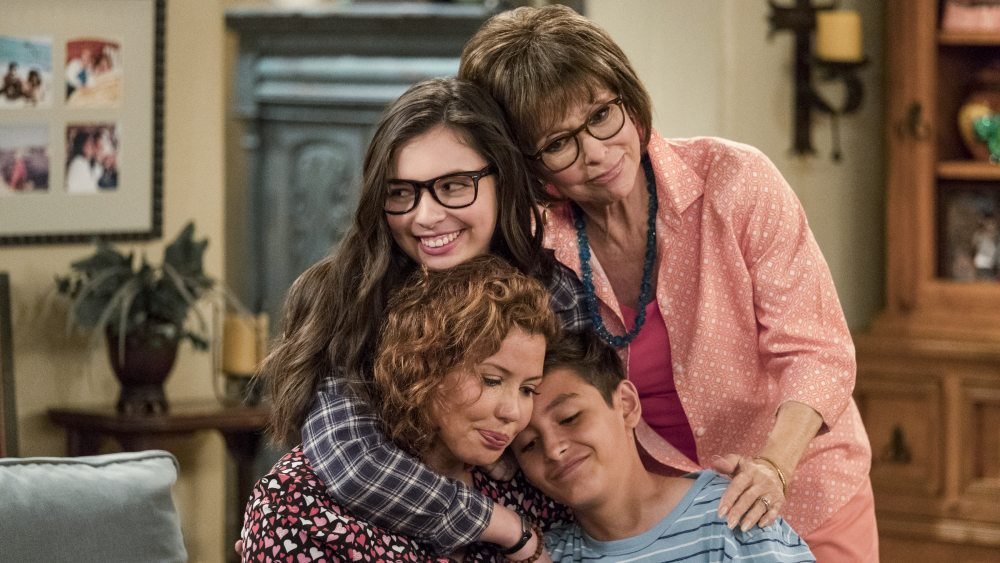 'One Day at a Time,' one of Netflix's most acclaimed and popular sitcoms, was unexpectedly canceled this year. It portrays the day-to-day challenges of a Cuban-American family. Penelope is the protagonist of the story. She is a war veteran who works as a nurse and, after divorcing her husband, tries to raise her children with the support of her mother. While this show incorporates a variety of issues into its tale, one of the most prominent is homosexuality. Elena is Penelope's adolescent daughter who comes to terms with her sexuality. Her narrative depicts the hardships that LGBTQ+ persons face in gaining acceptance from society.
Orange Is the New Black (2013 – 2019)

'Orange Is the New Black,' based on Piper Kerman's memoirs, is one of Netflix's most popular shows. The series is coming to an end this year, so finishing all of the seasons before the final one airs will be fantastic. Piper Chapman is the protagonist of this novel, a lady who was convicted of cocaine smuggling almost ten years ago. Piper is sent to a minimum-security jail, where she reflects on her life decisions while forging new relationships with other inmates, after being removed from her peaceful and calm existence with her family and fiancée. It is a must watch for lesbian web series lovers.
Queer Eye (2018 – )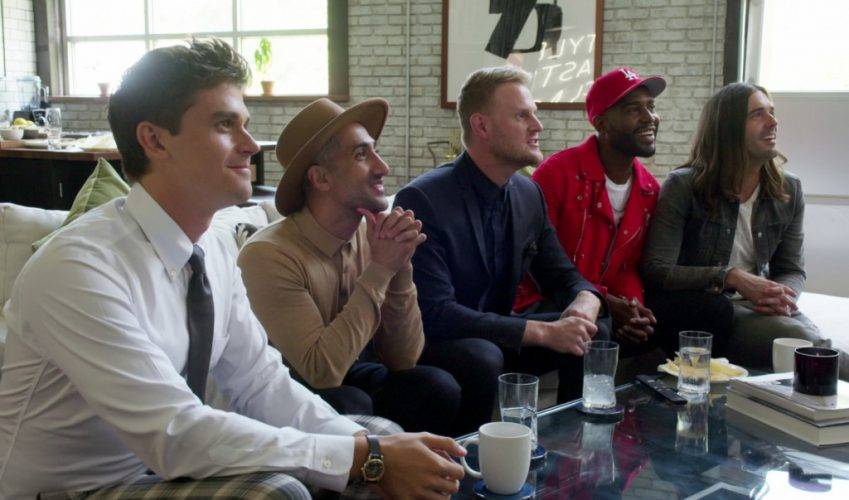 Every now and then, everyone needs a break from life. And a makeover is a terrific chance to try something new, shake things up, and keep things interesting. Most individuals, on the other hand, don't have the time to harness that side of themselves and end up liv ing sad lives. The Fab Five were resurrected for the express purpose of assisting people in making positive changes in their lives. A person is nominated in each episode. This person may require assistance with anything from preparing for a first date to boosting their confidence for upcoming interviews. You'll never be the same after the Fab Five have through with you.
Ratched (2020-)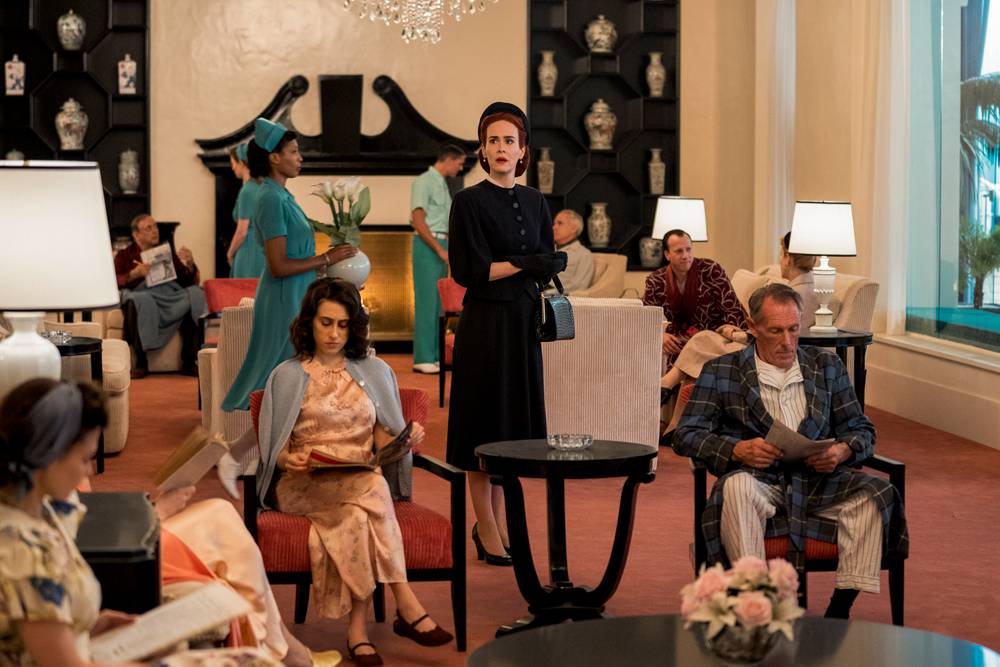 'Ratched,' created by Evan Romansky and Ryan Murphy, tells the origin tale of Nurse Ratched, one of cinema's most memorable villains. For his 1962 novel "One Flew Over the Cuckoo's Nest," Ken Kesey developed the character. Milo Forman, a Czech-American filmmaker, adapted the book into a film of the same name in 1975, in which Louise Fletcher won an Academy Award for her performance as Nurse Mildred Ratched. Murphy and Romansky set their rendition in the late 1940s and created a psychological thriller drama series that is as far off from the source material as it is possible to get. It's chock-full of shocking situations, self-awareness, and utter lunacy, as is usual Ryan Murphy entertainment.
The sitcom revolves around the love story between Ratched (Sarah Paulson) and Gwendolyn Briggs (Cynthia Nixon), the governor of California's press secretary. The viewer is well aware of what these characters' fates are going to be, and this is a major source of the show's sorrow. 'Ratched' does not necessarily address the concerns that members of the LGBTQ+ community were dealing with at the time. Instead, it creates a near-utopian world around its protagonist and her love interest, and at the end of season 1, it gives them a temporary happy ending.
Sense8 (2015 – 2018)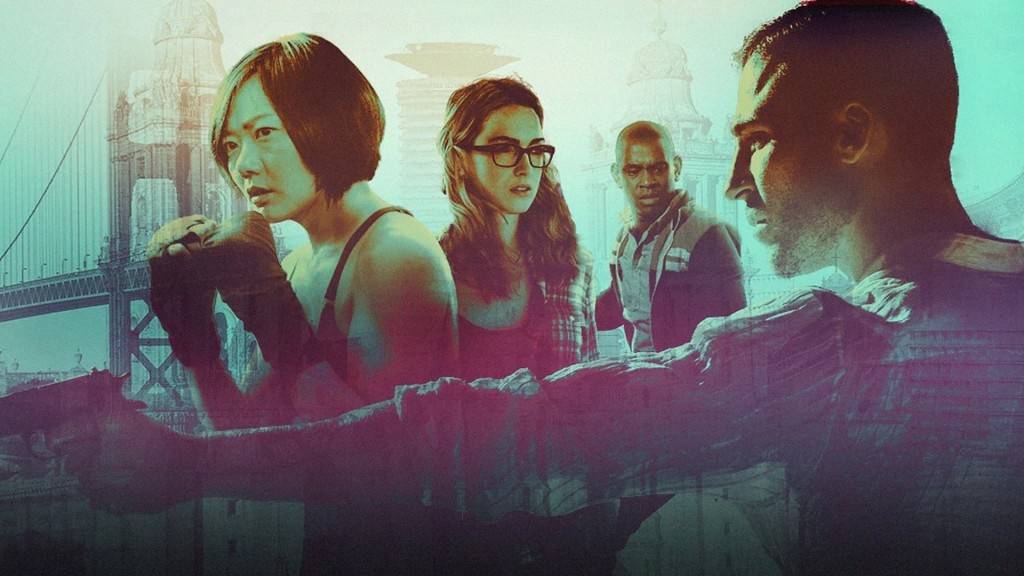 The film 'Sense8' tells the narrative of a group of people who discover they are intellectually and emotionally linked. They can share everything they know through this link. They don't know why they have this power, though. The show is lauded for including all of its primary characters in order to give the cast some variety. It uses their tales to highlight the challenges in different sections and communities of the world by setting them in different corners of the planet. Nomi Marks is one of the eight "sensates," as they've come to be known. Nomi is a hacktivist who lives in San Francisco and is transgender. She is shown as a tough and resolute character who will quickly become one of your favorites.
Sex Education (2019 -)

'Sex Education' is a Netflix romantic comedy that debuted this year and quickly became a hit. While the majority of the focus is on the sex life of teenagers, it does a fantastic job of portraying the LGBTQ+ community, in fact, it does so brutally effectively. Eric, Otis' best buddy, is a black gay kid who comes from a religious family. Eric has a difficult time accepting his identity during the entire season. His character goes through a significant transformation, and the season closes on a positive one for him. Eric is a fantastic character, possibly the finest on the show, and everyone, regardless of sexual orientation, can learn a thing or two from him.
Super Drags (2018)

'Super Drags' is a Brazilian adult-animated comedy that tells the narrative of three drag queens who are superheroes on a quest to safeguard LGBT people around the world. The main antagonist is a wicked queen who devises a variety of nefarious schemes in order to force the superheroes to admit defeat. The Super Drags, on the other hand, always manage to defeat her with each other's help and support. The show leverages its magnificent backdrop to poke fun at society's attitude toward the LGBT community and how people must channel their inner superhero to deal with the daily maltreatment they face.
The Fosters (2013 – 2018)

'The Fosters' chronicles the struggles of a couple raising their biological, adoptive, and foster children. It all revolves around Stef and Lena. Stef is a cop, and Lena is the vice-principal of a high school. They raise a mixed-ethnic group of children together and confront the hardships that life throws at them. The story begins with the arrival of two foster children in their home. Meanwhile, the action of the novel is driven by their relationship with Stef's biological son and the twins they had adopted. In terms of representation, 'The Fosters' demonstrates that it is a highly inclusive show that seeks to reflect the world through the eyes of everyone.
The Haunting of Bly Manor (2020)

'The Haunting of Bly Manor,' the second installment in the 'The Haunting' series, is a slow-burn horror that gradually builds through a frightening atmosphere and unsettling events. The series is, however, ultimately a love story, as one of the characters points out in the final episode. Danielle "Dani" Clayton (Victoria Pedretti), an American governess, arrives at Bly Manor to care after Lord Henry Wingrave's recently orphaned niece and nephew (Henry Thomas). There, she meets Jaime (Amelia Eve), the property's gardener, with whose support she eventually breaks free from her horrible past.
Dani and Jamie's romance adds an important layer of depth to the tale. Showrunner Mike Flanagan ('Gerald's Game') based his screenplay on Henry James' 1898 classic novella 'The Turn of the Screw,' which not only modernizes but also enriches the original plot in certain ways.
Trinkets (2019-2020)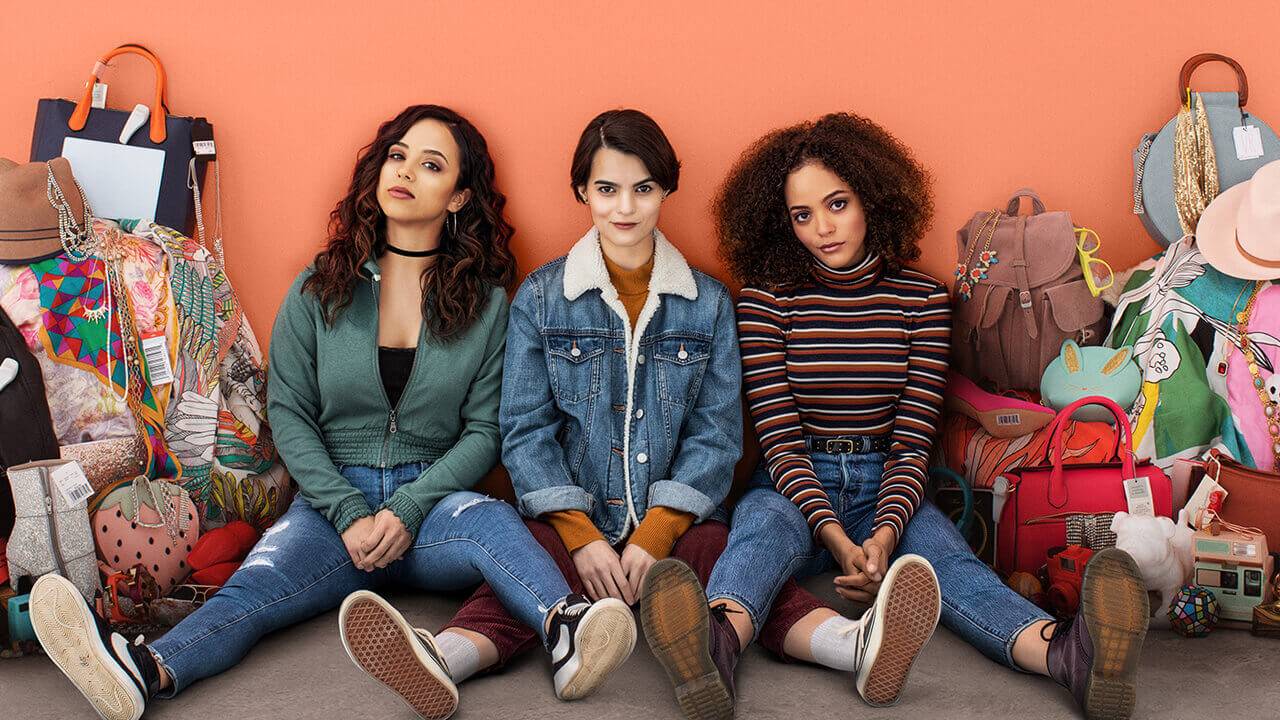 'Trinkets,' a web adaption of Kirsten Smith's 2013 novel of the same name, is about three very different young girls, Elodie (Brianna Hildebrand), Moe (Mackenzie Lenton), and Tabitha (Quintessa Swindell), who have one trait: they are all kleptomaniacs. They met at a Shoplifters Anonymous meeting and agreed to keep their friendship under wraps for the time being. Elodie is the only one of the three main characters who is queer. Her romance with Sabine (Katrina Cunningham), a singer, is an important storyline component in the show.
While 'Trinkets' isn't one of Netflix's most popular adolescent dramas, it is a well-made, short-lived show with an intriguing storyline and complex characters. It addresses a wide range of societal topics without being preachy. The absence of a huge star in the ensemble actually helps 'Trinkets,' since each of the three characters gets their own moment to shine. The cast's most well-known member is Hildebrand. In the 'Deadpool' flicks, she played Negasonic Teenage Warhead.
Unbreakable Kimmy Schmidt (2015-2019)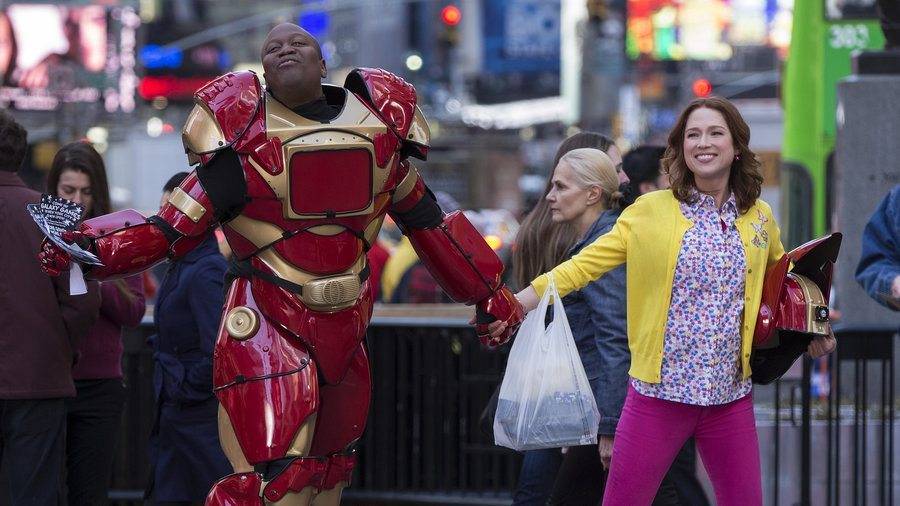 Tina Fey and Robert Carlock previously collaborated on the comedy classic '30 Rock,' a satirical sitcom about the inner workings of network television. That distinct sense of humour carried over into their next effort, the Netflix sitcom 'Unbreakable Kimmy Schmidt.' It chronicles the narrative of Kimmy Schmidt (Ellie Kemper), who was kidnapped from her family when she was in the eighth grade by Reverend Richard Wayne Gary Wayne (Jon Hamm), the leader of a doomsday cult, and held captive for 15 years in an underground bunker with three other women. When they are finally set free, Kimmy decides to relocate to New York City.
Titus Andromedon (Tituss Burgess), her roommate, is pompous and hilariously over-the-top. Titus, a failing actor, ran away from his home on the day of his wedding to Vonda Jeanne Brooks, a childhood friend (Pernell Walker). He came out of the closet and embraced who he truly is after coming in New York. 'Unbreakable Kimmy Schmidt' skillfully combines comedy with more serious, emotional moments, most of which can be attributed to Burgess' outstanding acting.
Wynonna Earp (2016 – present)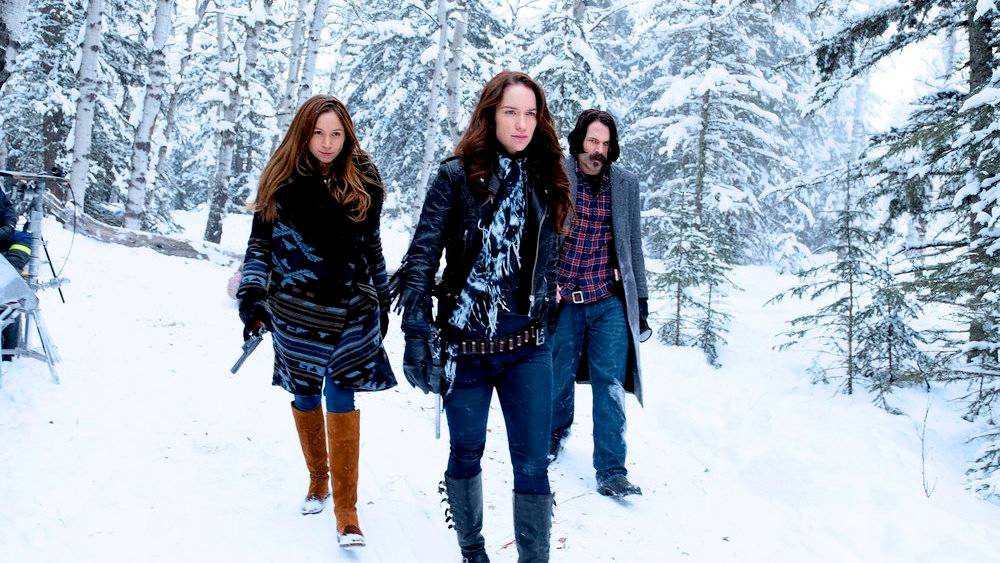 When it comes to tough sidekicks, Waverly Earp springs to mind. She is the protagonist, Wynonna's half-sister, and an authority on the family name's history. In fact, she is an expert in almost every field! The show follows the Earp sisters, particularly Wynonna, as they attempt to let what is dead die. The Earp sisters unite with a government black-ops section to accomplish their tasks, embracing their legacy as the world's rescuer from otherworldly dangers. Waverly and Nicole, the town's deputy sheriff, struck it off right away and went on to become a pair that the entire fandom was rooting for.
Our Team DCS includes 5 different writers proficient in English and research based Content Writing. We allow them and encourage them to follow the Entertainment news all day long. Our posts, listicles and even the exclusives are a result of their hard work.