For almost 20 years, Miley Cyrus has been a major figure in popular culture. Although Miley's debut performance was in the 2001 film Doc, it was her leading part as Hannah Montana in Disney's enduring television series that made her a household name. Cyrus played Hannah Montana and Miley Stewart on the show, leading dual lives as a typical adolescent during the day and a pop sensation at night. Miley's first experience as a singer/songwriter was made possible by the show, which provided the young star the chance to sing and produce music.
Hannah Montana contributed to Miley's rise to fame, but Miley Cyrus has since reinvented herself and moved away from her children's television roots to become a professional singer. Miley embraced more mature themes with her 2013 album "Bangerz," singing and rapping about sex, drugs, and partying. She has since experimented with rap, pop, rock, and country, among other genres. A week after Cyrus' "Flowers" was published in January 2023, it broke all previous Spotify streaming records with over 100 million streams. Miley Cyrus, who will release her album in March 2023, has established herself as a leader in the music business and has a devoted following, many of whom have been with her from the start.
Nevertheless, despite her outstanding musical career, one of the biggest stars of the previous 20 years was made famous by her on-screen skills more than anything else. We take a look back at each appearance Miley Cyrus has had in major motion pictures in recognition of the singer's long history of success and stardom. For the purposes of this list, we have left out any films in which Miley stars or appears in concert.
A Very Murray Christmas (2015)
Numerous celebrities, including George Clooney, Amy Poehler, and the movie's headliner, Bill Murray, are featured in A Very Murray Christmas. A snowstorm causes many of the guests on Bill Murray's Christmas special to cancel, which puts a lot of pressure on the entire production crew. He is persuaded against his will to carry on performing until a miracle enables the group to call off the performance. From there, he starts a hilarious and musical night that promotes festive spirit in an unusual way.
Bill is knocked out in one scene and dreams about the ideal Christmas special. With a white backdrop, Miley Cyrus appears in the scene along with backing dancers, glistening pine trees, and other props. Alongside Bill and George Clooney, Miley sings traditional Christmas carols in this moment, furthering the seamless sense of the setting.
In this holiday-themed comedy, Miley makes a stunning arrival on a sleigh and gets to showcase her singing abilities.
Bolt (2008)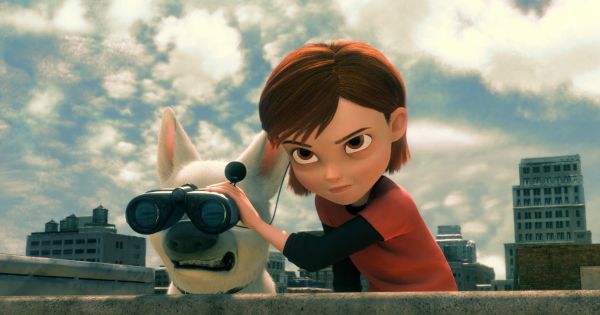 In the beginning of her career, Miley had a tight relationship with the Disney corporation because of the popularity of her popular television show. In the 2008 Disney movie Bolt, which is also on this list, Miley played Penny, the protagonist. The narrative centers on Bolt, a dog that performs alongside his owner Penny in a popular Hollywood television program. Bolt, however, is unaware that he is acting and believes his incredible talents and abilities are real. Bolt learns the hard truth about his life as he is dispatched on a cross-country expedition.
Once more at the height of Hannah Montana's appeal, Bolt gave Miley her debut voice acting opportunity. Her girlish and upbeat temperament as a kid star helped to make Penny come to life and seemed to fit the character's concept well. Miley Cyrus had many more words than she did in High School Musical, most of which were crucial to Bolt's quest for self-awareness.
The tale very nearly paralleled that of the child star's life, making it the ideal story for Miley to take on. In the end, Penny is able to escape the restrictions Hollywood has placed upon her.
Guardians of the Galaxy Vol. 2 (2017)
The Marvel Cinematic Universe has provided moviegoers with a bevy of ethereal and action-packed tales starring some of the biggest personalities in Hollywood. The second installment of the franchise, Guardians of the Galaxy Vol. 2, follows the titular gang as they journey to combat a new enemy and struggle to stay a team as new challenges are constantly thrown their way.
Miley provided a brief voiceover for the villainous Mainframe in this superhero movie. She can be seen at the funeral of Yondu, a character who had a father-son-like bond with the main character, Star Lord. Miley simply said, "I miss you guys so much," in this context.
Although the sentence was brief, it contributed to capturing the emotional impact of the difficult situation and was a humorous addition for both Miley and Marvel fans.
High School Musical 2 (2007)

One of the most popular franchises to originate from the Disney Channel is High School Musical. High School Musical, which helped launch the careers of celebrities like Vanessa Hudgens and Zac Efron, followed a group of gifted teenagers as they went through the highs and lows of regular high school life. The group is followed in the second film, High School Musical 2, while they are on summer break and cowork at a country club.
The cast and several extras participate in a dance performance around the club's pool in the movie's concluding scene. Miley's role has no name and no spoken dialogue, however she does appear briefly on screen as a member of the dance group. When the film first came out, keen-eyed viewers were thrilled to have spotted her in it.
Miley was the ideal surprise cast addition because the movie came out while Miley and HSM fans were both extremely popular on the Disney Channel.
Sex and The City 2 (2010)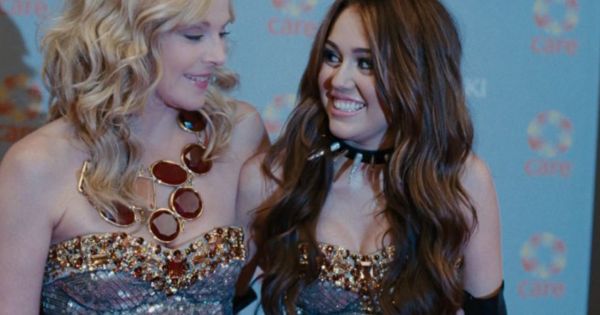 Even though Miley's cameo in Sex and the City 2 was brief, it allowed for a sweet scene with Samantha Jones, played by Kim Cattrall. Sex and The City 2 is a 2010 sequel that follows the main ladies Charlotte, Samantha, Carrie, and Miranda on their customary upscale adventures. It is based on the popular television series of the same name.
In a certain scene, Samantha and Miley may be seen on a red carpet wearing the same same dress. The two realize they are twins, which makes the scenario unpleasant at first, but it ends happily with Miley hugging Samantha and the two posing for pictures with the press. Both women looked lovely in their sparkling gold outfits despite the red carpet catastrophe.
Miley has been thinking about leaving her Disney Channel program and pursuing other professional opportunities. One of her first films outside of Hannah Montana where she was able to play a more adult character was Sex and The City 2. Fans were thrilled by her unexpected presence and pleased to see the celebrity explore new opportunities.
The Night Before (2015)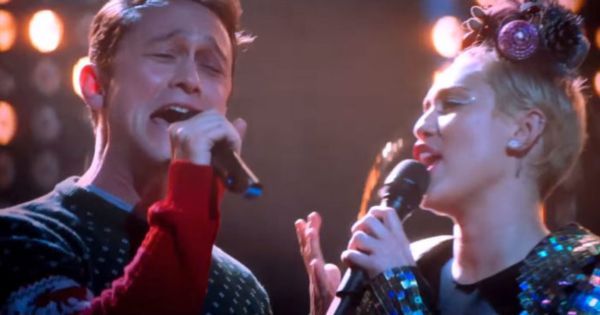 The Night Before is Miley's second performance in a holiday film. The film includes superstars like Seth Rogen and Joseph Gordon-Levitt and follows three friends as they gather on Christmas Eve to spend a night packed with partying and drinking. The three make a commitment to have the wildest Christmas Eve ever as they realize that the Christmas Eve custom would soon come to an end.
In this scene, Miley performs on stage alongside Ethan, a character played by Joseph Gordon-Levitt, in her own image. However, Miley is featured heavily throughout the entire narrative and is made clear to be a favorite of the three buddies by the audience. One of the major highlights of the Nutcracker Ball, an exclusive affair dubbed the year's greatest celebration, was Miley's performance. In front of an audience of curious spectators, the two perform Miley's famous song "Wrecking Ball."
Even though it was brief, Miley's cameo was one of the rare opportunities she had to demonstrate her excellent singing abilities.
Zoolander 2 (2016)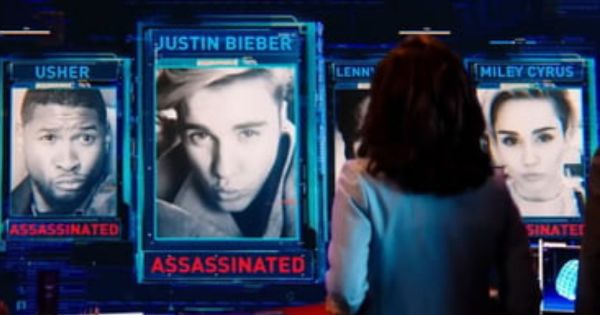 Hollywood cameos abound in the 2016 film Zoolander 2. With a star-studded cast that includes Justin Bieber and Usher, Zoolander 2 skillfully leverages each appearance to advance the plot. The movie depicts the story of two competing male models named Derek and Hansel as they find themselves back in the modeling business after being labeled "too old" and "too lame." The two quickly become embroiled in a bizarre plot and must figure out how to get to the bottom of the weird events.
The narrative begins by laying out the conspiracy: someone has been assassinating the most attractive and well-known celebrities in the world. Fans identified Miley Cyrus as one of the superstars who had been killed by the killer as they saw the offed celebs roll across the screen.
Despite the fact that she didn't have any speaking parts, the inclusion of Miley's picture and likeness served to underscore Miley's influence, even in the make-believe world of Zoolander 2.
Our Team DCS includes 5 different writers proficient in English and research based Content Writing. We allow them and encourage them to follow the Entertainment news all day long. Our posts, listicles and even the exclusives are a result of their hard work.