"80 for Brady," which was directed by Kyle Marvin, is a sports comedy about four older women who are friends and fans of the Patriots football team and its star quarterback, Tom Brady. This 2023 movie has an all-star cast, including Lily Tomlin, Jane Fonda, Rita Moreno, and Sally Field. Other celebrities like Patton Oswalt, Guy Fieri, and Tom Brady also make appearances. The movie is about Lou, Trish, Laura, and Betty, who have been best friends for a long time. The four women are huge Patriots fans, so they decide to go to the 2017 Super Bowl in Houston to see their favourite player, Tom Brady, play. What happens next is a string of funny mistakes and chaos.
If you liked how quirky and charismatic the characters were in "80s for Brady" and want to find other movies with fun group dynamics, this list has you covered. Most of these movies, like "80 for Brady," are available on Netflix, Amazon Prime, and Hulu.
Bad Moms (2016)
Jon Lucas and Scott Moore wrote and directed "Bad Moms." Mila Kunis, Kristen Bell, and Kathryn Hahn play the three main characters. In the movie, Amy is a suburban mom with two overachieving kids and a husband who she finds out has been cheating on her. She decides to stop trying to be the perfect mom because she is tired and stressed out. She makes friends with Carla, a single mom who is easygoing, and Kiki, a stay-at-home mom who works too much. As the three girls let loose, they enjoy a wild night away from being moms. Like '80s for Brady, 'Bad Moms' is about a group of friends going on a fun and interesting journey. If you liked the characters in "80s for Brady" and want a funny female ensemble comedy like that, "Bad Moms" is the one for you.
Last Vegas (2013)
"Last Vegas" is a comedy with Michael Douglas, Robert De Niro, Morgan Freeman, and Kevin Kline. It was directed by Jon Turteltaub. The movie is about four old friends named Billy, Paddy, Archie, and Sam. They go to Las Vegas to celebrate Billy's bachelor party. On this trip, the four friends have to deal with their pasts and face the realities of their futures. Their friendship is also put to the test. "Last Vegas" and "80 for Brady" have a lot in common. Both are about a group of older friends who go on a trip and learn new things that make their friendships stronger in the end.
Moving On (2022)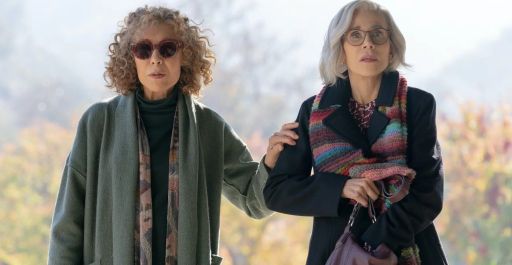 "Moving on" is a comedy written and directed by Paul Weitz. It stars Jane Fonda and Lily Tomlin. In this movie, Claire and Evelyn see each other again after years apart at the funeral of a mutual friend. As the two work together, they plan to kill the husband of their dead friend's widow and, in the process, get back in touch with each other. Dark comedy is used in this movie, and the relationship between the two main characters is fun to watch. If you like Jane Fonda and Lily Tomlin and liked see ing them in "80 for Brady" together, you will also like "Moving On."
Plan B (2021)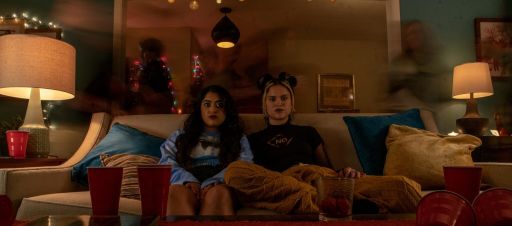 Sunny is a goody-two-shoes, and Lupe, who is a rebel, is her best friend. Sunny's first sexual experience means she needs a "Plan B" pill to avoid becoming pregnant at a young age. The two friends go on a 24-hour trip to get the birth control pill. Along the way, they get to know each other better. Natalie Morales is in charge of the comedy "Plan B," which is about a teen coming of age. Sunny and Lupe from "Plan B" also have to go through a lot to reach their goals, just like the women in "80 for Brady." Both movies are entertaining and funny tales of female friendship and camaraderie, so if you liked '80 For Brady,' you would like the humour and character development in 'Plan B.'
Sex And The City (2008)
"Sex and the City" is a movie that picks up where the popular TV show of the same name left off. It's Michael Patrick King's first time directing a full-length movie, and it picks up where the TV show left off with Carrie Bradshaw and her friends. Carrie, Samantha, Charlotte, and Miranda have to figure out how to live in New York City and deal with the problems that come up as a result. This romantic comedy has the same basic plot as '80 for Brady,' which is about two women who become friends. However, unlike '80 for Brady,' this story and its characters have their own kind of drama.
Tag (2018)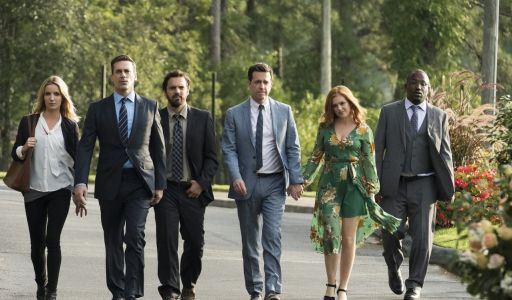 Jeff Tomsic's first feature film is "Tag," which is based on a true story. Many funny actors, such as Jeremy Renner, Jon Hamm, and Jake Johnson, are in this ensemble comedy. The story is about a group of childhood friends who get together every year for one month to play a very competitive game of tag. But this year, the game conflicts with the wedding of the only player who hasn't lost yet. Even though the stakes were already crazy high, they have never been higher. Like "80 for Brady," this movie shows a group of friends who have a lot of fun and get into trouble. It also tells a touching story about friendship through funny scenes.
The Hangover (2009)
"The Hangover" is the first movie in a trilogy, and it quickly became a classic for fans of R-rated comedies after it came out. It was directed by Todd Phillips, and the main characters are Bradley Cooper, Ed Helms, and Zach Galifianakis. The story is about what happens when three friends, Phil, Stu, and Alan, wake up after a wild night of partying at their friend Doug's bachelor party. They wake up without any memories or Dough, but with a baby and a tiger instead. Now, Doug's wedding is in a few hours, and his three very drunk friends have to find him and get him to the church on time. Both "The Hangover" and "80 For Brady" are group comedies about groups of friends. Even though "The Hangover" is rated R and "80 for Brady" is not, the movies still have similar themes and a classic "expedition gone wrong" plot.
Wine Country (2019)
Amy Poehler's first movie as a director is "Wine Country," in which she stars along with Maya Rudolph, Tina Fey, and others. Abby plans a weekend trip to Napa for Rebecca's 50th birthday, and she invites Catherine, Val, Naomi, and Jenny, who have been friends for a long time. Everyone tries to get away from their own problems by going on this trip, but things get out of hand when their problems end up affecting the trip. Fans of "80 for Brady" will like this movie about a girls' trip. The relationships between the women in the group are similar to those in "80 for Brady." "Wine Country" will be fun and worth watching because it has a bunch of funny characters and a simple plot.
Our Team DCS includes 5 different writers proficient in English and research based Content Writing. We allow them and encourage them to follow the Entertainment news all day long. Our posts, listicles and even the exclusives are a result of their hard work.