'Outlander' Season 6 : Release Date, Trailer, Cast | Everything You Need To Know
If you're a fan of the critically acclaimed time-travel drama Outlander, the series' long-awaited return is almost here! Fans throughout the world have called the time between episodes 'droughtlander,' and it's finally coming to an end after an extended hiatus owing to the ongoing COVID-19 pandemic.
Season 6 will premiere on March 6, so let's see what Season 6 has in store for our favorite characters. However, if you haven't seen the most recent season, be aware that this page presents a summary of Season 5 and contains spoilers.
What We Know So Far After Outlander Season 5

Out of all the riveting episodes of Outlander, the Season 5 finale is without a doubt one of the most distressing and brutal in the series' history. There hasn't been an episode this difficult to watch since the end of Season 1. It was difficult to watch Claire's grief and suffering, even though the show's creators handled it as delicately as they could. As we reach Season 6, her experience will undoubtedly have a number of implications.
Claire (Caitriona Balfe) was abducted, tortured, and gang-raped by Lionel Brown (Ned Dennehy) and his group of men in the finale. Claire's coping strategy involves her slipping in and out of awareness and fantasizing about a different life in the 1960s. She imagines herself living in safety and comfort, free to use her education and skills to benefit those around her, surrounded by her past loved ones. In stark contrast to the reality she faces in North Carolina in 1772.
When Claire discovers that one of Brown's men is also a time traveler from the 1960s, there is a ray of hope for Claire's safety, but it is rapidly extinguished. Despite her pleads, he refuses to assist her in escaping. As a result, she is violently abused by Lionel and the rest of the men, who regard her as a charlatan.
Bree tries to return to her own time with Roger and Jemmy, unaware of what is happening to her mother, but the time travel fails. Given the love and care Claire will require from her family to help her recover her traumatic experience, it's definitely for the best.
Roger rejoins Jamie and his men on a rescue operation to save Claire after returning to Fraser's Ridge. Jamie feels devastated that he was unable to defend Claire. The men of Fraser's Ridge line up the entire bunch and execute them after hearing she isn't sure how many of them hurt her. While the series has seen enough of murder before, Roger's involvement is especially significant because he has pledged a bond to Jamie. He has changed significantly since his time journey with Bree, but he is not a soldier, and this level of violence is foreign to him. As we get into Season 6, it will be interesting to see if the authors expand on this storyline and how these occurrences effect him.
Given everything she has been through, Claire has showed remarkable strength, perseverance, and fortitude throughout the series. When the group decides to bring Brown back to the Ridge with them rather than killing him, it's evident that this encounter has permanently altered her. Despite her power and strong remarks, the consequences will be felt for the rest of the season.
The events have an influence not just on Claire and Roger, but also on Marsali, who poisons Lionel despite swearing to do no harm. It will be intriguing to see how the show's designers develop this plotline in Season 6 and how her guilt affects her, much as it was for Roger.
Roger and Bree appear content at the end of Season 5 to be at home with their family, as they should be. Jamie and Claire vow to prepare for the impending conflict as best they can, but only time will tell how safe Claire feels with Jamie by her side as the war approaches.
When Is the Release Date of Outlander Season 6?

On March 6, the latest episodes of Outlander will air. The cast, crew, and producers have all given plenty of hints about what to expect. The sixth book in Diana Gabaldon's Outlander series, A Breath of Snow and Ashes, is slated to be the main inspiration for the season.
The first four seasons of the show included plots and characters loosely based on Gabaldon's first four novels. Season 5 included her fifth and sixth books, therefore the showrunners may decide to finish A Breath of Snow and Ashes or include Galbadon's seventh book in Season 6.
Where Can You Watch Outlander Season 6?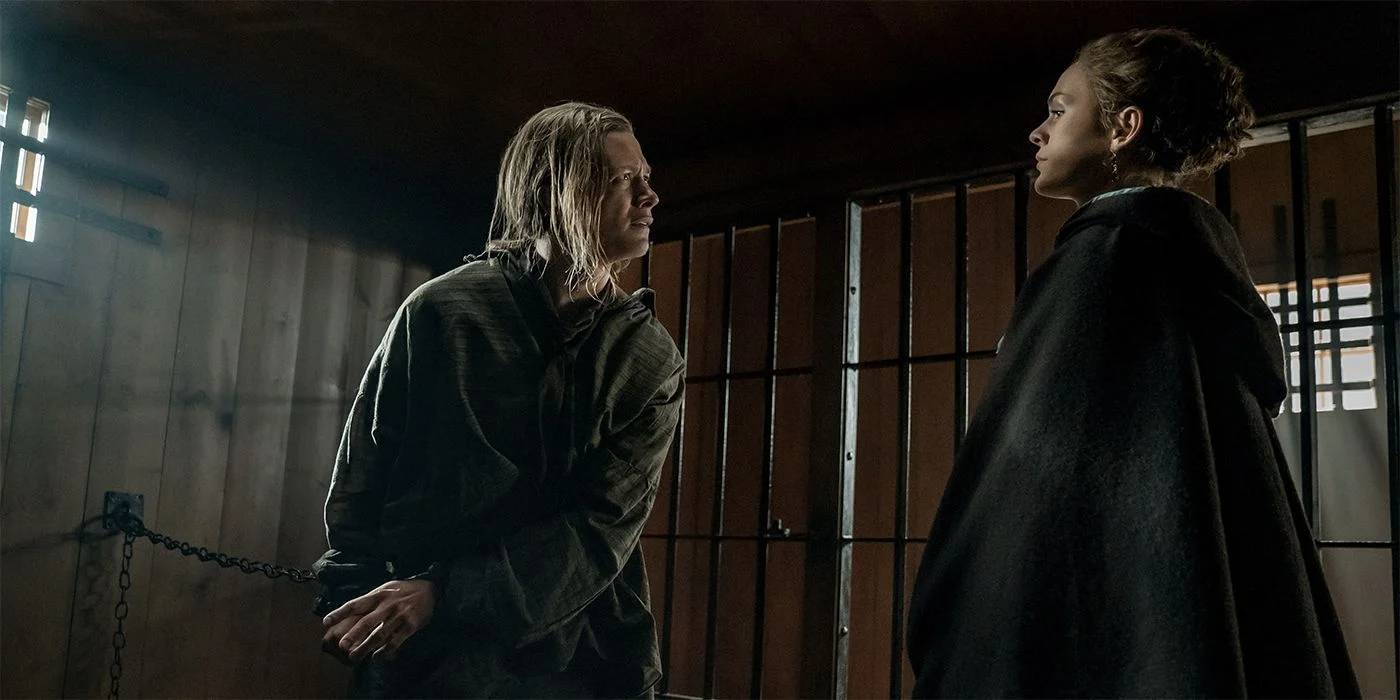 Season 6 of Outlander will premiere on all Starz platforms, with new episodes released every week. Streaming is available on Amazon, the STARZ app, Netflix (in select areas), and Hulu if you need to catch up on previous seasons.
Is There a Trailer for Outlander Season 6?
On October 9, 2021, the Season 6 teaser trailer debuted at New York Comic-Con. Jamie and Claire are shown at Fraser's Ridge as the Revolutionary War approaches in this one-minute trailer. The clip has a foreboding tone to it, as if this season will be marked by great change and disruption for the entire family. The trailer also shows some new characters who appear to be major roles in Season 6, which will likely present new issues for the Fraser family. On January 19, 2022, the full-length trailer was released.
Who Is in the Cast of Outlander Season 6?

Jamie (Sam Heughan), Claire (Caitriona Balfe), Brianna (Sophie Skelton), Roger (Richard Rankin), Marsali (Lauren Lyle), Fergus (César Domboy), and Young Ian are all back from Season 5. (John Bell). In addition, the Christies, a brand-new family introduced this season, should provide a new dynamic for the show's major protagonists.
Father Tom (Mark Lewis Jones), son Allan (Alexander Vlahos), and daughter Malva make up the Christie family (Jessica Reynolds). Jamie has offered to help former Ardsmuir inmates settle in the region, so the three arrives.
Tom is a devout Scot who fought in the Jacobite Rising for the Stuarts. Because of his loyalty, he was imprisoned at Ardsmuir, where he met Jamie. Tom could be one of the persons mentioned by Sam Heughan in interviews when he says Jamie's history will catch up with him in Season 6. Tom was finally transferred to America as an indentured servant, and after completing his term, he relocated to Fraser's Ridge. His conservative ideas are likely to spark community tension as he becomes a school teacher and the local Protestant faction leader.
Allan is Tom's son, and he and his half-sister Malva were taken to America by the man who had purchased his father's indenture papers. Malva is fiercely protected by Allan. If the plot maintains faithful to the novel, he might cause major issues for Claire throughout the season.
Malva is presented as Tom's daughter, but there is a dark secret in the family. She's Tom's niece, the offspring of his brother's affair with his wife while he was in prison. Malva becomes close to Claire and admires her self-assurance and self-esteem. However, because her father is a traditionalist, he is uncomfortable with the relationship, which is expected to produce conflict and possibly tragedy at Fraser's Ridge.
What to Expect from Outlander Season 6?

Due to production challenges created by COVID-19, Outlander Season 6 has just eight episodes. "Echoes," the opening episode, is a 90-minute feature-length episode. We're in for a treat if Gabaldon's evaluation of the season is any indication (which it should be!). The first episode, according to the author of Outlander, was "simply wonderful."
Over the last few months, the producers and cast have dropped numerous hints, portraying the next season as "darker" than prior seasons. Jamie and Claire are expected to confront a variety of difficult and unexpected challenges this season. You might be thinking after seeing the final five episodes of Outlander how much more this couple can take. If you've read the books, you'll know that there's a lot more in store, depending on which way the creators choose to take.
The value of family is expected to be emphasized even more this season, with Claire's close-knit group supporting her following the horrible events of Season 5. It's fair to say that the entire family is still reeling from the events of last season, and there's a lot of healing to be done.
With the Christie family threatening to undermine any remaining feeling of calm at Fraser's Ridge, as well as the impending Revolutionary War, this season promises to be full of dramatic tales. The Frasers will face tremendous changes as they defend their home from imminent war and deal with discord and division within their family and community. After all, Claire knows what's coming, and Jamie has sworn allegiance to the British, which will only add to the tension and anxiety as the battle draws nearer.
Other major characters, such as Young Ian, Marsali, and Fergus, will endure obstacles in addition to the Frasers. Young Ian is forming greater relationships with the Native Americans and appears to be grappling with his identity and loyalty, based on the trailer. If the scenario follows the novel, Marsali and Fergus' lives could be drastically altered. Marsali gives birth to a dwarf kid in A Breath of Snow and Ashes, which causes not just conflict in their relationship but also superstition and discrimination in her once close-knit town.
Additional stories based on Galbadon's novel could include the following:
Claire being accused of murder
Roger becoming a minister
Brianna giving birth to a baby girl
Jamie working as an 'Indian agent', requiring him to travel regularly to meet with Cherokee tribes
Lizzie falling pregnant but not knowing whether the father is Keziah or Josiah
Whatever direction the authors choose, there will almost certainly be a lot of trauma and emotion involved, based on the previous five seasons. This season could be the family's most hardest to date. There will almost certainly be story twists and unexpected surprises tossed in for good measure!