We have a true understanding of how love relationships are never as simple as they seem thanks to Netflix's "The Ultimatum: Marry or Move On," which truly lives up to its title in every way possible. After all, this original series follows a diverse mix of characters as they struggle to find their way through the fork in the road they've reached on the way to achieving future familial stability. In season 2, Roxanne Kaiser and Antonio Mattei were among them. If you're just interested in knowing more about them and their current situation, we have the information for you.
Roxanne and Antonio's The Ultimatum Journey
Antonio knew Roxanne was more than what people thought she was from the moment they first laid eyes on her and that she might be "wife material" for him. But it wasn't until years later when they finally met after a social media reunion that he got to express this clearly, only to discover their shared love wasn't enough. Given that they had been on and off for four years, he also understood that they had their fair share of problems, but he still had faith that they could resolve them.
Antonio had no idea that, despite her acknowledged love and admiration for him, arranging a wedding was the furthest thing from this ambitious, career-focused 31-year-old's mind. The main reason for this is that Roxanne had always envisioned having a life partner whose financial situation, business savvy, general ambitions, etc., matched hers, but he just fell short of all of her expectations. Additionally, there was the element of unadulterated respect; although the 30-year-old Freight Broker didn't initially think so, several of their disagreements did suggest she believed she was superior to him.
However, Antonio made it clear that while he greatly respected her drive, he also expected her to take charge of their relationship by paying closer attention to him or speaking out about her feelings. He issued this ultimatum in the hopes that it would exert enough pressure on her to persuade her of the seriousness of both his proposal and the concept of marriage in general. He essentially wanted her to understand that, contrary to popular belief, her trial marriage to Alex Chapman had helped her maintain her freedom.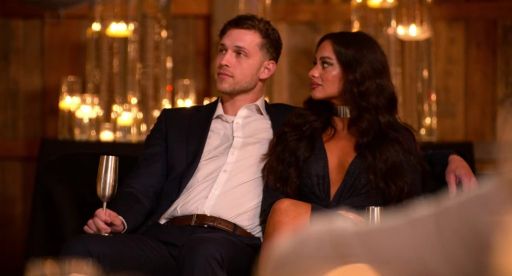 Roxanne said, "I love Antonio, but I had a lot of high expectations," early on. "I want someone who is ambitious and works very hard, and that's just not Antonio… He is aware of my intense, intense emphasis on my career, therefore I don't understand why I would place marriage before everything else. Even though he understood it wouldn't be entirely reciprocated, he ultimately declared he'd be her champion if they were married after actively pursuing a career. He declared, "I would always go above and beyond for you." "waking up in the morning and trying to do the right thing."
Are Roxanne and Antonio Still Together?
While Roxanne acknowledged she couldn't possibly guarantee she'd support Antonio through every stage of life, the 31-year-old did admit she was confident in her ability to be a wonderful wife in general. The owner of Pasted Nip commented, "I believe I'm considerate." "I believe I frequently put other people before myself. Because of my character, I feel like I'll prioritise [Antonio], and you'd be considerate, he continued. You'd be considering how our family will develop, which is another reason why I would make a good spouse. But regrettably, the truth still stands that she wasn't sure of her decision until the very last moment.
View this post on Instagram

We think Roxanne and Antonio are still happily married despite all of their disputes, the fact that they have been together and apart for the past four years, and their recent radio silence regarding their relationship. While the Georgia-based entrepreneur and the goods broker haven't officially confirmed or denied their relationship as of this writing, there are a few hints on their respective internet sites.
First and foremost, as can be seen in the image below, Antonio hasn't deleted or preserved a single old photo of the couple from his Instagram feed, and they still mutually follow each other as well as their families. The series also showed that Roxanne did try to pay more attention to him once he started working on starting his own business to show her he could change, which gave viewers hope that their relationship would actually work out in the long run.
View this post on Instagram
Our Team DCS includes 5 different writers proficient in English and research based Content Writing. We allow them and encourage them to follow the Entertainment news all day long. Our posts, listicles and even the exclusives are a result of their hard work.