Wednesday is a Netflix coming-of-age fantasy mystery series that was created by Tim Burton, Alfred Gough, and Miles Millar. It is based on the creations of Charles Addams, an American cartoonist. After failing to successfully enrol Wednesday Addams (Jenna Ortega) in a regular school, her parents decide to send her to Nevermore Academy, the boarding school they both attended when they were younger.
All of the students and the majority of the teachers at the unique school known as Nevermore are outcasts – individuals with unique talents that distinguish them apart from the general populace or "normal" people. Even among the outcasts, Wednesday manages to stand out, infuriating Nevermore's principal Larissa Weems (Gwendoline Christie) with her behaviour. Aspiring author Wednesday gets caught up in a murder case involving a deadly creature and discovers a prophecy that says she will ruin the school. Here is all the information you require on the conclusion of Season 1 of "Wednesday." Spoilers follow.
Wednesday Recap
Wednesday's parents, Gomez (Luis Guzmán) and Morticia (Catherine Zeta-Jones), decide to enrol her at Nevermore as a last resort when she unleashes a school of piranhas on her brother's bullies. In the past five years, she has already attended eight different institutions. Morticia and Gomez are hoping that the school where they met will be exactly what their daughter needs.
She is as obstinate as she is morbid, as Weems and Dr. Valerie Kinbott (Riki Lindhome), the therapist Wednesday must visit as punishment for her behaviour at the previous school, discover. At first, Wednesday develops a nearly hostile connection with the other students and wants to leave the school at every opportunity.
Enid Sinclair, Wednesday's roommate (played by Emma Myers), is the complete opposite of her. Enid is cheerful and colourful, but she hasn't fully transformed into a werewolf, which has caused fear for the family/pack. Wednesday is introduced to the school hierarchy by Enid. The world's population is divided into normies and misfits in this version of the Addams family. Normies are regular people, while outcasts possess exceptional abilities.
Young members of various magical races are meant to travel to Nevermore to receive education because it is a shelter for outcasts. There are cliques, as one might expect, with the primary four being Fangs (vampires), Furs (werewolves), Stoners (gorgons), and Scales (sirens). Other students have special abilities, such as Eugene Otinger (Moosa Mostafa), who has control over insects, and Xavier Thorpe (Percy Hynes White), whose paintings come to life. As for Wednesday, she is psychic and has inherited her mother's ability to see the future. Additionally, she has a parent with Goody Addams, who was among the first outcasts in Jericho, New England, a town close to Nevermore. The Addams family is only portrayed in black and white throughout the movie as a nod to the characters' lengthy history.
After only a few days in Nevermore, Wednesday almost loses her life when Rowan, a fellow student, uses his telekinesis power on her and claims that his mother foresaw that Wednesday will bring about the destruction of Nevermore. Rowan is killed when a horrible thing arrives out of nowhere.
Even Wednesday is shaken by the incident, so she starts looking into the monster. Several murders have already been connected to the beast. Sheriff Donovan Galpin (Jamie McShane), who thinks the creature is one of the Nevermore pupils, and Wednesday come to an understanding. Galpin is persuaded to assist Wednesday since she has access to the academy.
Wednesday starts making friends with Enid as she stays to study at Nevermore, which is a remarkable development. Additionally, she becomes acquainted with Tyler Galpin (Hunter Doohan), who appears to be the Sheriff's normie son. It turns out that Tyler and Xavier have been at odds for a very long time, ever since the latter vandalised one of Xavier's works of street art. The males' obvious interest in her quickly turns the competition into the beginning of a love triangle. Even while Wednesday is aware of their curiosity, she largely maintains her distance from the situation. But as the show goes on, it becomes clear that Tyler might be interested in the same things.
Wednesday's parents left behind Thing, the live, artificial hand that helps the Addams family, when they fled Nevermore. Wednesday delves further into the mystery of Jericho with the aid of Thing and her companions and learns that her ancestor Goody and the town's founder, Joseph Crackstone (William Houston), were fierce rivals. She experiences a vision in which she sees Crackstone setting the Jericho outcasts on fire. Goody barely makes it out, but she later exacts revenge on the man.
When Wednesday's evil uncle Fester (Fred Armisen) shows up, she is able to identify the type of monster she is dealing with. She makes assumptions about the character hiding beneath the monster's skin, but the season 1 finale disproves her assumptions. An old foe of the outcasts makes a comeback seeking retribution. While other friends support Wednesday as she fights evil, certain pals reveal their actual selves.
Wednesday Ending: Who is the Killer? What Type of Monster is the Killer?
In the end, Uncle Fester discovers the monster's riddle for Wednesday. He quickly recognises one of Xavier's sketches of the beast as a Hyde, just like the villain from Scottish author Robert Louis Stevenson's 1886 book "Strange Case of Dr. Jekyll and Mr. Hyde," when she reveals that it was inspired by the creature from that book. Wednesday discovers Nathaniel Faulkner, the creator of Nevermorediaries ,'s with Fester's assistance. Faulkner included a variety of outcasts in his diaries, including the Hyde. A group of teenagers led by Xavier named the Nightshades secret organisation had the diaries. Wednesday is given the opportunity to join the group at one point, but she turns it down.
Wednesday discovers the Hydes are cruel by nature but also artists through Faulkner's diary. Until a traumatic event awakens it, the Hyde aspect is latent. The monster may also emerge if someone else uses hypnosis to unleash it. And in that case, this one takes control of the Hyde.
Wednesday first blames Dr. Kinbott and Xavier, who has drawn the Hyde numerous times. However, the Hyde kill Kinbott, and Xavier is detained despite his insistence that he is innocent. Wednesday eventually understands that Tyler is the Hyde and that his late mother, who was a Hyde as well, gave him the ability to possess monster traits.
Marilyn Thornhill (Christina Ricci), the academy's den mother and the sole normie educator, is the Hyde's master. Wednesday learns that Joseph Crackstone's descendant Laurel Gates is Marilyn's real name. She restrained Tyler using a substance produced from plants.
What Happens to Larissa Weems, Joseph Crackstone, and Marilyn Thornhill?
Principal Weems has shape-shifting power. She assumes the identity of the boy and tries to convince the residents of Jericho that Rowan left town after Rowan's passing in an effort to maintain harmony between the normies and the misfits. Weems impersonates Tyler in the series finale and deceives Marilyn/Laurel into confessing. In a fit of wrath, Laurel uses a poisoned needle to stab Weems to death.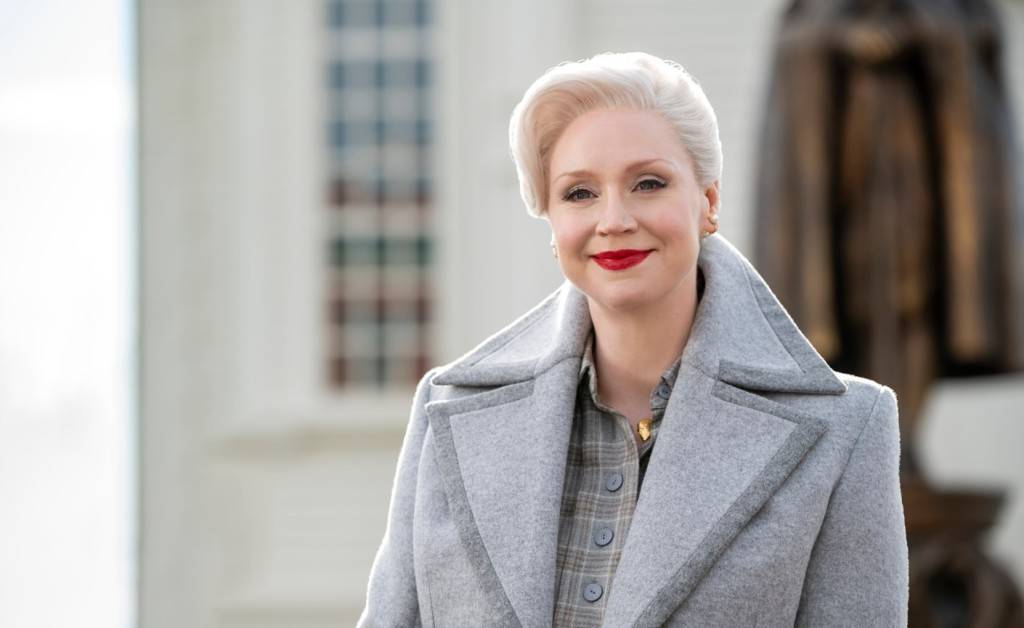 Even if some of them were unaware of it, the descendants of Goody Addams and Crackstone appear to have been at war for a very long time. When Gomez and Morticia visited Nevermore, they came into Garrett Gates, Laurel's brother, who attempted to poison all of the pupils there with nightshade but perished in the process. People believed Laurel was likewise deceased, which provided her with the opportunity to remain undetected and get ready for her ancestor's return.
Laurel revives Crackstone with Wednesday's blood and accompanies him as he moves to obliterate Nevermore. Before Wednesday, Goody shows there, cures her fatal wounds, and counsels her to stab Crackstone in the heart. With assistance from several of her classmates, Wednesday battles Crackstone and Laurel, while Enid defeats Tyler by turning for the first time into a werewolf. The siren Bianca assists Wednesday in returning Crackstone to hell. Eugene attacks Laurel with his bees when she holds a gun at Wednesday, allowing Wednesday the chance to knock the elderly woman out. Laurel appears to be at least still alive and to be in captivity.
Who is Wednesday's Stalker?
Weems' passing results in the academy's semester-long closure. During the conflict, Xavier and Wednesday already made amends. Xavier gives Wednesday a smartphone that already has his number saved in it as she gets ready to leave for home. Soon after, Wednesday finds pictures of herself with both Tyler and Xavier in a message she receives from an unknown caller. She becomes aware of her stalker.

It's safe to conclude that Wednesday's buddies are not the stalker, despite the fact that the stalker's identity is kept a secret in season 1. It must be someone who has been keeping a close eye on her ever since she got to Nevermore. This person might leave a legacy similar to hers. It's possible that their parents had a dispute with Morticia and Gomez and that their child now wants to carry on that feud.
Who is Wednesday's Stalker?
The sheriff discovers his son asleep in the midst of the woods after Enid defeats Tyler. Tyler is restrained and brought somewhere by the authorities in the final scene. He abruptly regains consciousness and starts to transform into Dr. Jekyll. This suggests that this individual may still be around in some capacity. He could make an appearance in upcoming seasons of the show and complicate Wednesday's situation. Because Tyler is no longer under Laurel's control, he will be more dangerous than ever.
Being a binge-watcher himself, finding Content to write about comes naturally to Divesh. From Anime to Trending Netflix Series and Celebrity News, he covers every detail and always find the right sources for his research.