Parker Finn's psychological horror movie "Smile" from Paramount Pictures follows psychiatrist Dr. Rose Cotter. One of her patients begins acting strangely during a session and then kills herself while grinning at Rose. As a result of this trauma, the counsellor starts to have hallucinations in which she sees people grinning inexplicably at her everywhere she goes. She soon learns about other people who have gone through similar things and killed themselves. In order to save herself, Rose sets out to discover the link between them all.
The genre movie "Smile" is intriguing because it uses tried-and-true clichés to support a fresh idea. The movie is jam-packed with startling incidents, chilling smiles, and jump scares. The story also develops around issues of mental health, trauma, and sorrow, which humanises the individuals and the story. We have a selection of movies ready for you if these aspects of a story attract you. Several of the films listed below are available to stream on Netflix, Hulu, or Amazon Prime, including "Smile."
Hereditary (2018)
One of the best horror movies we've watched recently is "Hereditary." The funeral for Annie's mother, who played a vital role in her life, opens the film. Unusual occurrences begin to take place in the home as the family is in mourning, sending Annie into a tailspin and setting her on a dangerous course. Although it too offers an unconventional perspective on mental health, "Hereditary" portrays the topic in a completely different manner.
The mother-daughter relationship in "Hereditary" and "Smile" shares several parallels. Both times, the traumatising events involving their mothers left their daughters damaged. We are reminded of Rose by the way Annie begins to doubt what is genuine and what isn't. Both movies contain multiple layers of meaning that viewers consider after watching them.
It Follows (2014)
A highly regarded supernatural psychological thriller movie is "It Follows." After engaging in sexual activity with her boyfriend Hugh, Jay learns that she has been cursed by a paranormal being. She quickly learns that the entity spreads from one person to another through sex. She must bed another person in order to prevent herself from passing away. Like "Smile," "It Follows" takes a real-world subject and transforms it into something supernatural. Thus, the way the paranormal entity selects its victims closely mirrors the problem in the actual world. These elements ground the fantastical elements of the story in the actual world.
Matriarch (2022)
The horror movie "Matriarch" blends the supernatural and psychological subgenres. Laura, a lone lady in the story, overdoses and nearly dies. Later, when she goes back to her hometown to see her mother, Celia, she finds something nasty and evil. 'Matriarch' and 'Smile' resemble one other in a few key ways. Themes like trauma, mother-daughter relationships, and sorrow are all explored in both movies. Laura and Rose both appear to have issues with their mothers. It plays a significant role in how their mind develops over time and how, even as they mature, the hurt, anguish, and fear remain ingrained in them. These details enrich the narrative and pique the interest of the reader.
mother! (2017)
The psychological horror movie "mother!" is directed by Darren Aronofsky and centred on a mother (Jennifer Lawrence). Mother and Him (Javier Bardem) share a rural home with one another. Things take a dark turn when a few visitors arrive at the house since mum has a bad feeling about them. "mother!" and "Smile" are metaphorical tales with deeper meanings behind the basic premise.
'Smile' gives emotional pain and sadness a metaphysical form, whereas'mother!' depicts the plight of mother Earth. The latter film has a lot more levels and is rife with Christian imagery. These elements offer the story much more complexity than a typical horror movie and prompt audience discussion.
Sinister (2012)
Ellison Oswalt and his family are the main characters in the supernatural horror movie "Sinister" starring Ethan Hawke. Ellison, a struggling true crime author, discovers a weird box in the attic of the home he and his family are moving into. It has videos of numerous people being horrifyingly murdered. Ellison discovers there is more to these films as he studies them for his novels and fears for the safety of his family.
Despite the fact that "Sinister" has a completely different plot than "Smile," the cliches are still recognisable. The alleged paranormal activity gets more scarier in both films. Similar to what happens to Rose as the story goes on, Ellison begins to spiral. In addition to this, both movies are jam-packed with genre clichés that keep viewers interested.
The Babadook (2014)
In the spooky thriller "The Babadook," a mother named Amelia tells the terrifying tale "Mister Babadook" to her son Sam. Sam, on the other hand, begins to encounter strange occurrences and worries that the fictional character "The Babadook" has suddenly materialised. Amelia must therefore assist his son in facing his worries and overcoming them.
Although "The Babdook" and "Smile" have different aesthetics and narrative approaches, conceptually, they are similar. The supernatural beings in both films stand in for people's deep-seated trauma. Both Amelia and Rose attempt to deal with this aspect, but their narrative arcs develop in quite different ways. Thus, despite sharing a same theme, both films present the spectator with unique viewpoints on the same subject.
The Others (2001)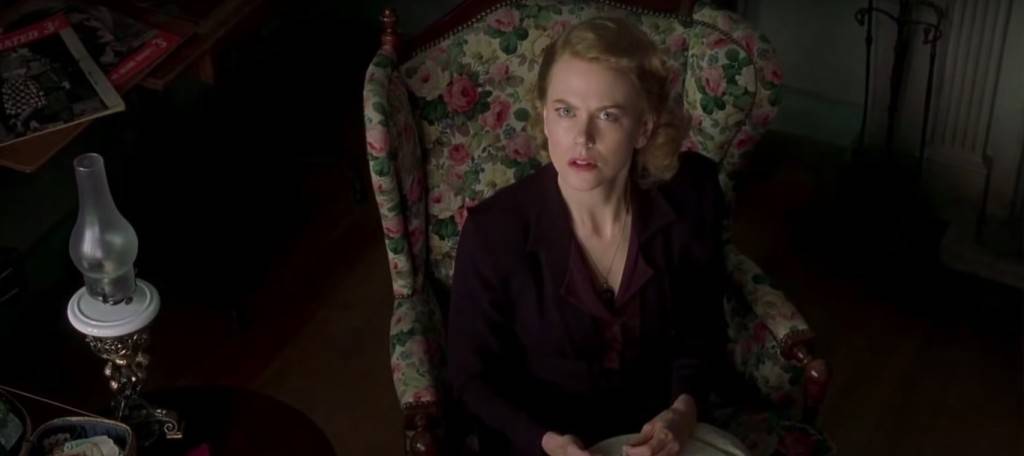 In the historical horror movie "TheOthers," Grace (Nicole Kidman) and her two kids reside in a home that is completely dark. Grace's kids are photosensitive, therefore she uses drapes to block any light from entering their house by covering all windows and doors. Grace is waiting for her husband to return after World War II, but she has a sneaking suspicion that there might be ghosts in the house. Rose's story arc in "Smile" and Grace's in "The Others" are comparable.
In both films, the female characters attempt to piece together the events that are taking place. The viewer travels with them on their adventure and experiences everything from their point of view. The way that both individuals block out key portions of their existence because of the agony it causes them is another intriguing aspect of both of them. But once they do, the spectator's perception of events finally changes, and this satisfying resolution leaves the audience happy.
The Ring (2002)
One of the most frightful and well-liked horror movies to appear in the previous two decades is "The Ring." As soon as Rachel comes across a cassette, she plays it and views a disturbing montage of clips. She experiences some scary images that haunt her long after the brief video is over. She soon learns that everybody who views the tape passes away within a week. Rachel needs to find the video's deeper meaning in order to stop herself from passing away.
The fundamental idea of "Smile" is similar to that of "The Ring." Rachel watches a videotape, as Rose witnesses a patient pass away. Rose and Rachel learn that they only have a week to protect themselves from what appears to be a curse. The two characters look for solutions while gathering important information about the patient and the video. Additionally, both contain a degree of uncertainty that keeps the audience interested until the very end.
Being a binge-watcher himself, finding Content to write about comes naturally to Divesh. From Anime to Trending Netflix Series and Celebrity News, he covers every detail and always find the right sources for his research.