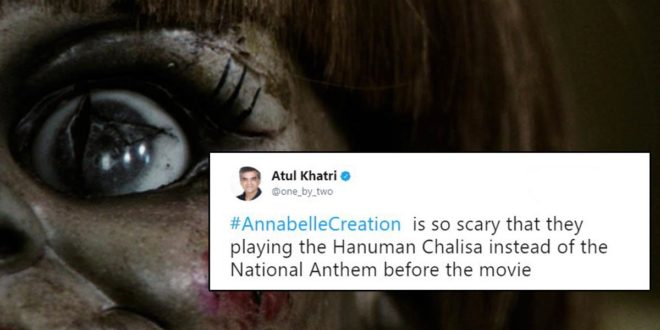 Annabelle Creation Might Be The Scariest Movie Ever Made And These Reviews Would Make You Want To Watch It Tonight
If you are reading this, it means you probably have seen Annabelle and The Conjuring series. If you really love horror movies, Annabelle Creation might become your favorite movie soon.
Story Synopsis : Twelve years after the tragic death of their little girl, a dollmaker and his wife welcome a nun and several girls from a shuttered orphanage into their home, soon becoming the target of the dollmaker's possessed creation, Annabelle.
The Movie has taken the whole social media y a storm and it is turning out to be the Horror movie of the Year!
Check out the reviews!!!
Ever seen a horror movie that is perfect? No? Then watch Annabelle Creation
Even if it doesn't it should!!!!
Move past the Game of Thrones Universe, The Conjuring Universe is the new SHIZZZZZ!
Creepy and Scary is what they are aiming for!! If this is not for you, Watch POGO!
Worst meaning the Best!! Constant Horror It is!
If these reviews don't make you want to watch the movie, maybe the Trailer of Annabelle Creation will.
Meanwhile, me Watching the movie!!!