The American Barbecue Showdown, sometimes known as "Barbecue Showdown," is a Netflix cooking competition series hosted by Michelle Buteau that aims to honour the cherished barbecue cuisine. The numerous contestants on the show are constantly ready to demonstrate their culinary prowess and create some of the most mouthwatering delicacies you've ever seen. Since the second season of the show just recently became available, viewers have been wondering what the culinary gurus are up to these days. The show debuted in 2020. Thank goodness we can provide the same response!
Where is Thyron "Big T" Mathews Now?
Thyron "Big T" Mathews, the show's second-season champion, will take the stage first. The reality TV star, who is based in Oelwein, Iowa, served as a jail warden in Fayette County, Iowa, during the time he participated in the Netflix competition. He did, however, mention his future aspirations to resign from his position and devote himself entirely to his love of barbeque. Thyron is one of the three owners of T&T Barbecue, which offers a variety of products to customers interested in preparing their own barbecue recipes as of the time of writing. The business's official website gives buyers a range of choices, including sauces and rubs as well as branded products.
Where is Logan Sandoval Now?
View this post on Instagram
Logan Sandoval, the season 2 runner-up, is up next. His enthusiasm for BBQ is visible in all of his creations. One of the owners of Zef BBQ, where he prepares delicious meals for his customers, is a chef with formal training. The company's business model is unquestionably different from that of traditional eateries because the menu is changed weekly and orders must be placed in advance before meals can be picked up in Simi Valley, California. The food establishment offers just this kind of service. His wife, Anna Lindsey, also works with him at the firm. The happy couple are the joyful parents of a son named Kai and a girl named Nalani.
Where is Delilah Winder Now?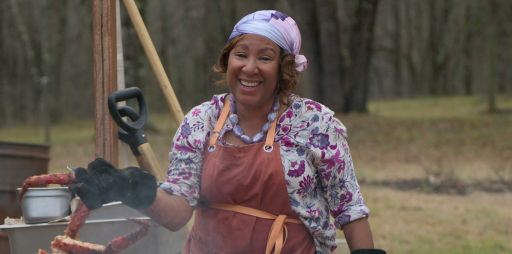 Now let's talk about Delilah Winder, the contestant who narrowly missed making it to the finals. She has worked in the food sector for well over three decades, so she is undoubtedly pretty seasoned. She provides her services as a Private Chef to anyone who are interested under the name Chef Delilah. She also serves as the Lead Chef Consultant for the Greater Philadelphia Region of the American Heart Association and American Stroke Association in Pennsylvania. Delilah's Everyday Soul, a restaurant headquartered in Atlanta, Georgia, is where those who want to eat her cooking can do so.
Where is Michelle Lundstorm Now?
View this post on Instagram
The next artist is the gifted Michelle Lundstorm, a.k.a. Money Michelle, whose love of food is unmistakably apparent in her work. The reality television actress has more than 17,000 followers on Instagram, where she frequently posts recipes for various foods that she likes. She is proud of her Sicilian origin and doesn't hesitate to let it show in her meals. She is based in Long Island, New York. Additionally, Michelle is associated with Avid Armour and has her own podcast, Absolute Fire.
Where is Eduardo Gonzalez Now?
View this post on Instagram
Eduardo Gonzalez, a resident of Rancho Cucamonga, California, is obviously pleased with his grilling prowess, which was frequently highlighted in the Netflix series. He currently works at 187BBQ, a partnership he and Eric Mendez founded to promote TexMex barbecue through catering and pop-up events. Customers always like the variety of delectable dishes prepared by this specific team, and Eduardo enjoys cooking for them and introducing them to flavours they may not have previously experienced.
Where is Joey Victorian Now?
View this post on Instagram
Joey Victorian, the proud Owner and Pitmaster of Victorian's Barbecue in Mart, Texas, has travelled all the way from Houston, Texas. The establishment does provide catering services to individuals interested in the same, despite only being open on Fridays and Saturdays. Joey has a daughter named Juliette Victorian and is happily married to Kelli Victorian in terms of his personal life. His food-related social media content is always ready to make anyone hungry, and he has more than 11,000 Instagram followers.
Where is Cindy Hayter Now?
View this post on Instagram
Now let's talk about Universal City, Texas resident Cindy Hayter, a multiple culinary competition champion who isn't afraid to flaunt her grilling prowess. She currently collaborates with Bola Pizza owner Janie Bowers as a self-employed Product Advocate and has done so since January 2015. The reality television personality enjoys spending time with her family, particularly her children and grandchildren. She appears to be single as of this writing.
Where is John Boy Caddell Now?
View this post on Instagram
It turns out that Tony Perry, a.k.a. John Boy Caddell, has experience with television, having appeared in episode 4 of season 1 of Discovery's "Moonshiners: Master Distiller." The reality TV personality, who is currently located in Oliver Springs, Tennessee, clearly loves the mountains. He likes to go out and get his own herbs for his cooking, and he's always eager to produce wonderful BBQ dishes. Additionally, he appears to enjoy spending time with his significant other, Kristy Vickers Perry. John also adores his dog Thunder, who he owns and keeps.
Our Team DCS includes 5 different writers proficient in English and research based Content Writing. We allow them and encourage them to follow the Entertainment news all day long. Our posts, listicles and even the exclusives are a result of their hard work.