Big Brother 19 was the nineteenth episode of the popular reality TV series based on the same-named Dutch programme. The season, which debuted on June 28, 2017, on CBS, was a success much like its prior editions. 'Big Brother 19′ captivated spectators with its intriguing blend of reality competition and interpersonal problems with an expanded ensemble of 17 HouseGuests. Fans may be interested in the participants' present whereabouts as time has passed since the end of the season. If you're one of the curious, you can find all the information you need right here!
Where is Josh Martinez Now?
View this post on Instagram
Multi-talented Josh Martinez has made memorable appearances in a number of television programmes. He became well-known for his performances on well-known shows including "The Bold and the Beautiful," "The Challenge: USA," and "The Challenge." Josh had worked in sales for haircare products in Homestead, Florida, before starting his career in television. He is currently concentrating on his love of fitness while also looking for new career prospects in the entertainment industry.
Where is Paul Abrahamian Now?
View this post on Instagram

Paul Raffi Abrahamian, a multi-talented person from Tarzana, California, is well-known for their work in both reality television and the fashion sector. They broadened their horizons by making a guest appearance on the iconic CBS programme "The Bold & The Beautiful" in October 2016 in addition to their memorable time on "Big Brother."
This demonstrated Paul's adaptability and appeal to a wider audience even further. They collaborated with fellow "Big Brother" contestant Da'Vonne Rogers for the July 9 debut of the CBS game show "Candy Crush," continuing their reality TV journey. Beyond Paul's television projects, their talent for creativity is evident as a bold clothes designer. They have had a significant impact in the fashion business thanks to their distinctive viewpoint and inherent sense of style.
Where is Christmas Abbott Now?
View this post on Instagram

Christmas Abbott is a notable name in the fields of fitness and personal growth. She is a national bestselling author whose books "The Badass Body Diet" and "The Badass Life: 30 Amazing Days to a Lifetime of Great Habits-Body, Mind, and Spirit" have empowered countless people. Christmas has worked as a pit crew member for NASCAR, participated in the CrossFit Games, and won national weightlifting titles.
The 'Big Brother' 19 alumna's influence goes beyond her individual achievements as she travels the world giving in-demand nutrition seminars, giving keynote addresses at health and wellness conventions, and facilitating workshops and consultations to encourage others to realise their full potential. Christmas, who resides in Raleigh, North Carolina, is proud owner of the flourishing fitness facility CrossFit Invoke. In addition to her career, she is married to Memphis Garrett, a celebrity who appeared on "Big Brother 10."
Where is Kevin Schlehuber Now?
View this post on Instagram

Kevin Schlehuber is an exceptional person who has confronted and triumphed over enormous obstacles in his life. As a cancer survivor, he is the perfect example of strength, tenacity, and a fighting spirit. In addition, Kevin has a strong interest for promoting mental health awareness and uses his personal experiences to do so. He offers his thoughts and promotes candid talks about mental health as a speaker for groups like The Warriors of Purpose and the Silence Kills Movement. Kevin finds love and support in his marriage to Deborah Schlehuber as well as in his advocacy work.
Where is Alexandra "Alex" Ow Now?
View this post on Instagram

Alex Ow, a Thousand Oaks, California, resident and Twitch Affiliate, has a broad range of experience. Her work as a Logistics Analyst for Colorpop Cosmetics, a well-known beauty brand owned by Seed Beauty, is noteworthy. Working continuously for four years and one month, Alex demonstrated her prowess in overseeing supply chain and logistics operations in her position. She made a significant contribution to the company's performance during her employment and was essential in guaranteeing the efficient flow of products. Alex is now single and enjoying every moment of it.
Where is Raven Walton Now?
View this post on Instagram

Raven Walton is an accomplished dancer and filmmaker who has made significant contributions to the entertainment business. She has experience working behind the camera and has worked on a number of projects, including "Southland Bounty Hunters" and "Patty Mayo: Becoming the Seamen." Raven's name in the industry has been cemented by her skill in capturing eye-catching images and developing captivating narrative experiences. Outside of her work, Raven is engaged to Patrick Thomas, with whom she has a close relationship and shared commitment.
Where is Jason Dent Now?
View this post on Instagram

In the realm of rodeo, Jason Dent, popularly known as Whistle-Nut, teams up with his bull, Ole, to form an exceptional combination that dazzles crowds with their explosive performances. He exhibits his extraordinary talent as a seasoned rodeo performer, riding and manoeuvring confidently next to his strong partner. Jason lives a solitary lifestyle while being devoted to his art, putting his rodeo career and his relationship with Ole first.
Where is Matthew "Matt" Clines Now?
View this post on Instagram

At Deloitte, Matthew Clines holds the position of Government Supply Chain Senior Consultant. He uses his experience to support and improve supply chain operations for governmental organisations. He is based in Arlington, Virginia. In this position since May 2022, Matthew has actively contributed his expertise and talents. He spent the three years prior to his employment at Deloitte working as an Associate and Deputy Procurement Lead at Booz Allen Hamilton. Matthew and Annabel Laurenn have a loving marriage and a close, encouraging relationship.
Where is Mark Jansen Now?
View this post on Instagram

A well-known public figure known for his work in the fitness sector is Mark Jansen. He has made a name for himself in the industry as the CEO of Mark Jansen Fitness. Mark Jansen has developed a platform for anyone looking to better their physical well-being via exercising through his app, Mark Jansen exercising. As an online coach, he helps and inspires his clients to reach their fitness objectives.
In addition, Mark is well known for his work with Find Your Fortitude, where he uses his influence and platform to encourage mental toughness and fortitude in others. He is currently content with being single, concentrating on his business, and continuing to have a positive influence on the fitness industry.
Where is Elena Davies Now?
View this post on Instagram

Elena Davies is a multitalented person most recognised for her work as a TV personality, podcast host, and influencer. Through her platform, MiscELENAeous, where she shares interesting content and interacts with her audience, she displays her originality and competence. The appeal of Elena as an influencer has been influenced by her likability and compelling personality. Elena also holds a degree from Texas' Angelo State University, which is situated in Fort Worth. She currently enjoys being single and the simple things in life.
Where is Cody Nickson Now?
View this post on Instagram

American reality television star Cody Lee Nickson became well-known for his performances on "Big Brother 19" and for winning "The Amazing Race 30" with his then-fiancée, Jessica Graf. Cody demonstrated his commitment to defending his country by serving in the US Air Force and US Marine Corps prior to his reality television career. Fantaswick, a company owned by him, is another business. Over the years, Cody and Jessica's relationship grew stronger, and on October 13, 2018, they got married in a joyful celebration of their love. They have three gorgeous girls together.
Where is Jessica Graf Now?
View this post on Instagram

Cody Lee Jackson's wife is Jessica Graf. She has made progress in the business world in addition to her reality television appearances in "Big Brother" and "Amazing Race." Jessica is the happy proprietor of It's NOMB, which offers a distinctive and fashionable selection of goods. By offering her consumers fashionable and cutting-edge goods, she displays her creative vision and enthusiasm for fashion through her brand. Jessica continues to pursue her acting and modelling careers in addition to her success as an entrepreneur and reality television personality. She is also a devoted mother to her three daughters.
Where is Ramses Soto Now?
View this post on Instagram

The artist Ramses Soto has developed a unique and fascinating career. He enjoys cosplay, which is dressing up as popular movie and television characters. Soto loves having this creative avenue to express his nerdy and imaginative sides, according to the CBS news release.
The former 'Big Brother 19' participant enjoys the challenge of making costumes and props out of unusual materials, demonstrating his ingenuity and creative flare. Cosplay costumes that Soto creates have evolved from a pastime to a crucial aspect of his career. Additionally, he has established himself as the designer of Off World clothing, furthering his artistic pursuits. Through this endeavour, Soto probably investigates novel and distinctive designs that showcase his sense of style and vision.
Where is Dominique Cooper Now?
View this post on Instagram

Dominique Cooper is a qualified individual with a broad expertise in engineering, product management, and business development. She works at Maxar Technologies, a renowned technology business, as the Director of Business Development (Intelligence Programmes). Cooper's responsibilities in this position include leading strategic initiatives and encouraging corporate expansion within the intelligence industry.
Cooper founded Style Digital LLC and worked as its Chief Product Officer before joining Maxar Technologies. Style Digital LLC offers services for social media management, branding, and site design and development. Cooper has experience in the STEM fields and has a background in nuclear engineering. Her diverse background demonstrates her aptitude for both technical and business-focused tasks. She has a narrow concentration on her profession and is one-track oriented.
Where is Jillian Parker Now?
View this post on Instagram

In Las Vegas, Nevada, Jillian Parker works as a client relations associate for Ranger Investment Management. She manages client accounts in this capacity while supporting and fostering strong relationships with clients of the investment management company. Jillian's present employment at Ranger Investment Management is a part of her professional background. She also holds a degree from Dallas, Texas' Southern Methodist University. As far as we can determine, Jillian and Chris are allegedly dating.
Where is Megan Lowder Now?
View this post on Instagram

Megan Lowder works at Solari, Inc. as a software engineer, where she now has the title of software engineer. Her present full-time position, which she has held since October 2022, is included in her professional experience. Megan is probably involved in the design, development, testing, and debugging of software programmes as a devoted software engineer. The former reality TV star graduated from Santa Barbara Business College, demonstrating that she has training in software engineering or a similar field.
Where is Cameron Heard Now?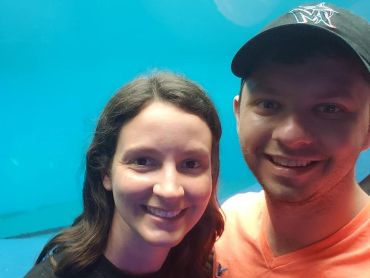 Microbiologist Cameron Heard has a wide range of interests and pastimes. In addition to his work, he enjoys skiing, bicycling, and completing Rubik's cubes. Through these pursuits, Cameron may embrace adventure, maintain an active lifestyle, and use his problem-solving abilities in many situations. He works for Cepheid as a Clinical Research Associate and for Becton, Dickinson & Company as an R&D Scientist. The former 'Big Brother 19' contestant wed his girlfriend Nicole in May 2021, according to personal information. Tessa, the couple's daughter, was born in 2023.
Our Team DCS includes 5 different writers proficient in English and research based Content Writing. We allow them and encourage them to follow the Entertainment news all day long. Our posts, listicles and even the exclusives are a result of their hard work.