Pain, rage, suffering, and alienation are just a few of the many negative emotions that come with war. Even though conflicts are typically associated with winners, there is never a gain overall. Everyone who lived through the world wars had a tale to tell, albeit not every tale necessarily involved fighting. Sometimes it was a love story that was dying in the war, and other times it was a soldier's heartbreaking letter that he or she was unable to send home. Going back in time to compile a list of the best wartime tales ever told left us with some scars, but it was those tales that fervently honored the emotion that truly defined us as people. Here is a list of the best war films that have ever been produced. Some of these top war films are available to stream on Netflix, Hulu, or Amazon Prime.
Apocalypse Now (1979)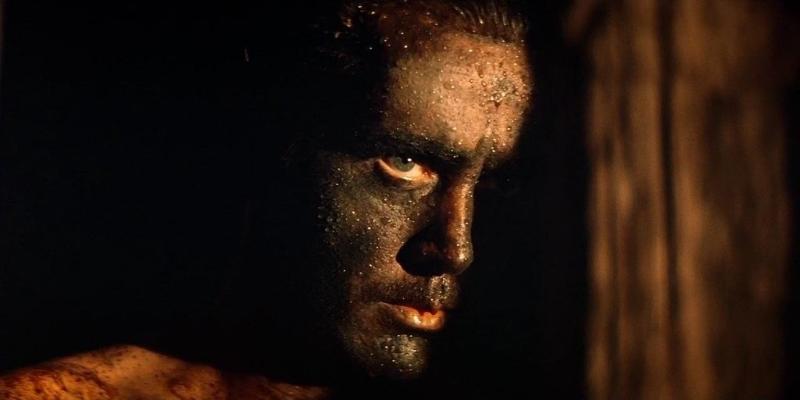 In addition to being regarded as one of the best movies of the 20th century, Francis Ford Coppola's hallucinogenic version of Joseph Conrad's Heart of Darkness is also regarded as one of the most potent anti-war pictures ever produced. Capt. Benjamin is portrayed by Martin Sheen. L. Willard, a cynical and combat-tested soldier, is given the mission of tracking down and assassinating Marlon Brando's Colonel Kurtz. Colonel Kurtz is leading his own war and is a Demi-God to Montagnard soldiers. He is the ideal illustration of how the desire for power can drive someone completely mad. Willard comes across horrifying reports of human slaughter and devastation while searching for Kurtz. The conflict in the human soul is portrayed in the film more so than the struggle on the battlefield.
A startling portrayal of the depths of the human spirit can be seen in "Apocalypse Now." Willard's voyage serves as a metaphor in many ways. In a sense, he is journeying into the deepest recesses of his own psyche, and when he eventually comes face to face with it, he is completely astonished. He struggles to accept who he is as a person. Even though the movie was created more than 40 years ago, the superbly shot conflict sequences make it seem surprising just from a visual standpoint. As Colonel Kurtz, Brando is spectacular and nearly steals the show in the final thirty minutes with a portrayal that manages to capture the essence of the entire narrative. Unquestionably, one of the movies you really must see before you pass away is "Apocalypse Now"!
Atonement (2007)
In essence, it is not a war film but a tale of human remorse that takes place during World War II. A little girl witnesses her sister having a flirty moment of closeness with their housekeeper's son, and out of jealousy, she sets in motion a chain of circumstances that finally bodes death for the young lovers. Years later, the young couple's turbulent mental state is represented by the war. The sister has changed careers to become a nurse, and her lover joins the military. They continue to yearn to meet each other in a time when humanity has lost its sense of reason. Eventually, they cross paths—whether in reality or in fiction, is still up for debate.
Born on the Fourth of July (1989)
"Born on the Fourth of July," which was directed by Vietnam War veteran Oliver Stone and is based on an autobiographical novel by Ron Kovic, explores the impacts of war. In this instance, Tom Cruise's character Ron Kovic enlists in the Vietnam War. He ends up doing terrible things, including participating in the slaughter of a Vietnamese town full of innocent civilians and accidently killing one of his friends. Kovic suffers from PTSD after suffering a catastrophic injury during a combat, which causes him to become crippled. Since July 4th is America's Independence Day and a soldier was born on that day who later grew disillusioned, the title itself is ironic. Here, Kovic's voyage serves as an illustration of foolish patriotism and its consequences.
Casualties of War (1989)
Brian De Palma's "Casualties of War," one of the most underappreciated war films of all time, is a movie that must be watched for its unbridled emotional intensity and profoundly moving performances. The protagonist of the movie is a teenage soldier who vehemently defies his squad leader's instructions to abduct a helpless Vietnamese girl. It features a fantastic cast and a storyline that are so well-written that they move the plot along while keeping the audience interested. The movie has a number of startling scenes that stay with you for a very long time. Don't overlook Sgt. Tony Meserve, played by Sean Penn, either.
Come and See (1985)
The memorable masterpiece by Elem Klimov brings back horrible memories of the most heinous atrocities ever committed in human history. The movie tells the story of a little kid who joins the Soviet resistance movement and goes to battle the German soldiers, showing the horrific realities of war from his perspective. 'Come and See' is a lot more objective in its examination of the horrors of war and the destructive impact it may have on an innocent soul than most World War II films are. It's unfortunate that, although being universally considered as a classic, the movie is still mostly unknown among cineastes.
Das Boot (1981)
Das Boot, or "The Boat" in English, tells the story of a German submarine and the people who occupied it during World War II. Here, the relationship between the occupiers takes center stage rather than the real conflict. A crew of sailors embarks on an adventure that only gets worse as they are submerged in the ocean. Das Boot, a film that is essentially anti-war, won praise for its deft depiction of the suffering of the sailors on the submarine. It was the first foreign film to ever garner six nominations for an Academy Award.
Downfall (2004)
'Downfall', arguably one of the best movies of the 20th century, is a history of the Battle of Berlin in World War II with an emphasis on Adolf Hitler's final days. Bruno Ganz portrays Hitler with breathtaking compassion in one of the most famous performances in movie history. Ganz's portrayal of the brutal tyrant must have been tremendously challenging to pull off, but he does so beautifully and his work is without a doubt the movie's standout moment. The film has also been mocked numerous times online.
Dunkirk (2017)
'Dunkirk', probably one of the best war films of the century, was made possible by Christopher Nolan's breathtaking visual vision. It is regarded as one of the best survival films of all time. The evacuation of the soldiers from the town of Dunkirk is depicted in the movie. The entire evacuation procedure is depicted from three perspectives—land, sea, and air—in a non-linear narrative framework. The movie is renowned for using few dialogues. Nolan avoids giving his characters backstories and making an effort to make the audience feel sorry for them, making his portrayal of the entire incident more objective. This is a remarkably original cinematic experience.
Empire of the Sun (1987)
The third film on our list, by Steven Spielberg, explores a little child's loss of innocence amid a period of conflict. During the Japanese invasion, a young Jamie becomes separated from his parents and is caught, ending up in a POW camp. He makes it through the harsh world by working hard, falling for scams, and occasionally by pure chance. When he finally has a chance to flee, he is unable to recall the appearance of his parents! The climactic scene of the atomic bombing of Nagasaki brings the film to its pinnacle and leaves the audience with vivid memories. Although it was first met with a mixed reception, this film has grown in popularity over time.
Full Metal Jacket (1987)
This military drama by Stanley Kubrick, which was released in 1987, is regarded as a classic. Here, Kubrick demonstrates what it takes to be a soldier and a merciless, cold-blooded killer. Both good and evil live within every man. Which quality predominates depends on how one is brought up and how they view the world. The movie demonstrates how moral and bad concepts are ingrained in soldiers' minds. Propaganda statements are used to instill moral ambiguity inside the soldier. After then, it is up to the soldier to decide whether he wants to be a trained killing machine or a peacemaker in a country at war.
Inglourious Basterds (2009)
That's "Inglourious Basterds," a fictionalized account of an attempt on Hitler's life mixed with Quentin Tarantino's eccentricity and made famous by Christoph Waltz's performance. This is a genuinely epic tale that is told in a linear fashion but interspersed with lesser incidents that give perspective to the larger story that leads to Hitler's execution. Each character—from Shoshana to Fredrick Zoller to First Lt. Aldo Raine—is so vividly rendered that you learn a lot about them. For his depiction as the despised Col. Hans Landa, Christoph Waltz received the Academy Award, the BAFTA in the supporting actor category, and the best actor award at Cannes.
Jarhead (2005)
The Sam Mendes-directed film "Jarhead" is based on Anthony Swofford's self-titled autobiography. The movie shows a US Army Sniper fighting in the Gulf War. Greater psychological harm is done to him as a result of his obsession with getting his first kill; eventually, he succumbs to ennui and sadness. Due to its emphasis on the psychological strain a soldier experiences while serving in combat, the film does not contain many gory imagery or on-screen fighting situations.
Letters from Iwo Jima (2006)
In a conflict, mankind is the lone loser; there are no winners. Clint Eastwood conveys this through this amazing tale. Near the end of World War II, the last Imperial Japanese army prepares for its decisive assault as it contemplates the inevitable defeat at the hands of the US army. The film's masterful depiction of the suffering and irritability of the soldiers on both sides was highly praised by critics.
Paths of Glory (1957)
A group of troops who refuse to participate in a deadly mission are accused of cowardice by a commander in Stanley Kubrick's most moving film. The commanding officer of the soldiers then begins to defend them in a court-martial. This is by far Kubrick's most humanistic and moving film, therefore it's unfortunate that it has been overshadowed by a number of his other works. Although it may not be on the same artistic level as Kubrick's later works, the battle scenes are masterfully created, and the movie is still excellent for its era. Without a question, it ranks among the greatest anti-war films of all time.
Patton (1970)
The life of US General George S. Patton can be summarized as that of a foul-mouthed, aggressive, and arrogant but successful commander in the field of war. Throughout the conflict, he became renowned for his counterattacking and daring strategies. The first of the two actors to do so—Marlon Brando for "The Godfather"—George C. Scott, who portrayed the title character, famously declined the academy award for best actor. This American hero, who reportedly said: "No bastard ever won a war by dying for his country," is made into a legend in the film "Patton." You succeeded by forcing the other destitute fool to sacrifice his life for his nation.
Platoon (1986)
The movie "Platoon" is partially based on Oliver Stone's personal experiences he had in the Vietnam War. In addition to being an anti-war film, the movie also makes societal commentary. The narrative is presented from the viewpoint of Chris Taylor, a young idealist soldier played by Charlie Sheen who enlisted in the military and is serving under the supervision of Sgt. Barnes, played by Tom Berenger. The real victims of war are Sgt. Barnes and his supporters. They have no qualms about raping young children, killing the elderly, or torturing and executing crippled people. They were chosen because they were undesirable and did not have a lucky birth. The movie's attack on the village scenario alludes to the horrific Mai Lai Massacre, in which American troops mercilessly murdered 300–400 unarmed villagers, including men, women, children, and newborns.
Saving Private Ryan (1998)
'Saving Private Ryan' is THE war movie you need to watch. It is Spielberg's masterpiece and likely a textbook on how to shoot war pieces, as shown by the opening Normandy beach invasion sequence. The struggle of a group to save the last guy of a family who had already lost three sons to the war is heartbreaking and grim. It conveys the timeless truth that, no matter what you accomplish, this life is only going to happen once, therefore you better work hard to earn it.
Schindler's List (1993)
The Holocaust will likely be remembered as one of the cruelest actions made by a deranged German. However, there was one more German who prevented more than a thousand people from dying in the concentration camps, creating the greatest tale of human kindness from one man to another. The life of Oskar Schindler, who attempted to capitalize on the escalating conflict by hiring POWs in his factory but ultimately saved their lives, is the subject of Spielberg's second film on this list. The black and white cinematography and the shot of the girl in the red coat walking down the street highlight this technically excellent film.
Several cinema historians, directors, critics, and cinephiles continue to argue over "Schindler's List" despite its enormous critical and economic success. Many critics complain about the movie's romantic tone and charge Spielberg with emotional manipulation and reducing the plot to appeal to a wider audience. Although the most of the complaints are fair, I think "Schindler's List" is more about the man who prevented the Holocaust than it is about the thousand lives he saved. Although humanity is the main topic of this movie, as it is in all of Spielberg's movies, there are also a number of violent moments that show the cruelty of Nazi power. One infamous instance is the contentious shower scene, which historians and critics continue to vigorously debate, discuss, and analyze.
The Battle of Algiers (1966)
There are always two sides to every tale. Man creates his own interpretation of this fact based on his personal philosophy and tells his tale to next generations. Both the truth and history split into different camps. So, we can't really hold the movies responsible for choosing sides while telling their stories. The Battle of Algiers, a 1966 movie about the Algerian Revolution against French colonialism, was directed by Gillo Pontecorvo and set the standard for how history must be presented. The core of this black and white masterpiece resided in its original storytelling, which never gave emphasis to one segment and refused to acknowledge the moral superiority of either one. It was also well-directed and well-shot. It tells history how it ought to be recounted, highlighting both their motivations and mistakes in the same sentence. It is noteworthy because renowned Indian director Mira Nair once said of the movie, "It's the only film in the world that I wish I had directed."
The Bridge On the River Kwai (1957)
This is a satire on the wickedness of human nature using the building of a bridge as the medium. It is a classic in every way. A British officer sacrifices his men to assist in creating a bridge that will unavoidably advance the enemy Japanese force but will serve as evidence of British cleverness for him. His realization of his own army's plot to blow up the bridge triggers the movie's most depressing scene. He tries to counter it, but his troops stop him as the bridge collapses under the might of "Madness." Madness is reverberating everywhere.
The Deer Hunter (1978)
One of the earliest attempts by Hollywood to absorb the painful memories of the Vietnam war is Michael Cimino's "The Deer Hunter." It centers on a group of three Russian-American steelworkers who are inducted into a pointless war in Vietnam after one of their buddies gets married. Due to their inexperience, the three suffers terrible consequences, and one of them has PTSD. The film provides a vivid depiction of the conflict that claimed the lives of young, active people and is filled with graphic imagery. The film, which stars a large ensemble cast that includes Robert De Niro, Christopher Walken, John Cazale, and Meryl Streep, is a sharp rebuke of those who support war. The film's horrifying depiction of Vietnam, where the three witnesses genocide, torture, and are made to take part in the brutal game of Russian Roulette, is sandwiched between the gorgeously shot scenes of Pennsylvania.
It's unfortunate that 'The Deer Hunter' was at the time eclipsed by a number of other Vietnam War masterpieces. The movie doesn't accurately portray the battle, and the contentious Russian Roulette scene may have been overdone, but I believe the movie is much more than that. It's a heartbreaking look at the lives of regular, good-hearted men who have goals and hopes but whose lives are shattered in ways they could never have anticipated. The movie does a fantastic job of showing how the war affected these young guys and how it would continue to haunt them for the rest of their lives. It's a film that merits seeing because of its emotional intensity and earnest attitude.
The Great Escape (1963)
This legendary tale of bravery and adventure is based on the true story of a British prisoner mass breakout from a German camp. Although the escape ends on a depressing note—all escapees but Steve McQueen are apprehended and put to death—it is historically faithful to what actually happened. It's fascinating to witness how the escape was planned with all of its intricate details. 'The Great Escape' is a wild trip, and is likely the only film on this list with a fun component. When Steve McQueen, on a motorcycle, tries to scale a barbed wire fence, the entire German army chases after him.
The Hurt Locker (2008)
This one is a brilliant depiction of combat personnel that defuse bombs, balance the risks of being in a conflict, and must follow routine. You will be moved by "The Hurt Locker" because it will bring you closer to the soldiers' present-tense experiences rather than the causes and effects of war. The 2004 film depicts the challenges, tension, and worry that soldiers experience as they attempt to survive in the streets of Baghdad and the surrounding deserts. The movie is really well organized, and it paints a very complicated, fascinating picture of the soldiers' moral dilemmas and their psychological makeup.
The Pianist (2002)
As a concentration camp survivor, Roman Polanski's story of a hurt and chastised musician during the Holocaust is a reflection of his own. The Holocaust exposed the grotesqueness and intolerable suffering of the Jews in the concentration camps. In "The Pianist," a pianist named Wladyslaw Szpilman's journey to and from hell during the Holocaust is described. For his leading role, Adrien Brody received numerous honors, including the Academy Award for Best Actor.
The Thin Red Line (1998)
To call Terrence Malick brilliant would be an insult to his talent and an understatement. He is a visionary who is years ahead of his time. This is very well illustrated in the movie "The Thin Red Line." This film depicts the Mount Austen struggle against the Imperial Japanese during World War II. When it was first released, the reviews were mixed, with some calling it blatantly self-indulgent and others calling it absolute brilliance. Everyone did, however, concur on one point: "Every man fights his own war."
The best war film of all time is unquestionably "The Thin Red Line." Malick's method may not be for everyone, but for me, it was a very moving experience. Malick seeks to delve deeply into the minds of these men, who are broken, shattered individuals who miss their moms, wives, and lovers but are compelled to repress their feelings. Similar to the most of Malick's films, this one is filled with some of the most breathtaking visuals you'll ever see.
Being a binge-watcher himself, finding Content to write about comes naturally to Divesh. From Anime to Trending Netflix Series and Celebrity News, he covers every detail and always find the right sources for his research.