A total of 1,302 American-made movies were released in 2022 alone. One might be excused for missing some of the wonderful foreign language films that have contributed to the canon of world cinema when added to all the American movies that have been released over the past 100+ years that are worth watching. Foreign language films have played a crucial role in the evolution of cinema, introducing fresh ideas, methods of narrative, and philosophical perspectives that American directors have adopted into anything from low-budget independents to nine-figure blockbusters.
This list aims to provide as a basic overview of some of the most entertaining and enlightening foreign films. The ten films that follow span a wide range of genres and countries, from German Expressionism to recent releases. Here are 10 foreign language movies to watch if you don't mind reading subtitles (dubbing is never the way to go).
A Hero
With his magnificent Oscar-winning marriage drama A Separation, Iranian filmmaker Asghar Farhadi made his breakthrough on the world stage of cinema. A Hero, Farhadi's sixth film, demonstrates his skill with human emotion and his ability to locate drama in inconspicuous situations.
Rahim is in prison due to an outstanding obligation owed to his brother-in-law, Bahram, in the beautifully plotted novel A Hero, which also features flawed but sympathetic characters. Due to his exemplary behaviour, Rahim is offered a weekend parole, and his sweetheart, Farkondeh, surprises him by giving him a misplaced pocketbook full with gold cash. Rahim tries to sell the coins to pay off the debt, but the value of the gold is far below what is owed. Rahim finds the owner of the purse at his sister's request and gains notoriety for his deed. A show of solidarity then occurs, but Bahram is threatening to expose Rahim's true motivations. A Hero investigates intent versus impact and sends a clear message about the universality of human weakness. It is a compelling morality play.
All Quiet on the Western Front (2022)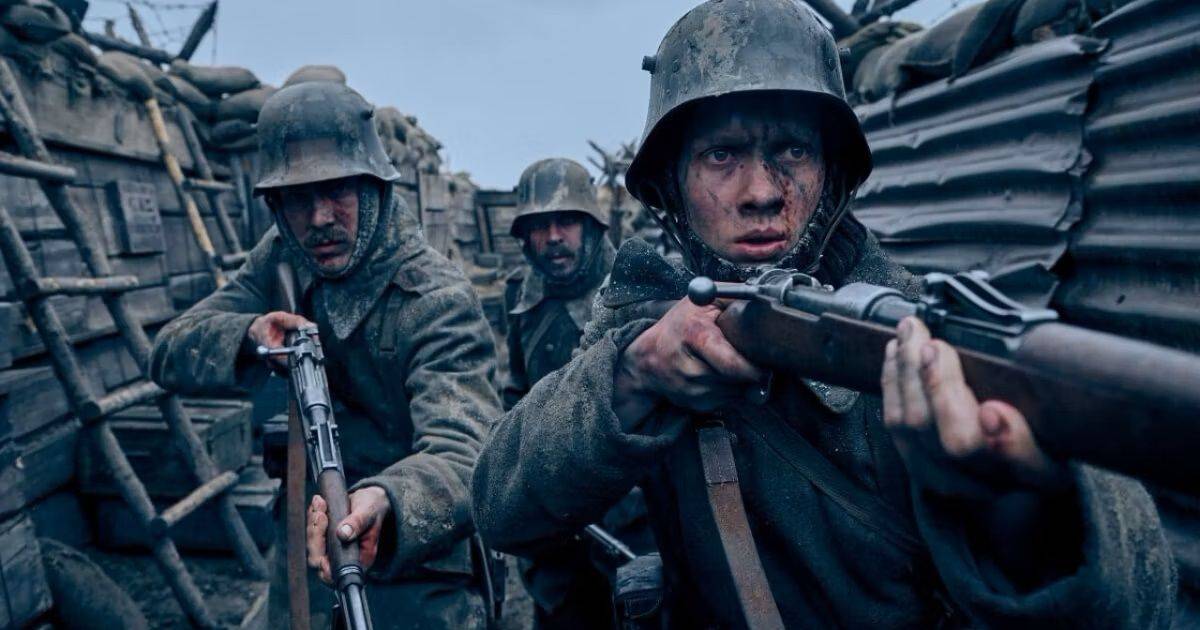 The 1929 classic by Erich Maria Remarque, All Quiet on the Western Front, was adapted by Netflix and offers a chilling look at the horrors of war and how they affect the human brain. Infused with patriotism and idealism, Paul Baumer, a young German who enlists in the army during the closing months of World War I, and his pals expect to find adventure and glory in war but find only misery and terror.
All Quiet on the Western Front explores the worst aspects of the human condition using the senseless and gruesome violence of World War I, demonstrating how the bombardments, blood, and bullets work together to strip both the perpetrators and the victims of their humanity. This scary but significant epic, which is up for Best Picture and Best International Feature at the upcoming Academy Awards, boasts magnificent photography, a heart-pounding score, and compelling performances.
In the Mood for Love
Typically, a narrative that depicts an extramarital affair will centre on the lovers. The relationship between the wives of the people having the affair is instead explored in Wong Kar-In wai's the Mood for Love, which turns this on its head. It's a subtle but significant change to a well-known narrative that fosters new insights into love and friendship.
The movie, which is set in 1962 Hong Kong, centres on journalist Chow Mo-wan and secretary Su Li-zhen, two neighbours who become friends after learning that their husbands are having an affair. Eventually, Mo-wan and Li-zhen fall in love, but they are cautious about admitting it lest it lead to them sinning alongside their husbands. Through the deftness of his storytelling, Wong Kar-wai demonstrates his grasp of human feeling. There are no heated debates or loud declarations of love. The movie is set in a world of suppressed emotions and untaken acts, which results in an immensely beautiful and terrible true relationship.
M (1931)
Film and television have often featured serial killer mysteries. M, Fritz Lang's debut sound movie, is a suspenseful serial killer thriller that is still regarded as one of the best in the genre's history. M follows the investigation of a Berlin child killer whose atrocities send the city into a panic. The film was inspired on a spate of serial killings that terrorised Germany in the 1920s. As the police struggle to identify a suspect, the city's criminal underworld teams up to find the murderer.
The movie, which stars Peter Lorre in his breakout performance, is filled with suspense and has a compelling story that grapples with issues of retribution, morality, and power. The usage of sound in the movie is equally noteworthy. The movie has a contemporary vibe despite being old because Lang experimented with a number of now-standard audio approaches using the new technology that was available to him. M, Lang's personal favourite movie, is still remembered as a suspenseful murder mystery.
Memories of Murder
With his 2003 film Memories of Murder, which was based on the life of South Korea's first serial killer, Bong Joon-ho solidified his position as one of the best directors in the history of cinema. As a serial killer begins killing young women in his jurisdiction, Park Doo-man, an antiquated detective in rural South Korea, finds himself unprepared and overwhelmed. Seo Tae-yoon, a younger detective from Seoul, and Park quickly forge a shaky alliance in an effort to unravel the killer's web despite their respective operational and technological shortcomings.
The treatment of the investigators is what makes Memories of Murder stand out, while having Bong Joon-trademark ho's comedy and satirical eye. Song Kang-ho and Kim Sang-kyung deliver moving performances, and the spectator is completely made aware of the tension and urgency of their predicament thanks to the sincerity and sensitivity with which their characters are portrayed. Memories of Murder, regarded as one of the best crime movies ever produced, is a captivating mystery full of exciting turns and turns.
Pan's Labyrinth
Macabre fantasy is a specialty of Guillermo del Toro's. He uses the supernatural and unpleasant to create captivating tales that are equal parts wonder and terror. Pan's Labyrinth, a sorrowful and lovely coming-of-age fable that highlights the best and worst aspects of human nature, puts this skill set on full display.
The movie, which is set in Francoist Spain in the 1940s, centres on ten-year-old Ofelia, an avid reader who moves with her expectant mother to a military outpost to live with her new stepfather, the ruthless and zealous Captain Vidal. When Ofelia encounters a magical faun who reveals that she is the reincarnation of a mythical Princess, she is able to flee the oppressiveness of her new life. Ofelia is given a number of duties by the faun to fulfil before she may take her proper place. Del Toro creates an immersive and captivating world that demonstrates the resilience of the human spirit in the face of even the most overwhelming obstacles using breathtaking monster effects and his own limitless imagination.
Parasite
The second movie on this list from director Bong Joon-ho, Parasite, made history by being the first Korean production to win the Palme d'Or at Cannes and the Best Picture Oscar. The Kim's, an impoverished Seoul family who infiltrate the Parks, an affluent family, by taking separate jobs while concealing their relationship, represent class and capitalism in the dark comedy. The Kims are seduced by the Parks' lavish lifestyle, but there are sinister secrets in the Parks' house that could ruin their ambitions and their lives.
Parasite, which tapped into issues about late-stage capitalism, unemployment, and wealth inequity, smashed streaming records, earned over $250 million at the global box office, and is hailed as one of the best movies of the twenty-first century. Bong Joon-(so ho's far) masterpiece is a superbly written slow-burn thriller that combines likeable characters, an original plot, and insightful social commentary to create a really inspirational classic.
Raw
Raw by Julia Ducournau is not for the weak of heart (or stomach). Justine, a vegetarian veterinarian student, is taken by her sister on a journey of cannibalistic self-discovery after developing a craving for human flesh in the feature film debut of Titane director. Beyond the constant use of frightening gore, however, Raw is a subversive coming-of-age tale that serves as an allegory for personal growth. Self-discovery, though, can occasionally be unsettling or even horrific. Justine tries to suppress her appetite for human flesh, but eventually she is forced to accept who she is. In order to create a palette that is both distressingly beautiful and indicative of a director in perfect control of her art and vision, Ducournau contrasts the vividness of flesh and gore with the brutalist architecture of the scene.
Because of its graphic violence, Raw divided several reviews, but the majority praised it, with Rolling Stone calling it "a candidate for best horror movie of the decade."
The 400 Blows
The French New Wave must be included in any discussion of foreign cinema. The movement, which spanned the 1950s and 1960s, examined social upheaval and existential themes while using cutting-edge filmmaking and editing methods that still have an impact on contemporary cinema. One of the pinnacle works of the French New Wave is The 400 Blows, which was first released in 1959 at the outset of the movement.
Francois Truffaut was inspired to depict the narrative of Antoine Doinel, a disobedient 14-year-old who flees from his Parisian home after having disagreements with his parents and instructors, by his own problematic upbringing. Antoine is like Bart Simpson in the 1950s: naughty and restless, he enjoys pulling practical jokes and pushing the envelope. However, Antoine is internally angry since he doesn't feel appreciated at work or at home. The 400 Blows, a delightful, perceptive, and enjoyable character piece that was a Palme d'Or nominee, introduced the French New Wave to a worldwide audience. The movie endures the test of time and continues to be one of the best coming-of-age pictures ever created, enthralling audiences more than 60 years after its initial premiere.
The Worst Person in the World
The late 20s and early 30s can be a trying time for someone. This moment can be both frightening and exhilarating since we are both too old for naiveté and idealism and too young for wisdom and sagacity. The character-driven dramedy The Worst Person in the World by Joachim Trier vividly and uncomfortably depicts this time period. Renate Reinsve is electrifying as Julie, an Oslo photographer in her late 20s who struggles to articulate her desires, causing both romantic and career turbulence.
The Worst Person in the World is a dynamic, multi-layered portrayal of a person attempting to find their way that is equal parts coming-of-age story and romance. Julie is a complex person; she is devoted but distant and aspirational but unsure. Her personality's contradictions cause friction in her life, producing scenes that are both heartwarming and depressing. Reinsve was deemed the finest movie of 2021 by Vanity Fair and The Atlantic, and she won Best Actress at the 2021 Cannes Film Festival.
Being a binge-watcher himself, finding Content to write about comes naturally to Divesh. From Anime to Trending Netflix Series and Celebrity News, he covers every detail and always find the right sources for his research.