Japanese television and film animations are still in high demand, not only because they cover a wide range of genres, including dark fantasy, slice-of-life, comedy, space opera, mediaeval epic, action, horror, and coming-of-age romance, but also because of their in-depth depictions of the human psyche and attention to detail, including small details like meaningful dialogue and colour symbolism.
A lump in the throat is a common reaction from viewers when watching many of these stories since they deal with difficult subjects including loss, mental health, terminal disease, conflict, or an estranged parent. Classic and contemporary series like Candy, Candy, Princess Sara, Orange, Plastic Memories, or Banana Fish have genre fans still in a state of shock.
If you don't mind shedding a few tears, here is a list of depressing and unsettling anime flicks that will send you on an emotional rollercoaster, pierce your heart, and either have an unhappy ending or an unsatisfyingly open-ended finale.
5 Centimeters Per Second (2007)
The Makoto Shinkai love drama 5 Centimetres Per Second is divided into three parts, each of which follows a specific time in Takaki's life. His sporadic relationship with Akari, a classmate who later becomes the girl of his dreams, is at the centre of everything. This depressing tale examines how relationships deteriorate with time and how even the closest of friends can become estranged to the point where it's impossible for them to reconcile happily ever after. The film has received generally positive reviews and won Best Animated Feature Film at the 2007 Asia Pacific Screen Awards. According to an IMDB user, "The film primarily explores the themes of distance and loneliness, though it does so in a gentle way that is akin to recollecting your most beautiful sunrise memory, rather than resorting to being dark and gloomy."
Angel's Egg (1985)
"Angel's Egg resembles a vaguely recalled nightmare. a dream of the sort that remains in the back of your mind for days or weeks. It is a mixture of religious themes, existential philosophy, and evocative world-building that defies divination while staying unsettlingly mysterious.
– Rejects from Film School
The 71-minute surreal science-fiction fantasy film Angel's Egg is directed by Mamoru Oshii. It is set in a post-apocalyptic, decaying, abandoned city and centres on a pair of semi-amnesic survivors: a girl who carries a mysterious giant egg around and a militant boy, and how they scavenge for food and flee from cyborgs. Despite having very little dialogue, it is sure to leave a lasting impression.
Children Who Chase Lost Voices (2011)
Children Who Chase Lost Voices, also known as Journey to Agartha, is a fantasy adventure film that Makoto Shinkai wrote and directed. Asuna, who is still in shock over her father's passing, spends her spare time waiting for her mother to get home from her extended hours at the hospital while listening to the weird music playing on his old radio. She gets assaulted by a strange beast while out for a walk one day, but a young man named Shun manages to save her. She treats his wounds out of gratitude and learns that he is from Agartha, which is a mysterious world beneath the surface that is home to the Gate of Life and Death. Shun jumps off a ledge immediately after she leaves, and his body is discovered the next morning. Asuna and her teacher Morisaki will then find themselves in Agartha and be forced to make difficult decisions. Morisaki is determined to bring his wife Lisa back from the dead.
"A voice told me to live and accept the loss,'" she said. You ought to have heard it as well. It is a curse that all humanity must experience.
Grave of the Fireflies (1988)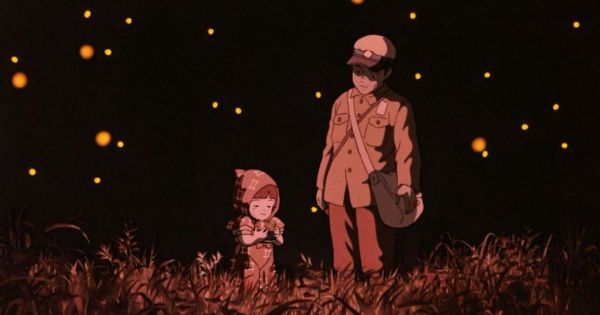 The war tragedy Grave of the Fireflies, directed and written by Isao Takahata, and animated by Studio Ghibli, was based on the experiences of author Akiyuki Nosaka, and it earned the Animation Jury Award and the Rights of the Child Award at the 1994 Chicago International Children's Film Festival. The story follows a young man named Seita and his sister Setsuko, who is four years old, as they make heartbreaking attempts to survive World War II. After losing their mother to serious burns, they first move in with an unfriendly aunt before making their way to an abandoned shelter where they use fireflies to create a calming atmosphere. However, the insects pass away, and the people bury them in despair. Seita begins stealing from the nearby farms as food grows more scarce until he is discovered and severely beaten. A few months later, Setsuko succumbs to hunger; Seita cremates her and places her ashes in a tin box that he would keep about until his own passing.
Hal (2013)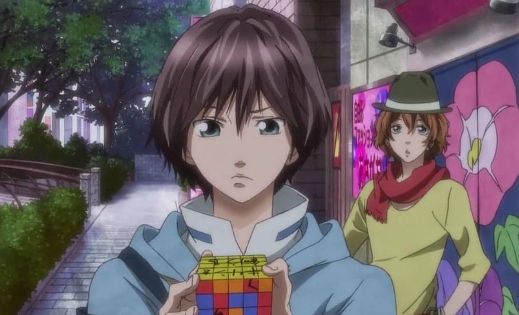 The titular character, Kurumi's boyfriend, gets murdered in a plane crash in the sci-fi romance Hal, which is made by Wit Studio and directed by Rytar Makihara. Kurumi is devastated by this loss. Her concerned grandfather sends her a Q01 robot that Hal will like because she has cut herself apart from everyone. Will Kurumi, who is battling depression, be able to maintain her connection with an android or will she learn an even more tragic truth?
Hans Christian Andersen's The Little Mermaid (1975)
Before Disney's Ariel played around in the sea, met Ursula unfavourably, and found happiness with Eric, Toei, under the supervision of Tomoharu Katsumata, turned Hans Christian Anderson's The Little Mermaid into a 2D hand-drawn animation. With long blonde hair and sparkling blue eyes, the title character in this adaptation goes by the name Marina (which translates to "of the sea") and is closest friends with the dolphin Fritz. Prince Fjord believes he owes the enigmatic raven-haired princess his life because she saved him from a shipwreck and left him on the coast.
While this is going on, Marina goes in search of the Sea Witch and asks her to change her into a human. The witch agrees and demands to hear Marina's lovely voice in exchange, but she also forewarns Marina that if the prince marries someone else, she would turn into sea foam the following morning. She ventures up to the shore now that she is fully human, where Fjord discovers her and takes her to his castle. He is captivated by this mute beauty during their happy month together, much to his parents' dismay. They imprison her because they think she has possessed him and they are worried he may wed her. A foreign princess is invited to court in the meantime, and when Fjord "recognises" her as the woman who "saved" him, he entirely forgets about his guest and becomes entangled in the princess' wedding preparations.
Marina summons Fritz in distress. Before dawn, she must stab Fjord in the heart and allow his blood to touch her feet in order to turn back into a mermaid. He delivers this message to her the night of the wedding while giving her a mystical dagger from the Sea Witch. After a brief fight, Marina manages to kiss him and hurl the dagger into the water before breaking into his apartments where she discovers him soundly sleeping with his bride. When Fjord summons her and she responds by jumping into the ocean, her body disintegrates into froth as the sun rises. He regrets her passing after realising she was the one.
"I can only maintain my love for the prince true and pure by dying. Even if it's only in the form of transparent, fine sea foam, I want to constantly be with and near him.
The One I've Waited For, the movie's theme tune, and the opening title Yearning perfectly capture the overall melancholy and dreamlike atmosphere.
I Want to Eat Your Pancreas (2018)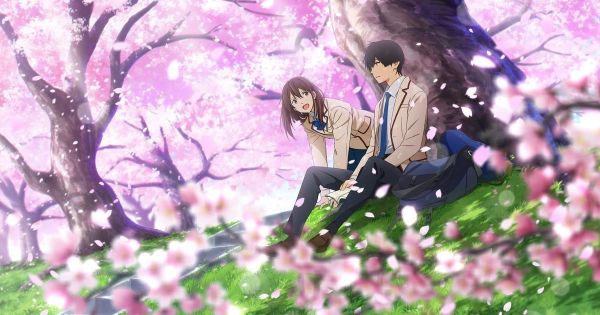 The coming-of-age drama I Want to Eat Your Pancreas, written and directed by Shinichiro Ushijima, is not about cannibalism or horror as its title might imply, but rather about a teenage girl's terminal pancreatic disease and her classmate's quest to help her cross things off her bucket list. The audience may finally accept her unavoidable passing, but the sudden turn of events leaves them surprised and upset.
Perfect Blue
The psychological suspense film Perfect Blue, which Satoshi Kon directed, veers between reality and delusion. Mima Kirigoe, a former Japanese pop sensation who transitions to acting, is the focus of the story. She becomes severely upset during filming a rape scene, begins to display signs of psychosis and paranoia, and several persons in her immediate vicinity are brutally murdered. Is she the murderer? Or is she being controlled by someone else, who is causing her to lose her mind? The film serves as a reminder of the toll that the entertainment industry has on artists and how followers can develop into poisonous and dangerous stalkers. The ending is open to interpretation.
Ride Your Wave (2019)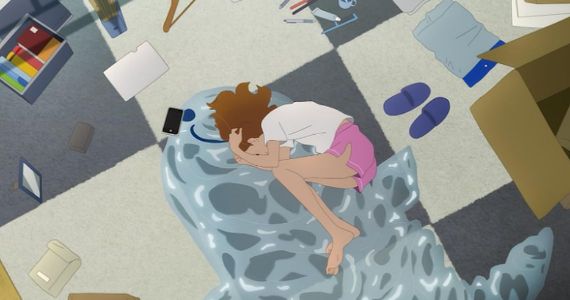 The supernatural romance Ride Your Wave, which Masaaki Yuasa directed, took home the Best Animation prize at both the Fantasia International Film Festival and the Shanghai International Film Festival. Hinako, 19, is saved from a burning building by brave and sympathetic firefighter Minato. It's the beginning of a wonderful relationship—until Minato drowns trying to save a jet-ski rider from drowning. Hinako walks away from the seashore in tears. When she discovers that Minato can still communicate with her via any body of water, she regains hope. Then she realises when she sings their favourite song by a fountain that day that his spirit has already ascended and is no longer able to be with her, and she becomes upset once more.
To the Forest of Firefly Lights (2011)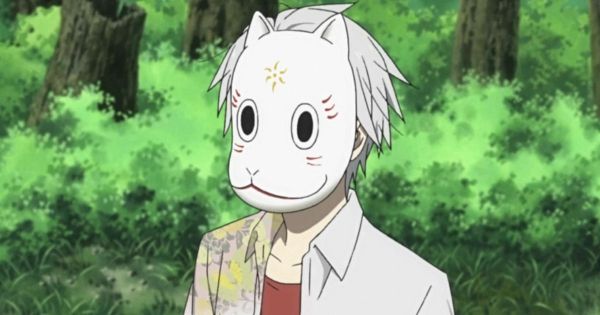 The 44-minute supernatural romance To the Forest of Firefly Lights, which Takahiro Omori directed, centres on six-year-old Hotaru as she becomes lost in a mountain god's forest while on summer vacation and is later saved by Gin, a masked spirit who resides there. The two will form an unexpected but enduring relationship and meet every summer, but they will never be able to hug or kiss since Gin is destined to vanish at the first human contact.
Hotaru's longing intensifies over time, and eventually they both come to the realisation that their sentiments go beyond their primarily remote friendship. While on a date at the woodland festival, Gin unintentionally touches a human kid; just before he passes away, Hotaru and he agree to share an embrace.
Despite being only a few episodes long, this romantic animation will make viewers sigh and long for their unfinished coming-of-age tales.
Our Team DCS includes 5 different writers proficient in English and research based Content Writing. We allow them and encourage them to follow the Entertainment news all day long. Our posts, listicles and even the exclusives are a result of their hard work.