Sports can make people feel a lot of different things, from happiness to sadness. Fury when your team wastes chances, elation when they hit their stride. And even if you aren't a sports fan, watching a bunch of grown men swarm a field to celebrate, say, a World Series win, or a soccer player strip down to her sports bra after winning the World Cup, those moments can be heart-warming to anyone watching.
Seeing someone lose in real time can also break the heart of someone who doesn't like sports. In 1988, when American speed skater Dan Jansen, a favourite to win gold, crashed out at the beginning of the race only hours after his sister had died of cancer? Not a dry eye in the house. Or how about Czech tennis player Jana Novotná, crying on the Duchess of Kent's shoulder after she lost the 1993 Wimbledon title to Steffi Graf? These are moments when a sport is more about humanity, and everyone can identify on some level. So it's okay if you don't care much about sports. The following 10 movies are about sports, but even more about the human experience, and as heart-wrenching as they get.
Amazing Grace and Chuck (1987)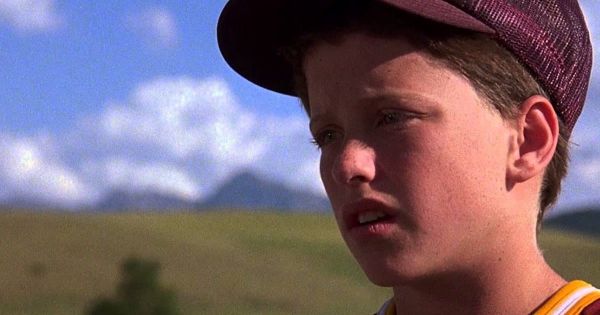 Mike Newell's 1987 drama came at a pivotal moment in history, one which will sound eerily familiar in the present moment: a huge rise in tensions between the United States and the then-Soviet Union. The threat of nuclear war seemed more real than ever, and what was a terrifying thought for adults was even more frightening for children. It was in this context that 12-year-old Chuck, a kid growing up in Montana, has a school lesson about what the effects of nuclear war would be. Chuck decides he's not going to play Little League anymore in protest, which gets a write-up in a local paper. The article is read by "Amazing Grace" Smith, a Celtics player played by former NBA star Alex English. Smith decides to follow Chuck's lead and starts a national movement against nuclear weapons. Chuck even ends up meeting with the president, played by Gregory Peck. (Jamie Lee Curtis also has a role as Smith's agent.) But tragedy strikes, and what started as a feel-good movie about a kid trying to change the world will have you reaching for the tissues.
Brian's Song (1971)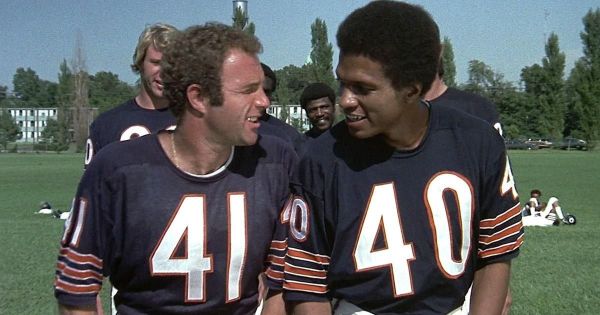 This 1971 TV movie broke all sorts of barriers, based on the true-life friendship of NFL players Brian Piccolo and Gale Sayers. Both players for the Chicago Bears, Piccolo (James Caan) and Sayers (Billy Dee Williams) were the first interracial roommates in the NFL. Although the two men have very different personalities, they become fast friends, and enjoy playing together until Piccolo is stricken with lung cancer, ultimately dying at the age of 26. The movie was adapted from Sayers' autobiography, I Am Third, and his reminiscences of their friendship before and after Piccolo's cancer diagnosis. It's a classic bromance with a hit song ("The Hands of Time"), and Entertainment Weekly put it at number 7 on its list of "cry-guy" movies.
Hoop Dreams (1994)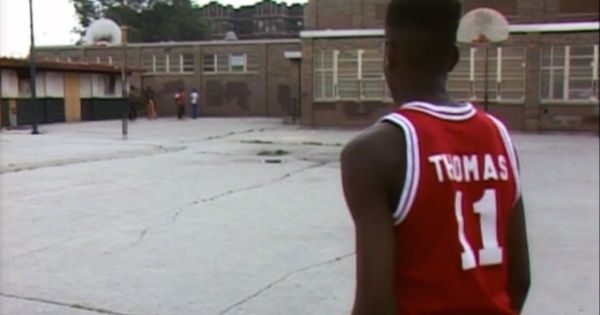 Hoop Dreams is one of the best documentaries that have ever been made. What was meant to be a 30-minute short for PBS evolved into a 5-year labour of love and over 250 hours of footage. The final cut in 1994 was 171 minutes, but don't let that deter you, it is worth every minute. The scene begins in 1987, when black teens William Gates and Arthur Agee join the prestigious basketball programme at St. Joseph High School. The majority white school is famous for recruiting its players (most notably Isiah Thomas) from lower-income Black neighborhoods. Both Gates and Agee have problems from the start, and Agee is eventually kicked out of school because his family can't pay tuition. The filmmakers decided to continue filming both boys on their now separate paths, still chasing dreams of NBA stardom through financial, academic, domestic, and athletic difficulties. So much is on the line for these boys, who are promised a lot but have few options if basketball doesn't turn out to be the golden ticket they hope it will be. Don't miss it.
Into Thin Air: Death on Everest (1997)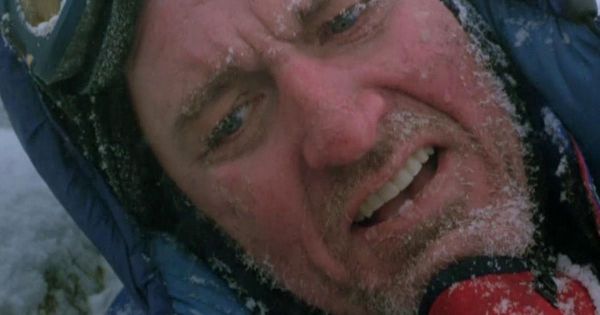 This 1997 made-for-TV movie is based on the bestselling memoir of the same name by Jon Krakauer. Krakauer is a journalist who just happened to be making his ascent on the third-deadliest day ever recorded on Everest, with eight climbers perishing that day in 1996. Nathaniel Parker and Peter Horton play Rob Hall and Scott Fischer, both experienced summit guides, taking a group up the mountain. Everest's notorious congestion problem is in full swing, and small problems pile up into big ones, with the weather worsening and climbers and guides alike falling ill. There's a lot of controversy about how everything was managed that day, about the ethics of how Everest climbing works, and about how Krakauer presented certain things in the book. Even with all that aside, it's a real edge-of-your-seat, heart-in-your-mouth film that presents the brutal side of combining climbing with tourism.
One Day in September (1999)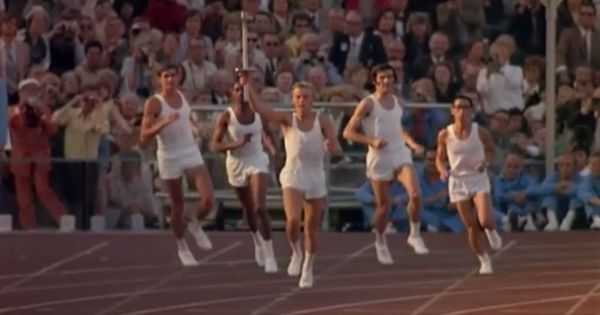 Another Oscar winner for Best Documentary Feature, this Michael Douglas-narrated documentary from 1999 was directed by Kevin Macdonald, who also directed the acclaimed climbing docudrama Touching the Void. At the 1972 Olympics, which were held in Munich, 11 Israeli athletes were killed. This event is also known as the "Munich massacre." The attack was carried out by a Palestinian militant organisation called Black September, who initially killed two athletes and took a further nine hostages, before the hostage-takers negotiated a plane for their escape. But ambush plans by the West Germans failed, and the hostage-takers ended up killing the remaining nine athletes, mainly wrestlers and weightlifters and their coaches. The film shines a spotlight on the failures of both the West Germans and the International Olympic Committee in their mishandling of the situation. It's a hard-to-watch movie that's very interesting because it shows how tensions, politics, and violence in the real world spill over into the world of sports.
Senna (2010)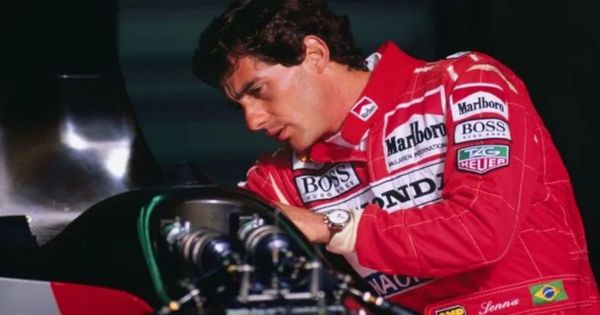 This 2010 documentary about Formula One racing legend Ayrton Senna was directed by Asif Kapadia, who also directed a critically acclaimed Amy Winehouse documentary in 2015 using largely the same style, using a lot of archival footage. For people who don't follow racing, Senna was a Brazilian racing star who died tragically at the age of 34 during the 1994 San Marino Grand Prix. The film focuses largely on his tempestuous rivalry with his team-mate Alain Prost, the stresses of global fame, and the disturbing gaps in safety protocols leading up to his final race (Austrian driver Roland Ratzenberger was killed in a qualifying race just the day before Senna's fatal crash). The way the film is made, it unfurls like something that is happening in real time rather than the past, making the races just as heart-stopping as they would have been live, and the film's appeal extends to audiences far beyond racing circles.
The Dawn Wall (2017)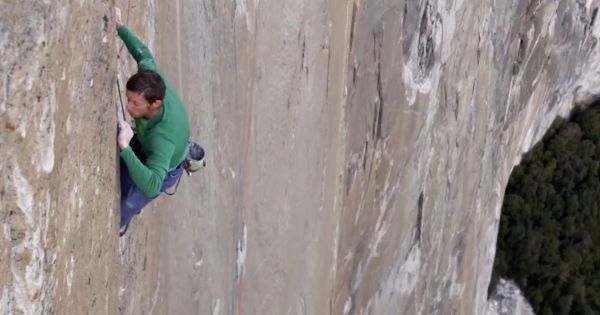 You've likely seen (or at least know about) Free Solo, the stunning 2018 documentary of Alex Honnold's ropes-free ascent of El Capitan, and you might know of his climbing partner, Tommy Caldwell. The Dawn Wall is the 2017 documentary of his attempt to climb a different, more difficult section of El Capitan with ropes and a partner, Kevin Jorgeson. Caldwell's life story is dramatic to say the least: a lifelong climber, he was one of a group taken hostage in the mountains of Kyrgyzstan in his 20s, with a tragic outcome. His marriage broke up, and he lost a finger in a do-it-yourself accident. He got through all of these tragedies thanks to his love of climbing. The story of Caldwell and his young partner Jorgeson's incredibly hard, weeks-long ascent of climbing's most dangerous route is about athleticism, but it's also about obsession and friendship. Caldwell has to make a gut-wrenching choice about whether he will go for personal glory or risk it all for his friend.
The Natural (1984)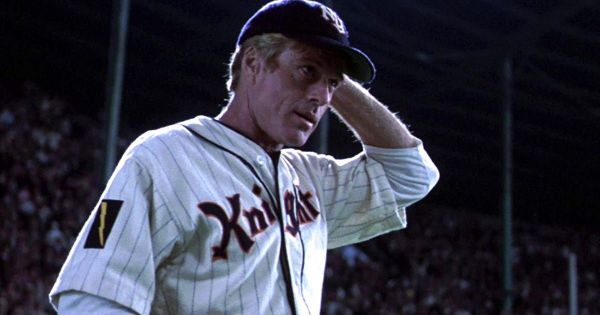 A 1984 story about talent, ambition, and love that get in the way, but everything works out in the end. Robert Redford is the golden boy Roy Hobbs, on his way away from his Nebraska sweetheart, Iris (Glenn Close), and on his way to all-but-assured baseball superstardom in Chicago in the 1910s. Disaster strikes in the form of a mysterious woman, played by Barbara Hershey, who seduces and shoots him. Fast-forward nearly 20 years, and Hobbs has worked his way back up to play for the worst team in the major leagues. He becomes famous almost right away, but his career goes downhill when he starts dating the femme fatale niece (Kim Basinger) of the grumpy manager (Wilford Brimley). But then Iris returns. There are dramatic injuries, deaths, a baseball bat named 'Wonderboy', wild Chicago parties, a nail-biting season to be had, and one of the most glorious home runs ever to be hit. It's a little sentimental, sure, but it gives you the kind of joyful feelings that you only get from the best games.
Undefeated (2011)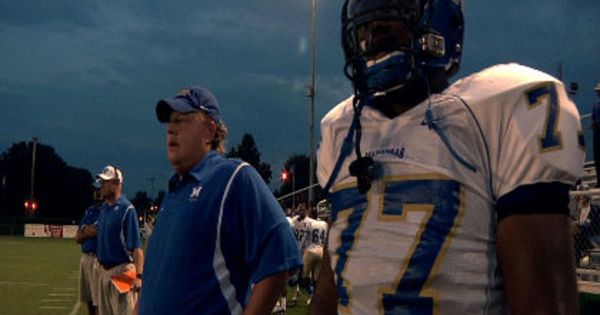 It might not sound like the most original concept ever: a 2011 documentary follows a struggling high school football team from one of the most impoverished areas of Memphis, Tennessee, can coach Bill Courtney turn things around? It's so much more than that, though, and won the 2012 Academy Award for Best Documentary Feature. Manassas High School's football team has not won a single game in over 10 years, and the players deal with poverty, violence, and academic problems. But Courtney is no ordinary coach, and works overtime with players to improve not just the team's playing, but the lives of the students that he coaches. The film focuses on three players in particular, which makes it more intimate than, say, focusing solely on the team as a whole. You will find yourself rooting for each and every player, and as critic Kenneth Turan said, "the people on screen end up in emotional tears, and you may well feel like joining them."
United (2011)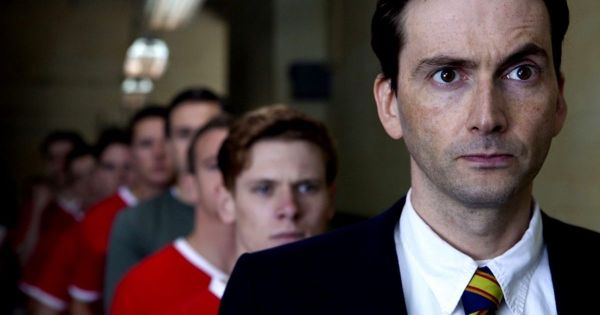 Even though the 1958 Munich Air Disaster is well-known in Europe, it may not be as well-known in the United States. This is when a British plane carrying the Manchester United football team crashed after takeoff, killing 20 of the 44 people on board right away and three more in the following month, including eight players (famed footballer Sir Robert Charlton was one of the lucky survivors). David Tennant stars as Jimmy Murphy, assistant manager of the so-called Busby Babes (a reference to the rarity of a group of club players who had largely spent their careers playing for United under the management of Matt Busby (Dougray Scott)). The beginning of the film focuses on their successes in England before it's time to play in a European Cup match in Belgrade (which they win), before stopping for the fatal refuelling in Munich. It's a nostalgic look at the sport in the 1950s and a heartbreaking story about an event that changed the club and the city of Manchester forever.
Our Team DCS includes 5 different writers proficient in English and research based Content Writing. We allow them and encourage them to follow the Entertainment news all day long. Our posts, listicles and even the exclusives are a result of their hard work.