The comedy-drama film "The Beanie Bubble," directed by Kristin Gore and Damian Kulash Jr., is available on Apple TV+ and explores the amazing tale of Beanie Babies, the pocket-sized plush toys that swept the US in the 1990s. In addition to providing a comprehensive look into the life of Ty Warner, the author of the Beanie Babies, it also makes a considerable effort to highlight the unsung heroes who helped Ty Warner and the Beanie Babies grow in fame.
Many people have been interested to learn if Sheila Harper, one of Ty's girlfriends, also mirrors reality because the majority of the characters in the film, including the main character, are based on real people. So, if you're interested in learning more about the real-life person who served as Sheila's inspiration, look no further!
Is Sheila Based on a Real Person?
Sheila Harper's character in "The Beanie Bubble" is reportedly based on Faith McGowan, though neither the film's creators nor any official sources have acknowledged this. She supposedly served as Ty Warner's longtime lover and was essential to the management of Ty Inc. in the 1990s. When the businessman relocated to his enormous Ginger Creek home in Oak Brook, Illinois, in the late 1980s, McGowan—a 35-year-old divorced mother of two—who worked as a lighting designer—was hired. According to accounts, she didn't like him at first, but he charmed her into like him.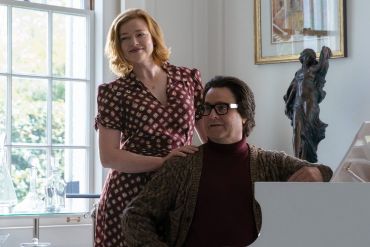 Lauren and Jenna McGowan and their two young girls moved live with Warner in his Oak Brook house in 1993. He took up the role of a father figure for the two daughters as the couple's relationship was going quite well. Additionally, McGowan actively participated in Ty Inc. and collaborated closely with Warner on the development of new Beanie Baby designs. In reality, Legs the Frog, one of the original Beanie Babies, was originally shown to McGowan and her daughters by Warner, according to Zac Bissonnette's book "The Great Beanie Baby Bubble: Mass Delusion and the Dark Side of Cute," which served as the inspiration for the movie "The Beanie Bubble."
The businessman allegedly spent a lot of time talking about the prototype with his ex-girlfriend's daughters and solicited their feedback on how to make it better. But as Beanie Babies gained popularity and Warner became more and more preoccupied with his business, their relationship appeared to be worsening with time. According to Bissonnette's book, she began wondering about their future as a couple in 1999, at the height of the Beanie Baby craze. Despite the fact that Warner allegedly discussed getting married and even showed McGowan's father the ring he bought for her, he hasn't yet popped the question.
The mother of two worked for Ty Inc., but she was surprisingly underpaid and unacknowledged, with no plans for severance pay or savings. Additionally, she purportedly had reservations about his continued collaboration with his ex, Patricia Roche, who at the time oversaw Ty Inc.'s distribution in Europe. She was concerned about what would happen to her and her girls if Warner abruptly kicked her out of the house and his life as their relationship grew distant. She surreptitiously sold a unique Beanie Baby model that he had given her for Christmas in the late 1990s to a collector out of fear.
How Did Faith McGowan Die?


Faith McGowan pledged confidentiality to the collector who bought the Beanie Baby collectible and used the funds to build an emergency fund for her daughters. Sadly, she and Warner split up in 2001, and he gave her a lump sum payment for an undisclosed figure for her work with Ty Inc. but did not provide her girls anything. Following their divorce, McGowan and her daughters relocated to Santa Barbara, California, where they adopted a quiet existence away from the spotlight.
Warner and McGowan split up in 2001, and while it's unclear if it was amicable, she and her girls don't seem to have had a grudge against him. Additionally, they kept in touch for a long time till she passed away in June 2013 at the age of 55. Not only that, but Warner met with her daughters and went to her burial.
Lauren and Jenna have chosen to live private lives since their mother's passing and have avoided speaking to the public. Lauren, though, appears to be a skilled naturopathic physician. Both have not confirmed whether the Sheila and her daughters from "The Beanie Bubble" are based on them or their mother, but the similarities show that the movie may have drawn some inspiration from their lives, if not entirely.