The TV genre of romance has many different faces and protagonists. Grey's Anatomy and other programmes like Friends and Bridgerton may both be described as romantic dramas. Even if they may not be as well-known, lesser-known TV shows are nonetheless worth watching since they may be just as lovely. Listed here are the top 10 underappreciated romantic television programmes.
Fleabag
Phoebe Waller-Bridge rose to fame thanks to the television comedy Fleabag. She wrote, directed, and starred in this piece, which included some observations that were both hilarious and scathing. The second season will have you swooning because her almost relationship with the Hot Priest (Andrew Scott) is as good, sweet, and sad as anything in a Jane Austen story.
High Fidelity
High Fidelity, the television adaptation of the same-named book and film, shifted the genre's protagonist and focused on Rob (Zo Kravitz), a Brooklyn record store owner, and her TOP 5 breakups. The show maintained many of the qualities that made the book and John Cusack's film outstanding while also adapting it to a mixed-race woman's point of view. The plot constantly returning to themes of love, romanticism, life, and being willing to put oneself out there in a relationship, making for a subtle romance show that is well worth watching.
Lovesick
This British television programme, which was initially mistakenly titled Scrotal Recall before being changed Lovesick for its run on Netflix, follows Dylan (Johnny Flynn), who receives a Chlamydia diagnosis and must find all of his lovers in order to inform them of the Infection. Given that each episode is focused on a different one of his conquests, this is the best method to use flashbacks to tell his entire love journey. This quick and simple musical is funny and surprisingly romantic, and Flynn, Antonia Thomas (The Good Doctor), and Daniel Ings give excellent performances (Instinct).
Master of None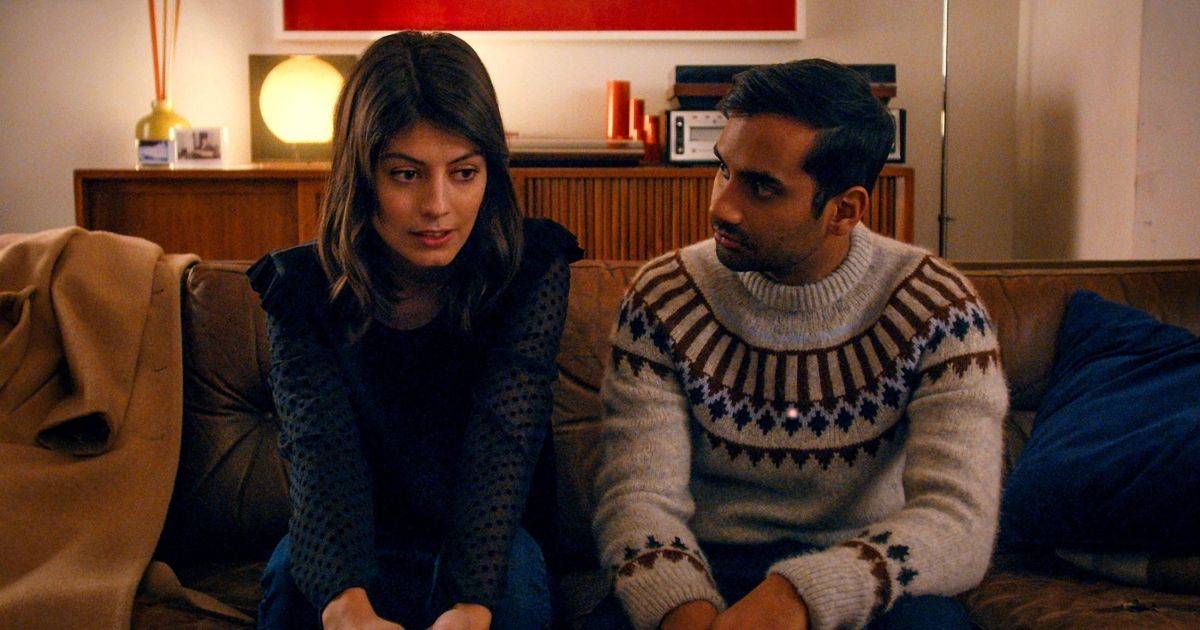 In Master of None, actor Aziz Ansari plays Dev, a 30-year-old New Yorker who is still completely confused in terms of his profession, his love life, and his family. There is a lot of romance and searching for "the one" in this programme, as there is in any show about a single guy, but the writing style, which is almost anthology-like, allows for some experimentation. In one episode, conversations in the morning are used to illustrate an entire relationship; in another, a story about dating apps is told as if it were one long date. The Italian girl Francesca (Alessandra Mastronardi), who drives the majority of the plot in the second season, creates a romantic and original path for both characters.
Never Have I Ever
Never Have I Ever combines several ideas. It's a narrative about an immigrant, a love affair, a revelation, a teen, and a romance. All of the show's characters are adolescents who are attempting to figure themselves out and who want to have sex and fall in love, which leads to amusing, unusual, and humiliating situations. Even with all of that, there is some romance, particularly between Devi (Maitreyi Ramakrishnan) and Ben (Jaren Lewison), who, after spending the most of season one teasing one another, start dating in season two after sharing a kiss. They'll likely be "endgame" whenever the show's narrative concludes.
Normal People
One of the best TV romances ever is found in Normal People. This series, which was adapted from the Sally Rooney novel, demonstrated intimacy and longing unlike any other. The chemistry between the lead actors, Daisy Edgar-Jones and Paul Mescal, as Connell and Marianne, is so intense that some fans continue to hold out hope that the actors will actually get together. The British programme chose a fantastic novel as its source material, adapting it into a lovely tale about love that also includes looks, shared silences, and making a commitment to someone.
Pushing Daisies
In the comedy-drama Pushing Daisies, Ned (Lee Pace) is a pie maker who can revive the dead with just a touch, and he does this with the lovely Chuck (Anna Friel). The issue is that they fall in love and she will pass away if he touches her once more. This well-liked programme might get the next dramatic or grim reboot. As they were physically unable to touch each other, the two leads' friendship and romance created a unique, sad tale between them that is reminiscent of Romeo and Juliet. For the time being, this is what most people remember.
Sex Education
One of the best television programmes concerning teenagers is Sex Education. Also, it is a love story about Otis and Maeve and their tumultuous relationship (Asa Butterfield and Emma Mackey). While they work together at a sex clinic for students at their school, what begins as a friendship slowly transforms into something better as they spend more time together and grow to enjoy each other's company.
Starstruck
A 21st-century take on Nothing Hill, Starstruck is a British TV series written, directed, and starred in by Rose Matafeo. But, in this version, Tom (Nikesh Patel) is the movie star and Jessie (Matafeo) is the nothing. There are many reasons to watch the show, but one of the main draws is Matafeo's voice and distinctive viewpoint on the romance subgenre as a contemporary woman with a great sense of humour. The two six-episode seasons make it the ideal weekend binge when you need some romance and laughter in your life.
You're the Worst
Even vile individuals deserve to find love. You're the Worst's premise may be that. The comedy tries to be cynical and explores with humorous quips and insights why these individuals are the worst, but underlying, there is also a special, unexpected love story between Jimmy (Chris Geere) and Gretchen (Aya Cash).
According to author Stephen Falk, who spoke to Esquire about his vision of romance, "I think particularly the way we engage in romantic relationships and the way that we meet and have sex right away because we're intoxicated, bored, or desperate at the time about love, and then the way that we get scared and run away and run into the arms of other people and don't like their choice of restaurants and question the whole thing and are secretly still seeing some guy on the side… We act in this way.
Lenny Abrahamson, the show's director, stated to Awards Daily about the book: "And when I read Sally's novel, I just had this sense. It is a book, an intimate book. I found that moving because she is able to make you feel so close to the characters. Also, I thought it was a lovely task to try and develop a tone and working style that would give the audience a sense of the characters' genuine presence and an understanding of the closeness they experience on screen as opposed to on the page.
Being a binge-watcher himself, finding Content to write about comes naturally to Divesh. From Anime to Trending Netflix Series and Celebrity News, he covers every detail and always find the right sources for his research.