The majority of people associate actors with A-list talent who star in blockbuster films. This idea is reasonable because Hollywood frequently uses popular actors and actresses to promote films just by virtue of their appearance onscreen. The term "character actor" refers to a group of actors who are frequently disregarded by broad audiences.
One character actor that stands out is Eriq La Salle. Although he may not be the biggest celebrity on the planet, Eriq routinely secures roles thanks to his character and work ethic. In addition to acting, La Salle has an almost four-decade long career as a director, writer, and producer. We'll go over some of La Salle's standout performances in both cinema and television. La Salle is a native of Hartford, Connecticut.
A Second Chance at Love
Alfons Adetuyi is the director of the love story A Second Chance at Love. La Salle plays Jack Roberts in the movie, a divorced man who uses a dating app to get in touch with his ex-wife. The reunion of La Salle and Gloria Reuben, who played his ex-wife Brenda Roberts in ER, makes the movie noteworthy. Both critics and viewers praised La Salle's portrayal of a guy who has emotionally evolved, and it was wonderful to see him and Reuben onscreen once more after so many years.
Coming to America
Coming to America, a romantic comedy directed by John Landis in 1988, is a classic and one of Eddie Murphy's top comedic performances. The movie, which had a 36 million dollar budget, brought in close to 300 million dollars at the box office. It also showcased Eddie Murphy's remarkable talent for accurately portraying a variety of individuals from various backgrounds. In addition, this movie had such a big impact that it enabled performers like Samuel L. Jackson and Cuba Gooding Jr. establish their careers.
Murphy plays Prince Akeem Joffer, the fictional prince of Zamunda, in the movie. Akeem wants to court an American woman to come home and help him control his kingdom, a typical fish out of water tale. Akeem eventually meets Lisa, the daughter of a fast-food business owner, and befriends her despite not being familiar with American customs. He also makes an effort to win her over. La Salle excels in this movie as the annoying boyfriend and obstacle to Akeem's attempts to wed Lisa, Darryl Jenks, who is sporting a Jherri curl. This is one of La Salle's best parts, in addition to Darryl's distinctive Jherri curl, his well-known Soul Glo commercial, and its ludicrously funny jingle.
Crazy as Hell
Crazy as Hell, a psychological horror movie from 2002, was directed by La Salle. La Salle plays William Barnett, Jr., a guy claiming to be Satan, in this movie alongside co-stars Sinbad and Michael Beach. Beach portrays Dr. Ty Adams, a psychiatrist who eventually encounters Barnett while making a documentary at a mental hospital and immediately shows an interest in him.
Critics gave Crazy as Hell a variety of ratings, but most agreed that La Salle's portrayal of Barnett was the movie's best performance. La Salle is well known for his dramatic parts, but his transition into the horror genre surprised viewers who were more accustomed to the actor's family-friendly roles. La Salle nevertheless gave a horribly unforgettable performance in this movie, and it would be wonderful to see him take on more parts like this in the future.
ER
Perhaps La Salle's most recognisable and adored character is Peter Benton, M.D. Critics and viewers complimented the authors of ER for their realistic representation of a doctor and for elaborating on Dr. Benton's traits and demeanour. La Salle playing a capable and respectable medical expert was refreshing for Black audiences given the dearth of gangster roles created for African American actors.
La Salle encouraged the writers to adjust Dr. Benton's relationship status with one of the white doctors since he cared so much about the character and how the writers handled it. La Salle noticed all of Dr. Benton's connections with Black women were portrayed as either frivolous or destructive, even though it was probably intended. It would be fair to see why he would find the images offensive if one were to consider the probability that La Salle's primary audience was African Americans. It is our opinion that this is the actor's most famous role because of La Salle's dedication to the handling of his character and his outstanding performance.
Jacob's Ladder
The 1990 movie Jacob's Ladder by Adrian Lyne chronicles a Vietnam War veteran's battle with PTSD and the strange nightmares that go along with it. In the movie, Tim Robbins plays Jacob and works with Ving Rhames and the late Danny Aiello to help him deal with his PTSD. The film's ability to precisely convey the consequences of terrible nightmares is one of its claims to fame.
Frank, one of Jacob's military brothers, is portrayed by La Salle. Frank is more cool-headed and quiet, in contrast to the majority of the soldiers in Jacob's platoon who are hotheads and possibly psychopaths. Despite the fact that Jacob's circumstances worsen as the movie goes on, Frank's willingness to rally the platoon to do everything in their power to save Jacob is commendable and a strong example of what a good friend is.
Logan
As Will Munson, Eriq La SalleOne of the best films of both that year and James Mangold's career was the 2017 neo-Western Logan, produced by 20th Century Fox and nominated for an Academy Award. Logan, a heartbreaking and potent film that promised to wrap off Wolverine's adventure, was favourably reviewed when it was first released. Hugh Jackman's final performance as the titular Logan made the movie special and intrigued fans of the nearly indestructible mutant to learn how his tale would wind out.
La Salle plays Will Munson, a farmer who coexists somewhat peacefully with his wife (Elise Neal) and son (Quincy Fouse) in the movie. Audiences were left with a lasting impression by the generosity and sensitivity Munson showed to Logan despite La Salle's minor role. Additionally, La Salle's range as an actor is furthered by his bravery in the conflict with Pierce, one of the movie's antagonists.
MegaFault
MegaFault, a 2009 television catastrophe film directed by independent filmmaker David Michael Latt, may have gone under most readers' radars. Despite receiving mixed reviews, the movie, which stars La Salle and the late Brittany Murphy, has gained a small fan base and is even regarded as a cult classic by those who have seen it. A massive earthquake devastates West Virginia, forcing its residents and soldiers to struggle for survival.
La Salle portrays Charles "Boomer" Baxter, a miner who believes the earthquake that followed a string of TNT explosions he put off was his fault. Boomer isn't persuaded despite the seismologists' assurances that his explosion wasn't the cause of the earthquake. He commits himself to saving as many lives as he can in an effort to atone for his sins, and his endearing portrayal is one of the movie's high points.
One Hour Photo
In the 2002 psychological suspense film One Hour Photo by Mark Romanek, the late comic icon Robin Williams plays a photo technician who becomes fixated on a family he has been working with for years. Many fans and critics were disappointed that Williams didn't win the Academy Award for Best Actor for his portrayal of Seymour "Sy" Parrish. One Hour Photo has stood the test of time despite being compared to Christopher Nolan's psychological thriller Insomnia from 2002, which was also well praised when it was first released.
La Salle portrays James Van Der Zed, a detective who is dedicated to cracking this case. Although La Salle's portrayal as an upright family guy who is well-liked by the legal community brilliantly contrasts William's performance as the aloof Sy, Williams once again steals the show in this movie. The film's sequence where Detective Van Der Zed questions Sy is a standout. La Salle effectively conveys his character's pity for Sy even without using many words, relying only on his eyes and facial movements.
Rappin'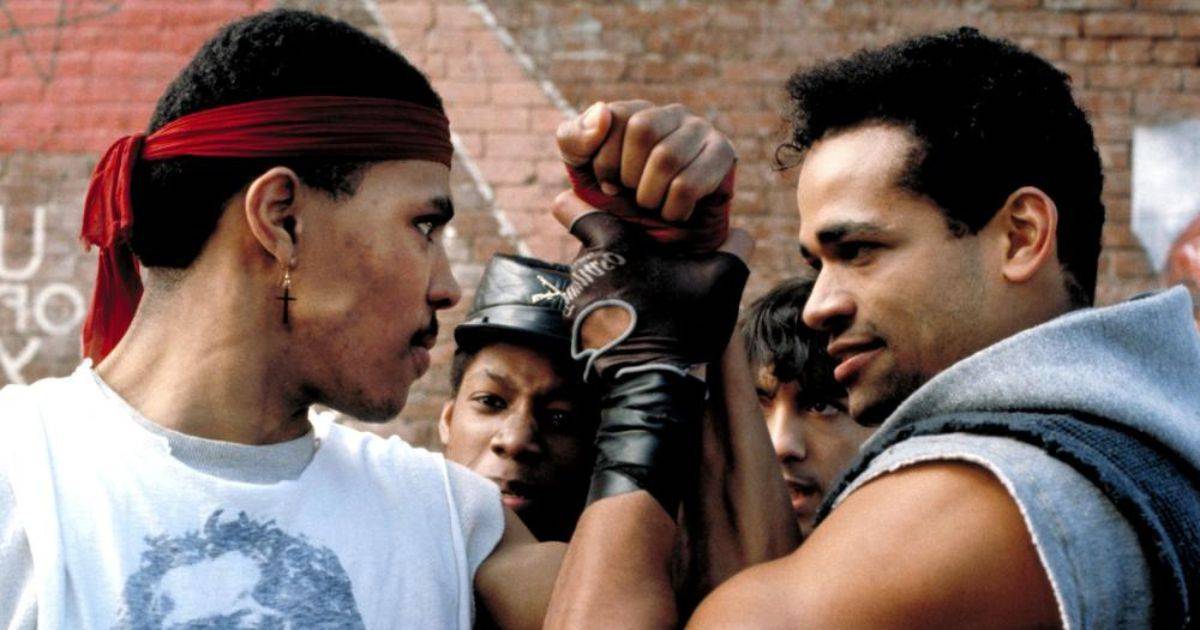 Rappin', a 1985 movie directed by Joel Silberg, is first on our list. Rappin' depicts the tale of ex-convict John Hood (Mario Van Peebles) and his desire to assist in the upkeep of his hometown. It is set in mid-80s Pittsburgh, Pennsylvania. The danger of gang violence, selfish power brokers attempting to gentrify his hometown, and several other obstacles stand in the way of Hood's quest despite the fact that he has the right intentions.
Even though Hood's journey is honourable, it is risky and practically difficult to complete on one's own, which is why La Salle's character Ice is helpful. The leather whip-wielding, bandana-sporting tough guy is stern, collected, and always prepared for battle. La Salle's performance in this role is noteworthy for two reasons. It was the actor's first role in a major motion picture, and much of his dialogue is rapped rather than spoken. Despite his tough demeanour, Ice cares just as much about the neighbourhood as Hood does, and by the movie's conclusion, he supports his friend by rapping to the influential people and thereby aids in saving the neighbourhood.
Rebound: The Legend of Earl "The Goat" Manigault
The narrative of Earl "The Goat or The Lip" Manigault, the greatest basketball player to never play in the NBA, is told in the HBO TV movie Rebound: The Legend of Earl "The Goat" Manigault. Manigault's ascent to street superstardom, sad fall, and influence on basketball are all covered in the film. Don Cheadle, James Earl Jones, the late Clarence Williams III, Forest Whitaker, and La Salle (who also directed) are among the noteworthy actors who appear in the movie.
La Salle portrays Diego, a man Manigault befriends after meeting him in jail. When Rebound was released, audiences and critics praised it. Additionally, La Salle's portrayal of the likeable Diego, who was both edgy and vulnerable, made an effect on the critics.
Being a binge-watcher himself, finding Content to write about comes naturally to Divesh. From Anime to Trending Netflix Series and Celebrity News, he covers every detail and always find the right sources for his research.