In April 2023, Apple TV+ will have some great movies. Even though the streaming service still has trouble competing with bigger names like Netflix and Disney+, Apple TV+ has shown that it can hold its own with great family shows and big blockbuster movies. Last year, the streaming service put out some great movies and deep original shows. At the start of 2023, they moved quickly to show that they had no plans to slow down. We have a list of the best new movies coming out in April for Apple TV+ subscribers.
It looks like the April movies for Apple TV+ will be great. Apple has big names from franchises like Marvel and James Bond lined up to show that they can get some of the best actors in Hollywood to work with them. The streamer is also putting a lot of money into making its own content because it wants to grow over the next few years. Their list of movies and TV shows is pretty good, with things like Ted Lasso and CODA, which won the Best Picture award. Here are a few of the best movies that will be available on Apple TV+ in April 2023.
Ghosted—April 21,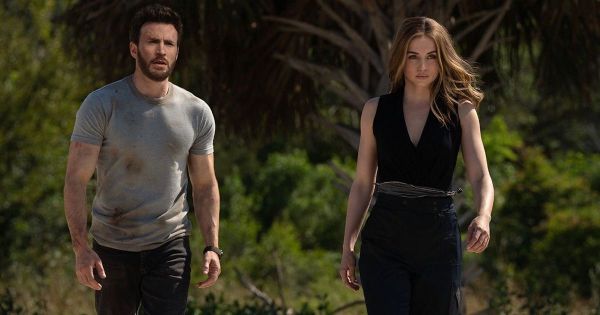 The Apple TV+ Ghosted is a new action-romance movie that follows Cole as he falls in love with the mysteriously attractive Sadie. Before he knows it, he's crazy about her, but when he tries to figure out why she's so mysterious, Cole finds out a shocking secret: Sadie is a secret agent. Before they can go on a second date, the two get caught up in a high-stakes, action-packed adventure. Cole has to believe his new love interest, even though she has been lying about her secret job. Can they save the world by working together? Or will their problems with trust cause something terrible to happen?
Even if only for the actors, Ghosted is a very exciting movie. Sadie is played by Ana De Armas, and Cole is played by Chris Evans. Amy Sedaris (The Mandalorian, BoJack Horseman), Adrien Brody (The Grand Budapest Hotel, The Pianist), Tim Blake Nelson (The Incredible Hulk, The Ballad of Buster Scruggs), and Tate Donovan (The Incredible Hulk, The Ballad of Buster Scruggs) are also in the cast (Hercules, Argo). Chris McKenna (Marvel's Spider-Man series, Community), Rhett Reese (Deadpool, Deadpool 2), and Erik Sommers (Marvel's Spider-Man series, Ant-Man and the Wasp) wrote the script.
Dexter Fletcher is the director of Ghosted. He is best known for his role as Soap in Lock, Stock, and Two Smoking Barrels. The actor-turned-director is also known for directing Rocketman. He will soon be working on Sherlock Holmes 3, which means he will have worked with both Ironman and Captain America.
Boom! Boom! The World vs. Boris Becker – Apr. 7

In April, Apply TV+ will show the documentary about tennis champion Boris Becker. The movie will be about the life of one of the best tennis players ever. Boris Becker was a tennis prodigy from a very young age. When he won the first of his six majors at age 17, he became a sports star. Boris Becker had an amazing tennis career. He won 49 major titles and a gold medal at the Olympics.
Alex Gibney (Enron: The Smartest Guys in the Room, How to Change Your Mind) will tell his story through the eyes of some of the sport's other greats. Novak Djokovic, Bjorn Borg, and Matts Wilander will be there, as well as John McEnroe. When told by a master documentarian, this story of an amazing rise to fame at such a young age is sure to be entertaining.
But the movie is likely to talk about his rivalry with tennis great Stefan Edberg. He was once the world's number one tennis player and was the youngest person to win the Gentlemen's Wimbledon Championships. After they played each other for the first time, the matches between these two players would be talked about for years. Edberg was one of the few people to ever knock Becker off the top spot in tennis. Becker was also a fierce rival of Michael Stitch, but this story had a happy ending when the two of them won the Men's Doubles Gold Medal at the 1992 Olympics in Barcelona.
Even though Becker's career is long and full of trophies, the documentary might also talk about Becker's eventual fall from grace, like any story about a man who flew too close to the sun. Any tennis fan who has been following the news over the past few years probably knows what happened to Becker after he stopped playing. Even though he had a huge amount of money, he was found guilty of tax evasion and sent to prison last year for several months. If the documentary follows the tennis champion through this part of his life, Boom! Boom! The World vs. Boris Becker could mean more than one thing.
Our Team DCS includes 5 different writers proficient in English and research based Content Writing. We allow them and encourage them to follow the Entertainment news all day long. Our posts, listicles and even the exclusives are a result of their hard work.