One of the most watched movie genres is romantic comedy. It has experienced ups and downs, its heyday and its downs, but despite all of that, it is still relevant today, largely because of its exceptional capacity to tell love tales and make the audience laugh along the way. Of course, not every moviegoer prefers rom-coms, but the vast majority of viewers have looked to them at least once for upbeat, optimistic, straightforward material.
It's safe to assume that rom-coms are predictable and replete with cliches. In nearly every movie, the main characters repeatedly act out the same narrative in which love prevails in the end. Nevertheless, rom-com fans continue to enjoy each and every new film because each director and cast brings a fresh viewpoint to the genre, as well as because we enjoy seeing love tales that could very well be our own.
Romantic comedies have managed to include some of Hollywood's and the world's top stars, from actors to directors and filmmakers, despite not being the most well-liked film genre. Hugh Grant, Drew Barrymore, Ashton Kutcher, and Julia Roberts are just a handful of the many actors who have acted in rom-coms through the years. And while the majority of these films are suitable for all viewers, there have been a few R-rated productions over the years with topics that are only appropriate for adult audiences. Here are the leading ten.
Bridget Jones's Diary
Renée Zellweger received widespread recognition and her first nomination for an Academy Award for Best Actress for her major role in the romantic comedy Bridget Jones's Diary. The same-named novel by Helen Fielding, who also contributed to the writing for the movie along with Richard Curtis and Andrew Davis, served as the inspiration for this Sharon Maguire production. In Bridget Jones's Diary, Bridget, a 30-year-old woman with a poor love life, decides to make a significant change in her life in 1999 in order to feel better about herself and find a spouse. She documents this decision in a diary. Soon, two men—one who looks to be the ideal partner and the other who, although appearing to be anything but ideal, yet appeals to her more than she would like to admit—start competing for her love.
Hugh Grant, Jim Broadbent, Gemma Jones, Colin Firth, and Renee Zellweger all appear in this production with Zellweger. This romantic comedy was followed by two sequels, Bridget Jones: The Edge of Reason and Bridget Jones' Baby, which were equally successful at the box office.
Forgetting Sarah Marshall
Over the years, Jason Segel and Judd Apatow have frequently worked together on a variety of projects. Forgetting Sarah Marshall, the movie that gave Segel his first leading role and launched his career, is undoubtedly one of their most well-liked works. In addition to acting in this romantic comedy, Jason wrote the script, Apatow handled production, and Nicholas Stoller handled the directing.
Forgetting Peter, a composer who appears to be leading a happy life, has been dating Sarah, a rising TV personality, for many years. Sarah Marshall watches them. But when she abruptly ends the relationship, Peter falls into a hole from which he struggles mightily to emerge. He travels to Hawaii to relax in an effort to move on with his life, unaware that his ex-girlfriend and her new partner have the same vacation plans and will also be staying at the same resort. In this romantic comedy, Kristen Bell, Mila Kunis, and Russell Brand appear alongside Segel.
Friends with Benefits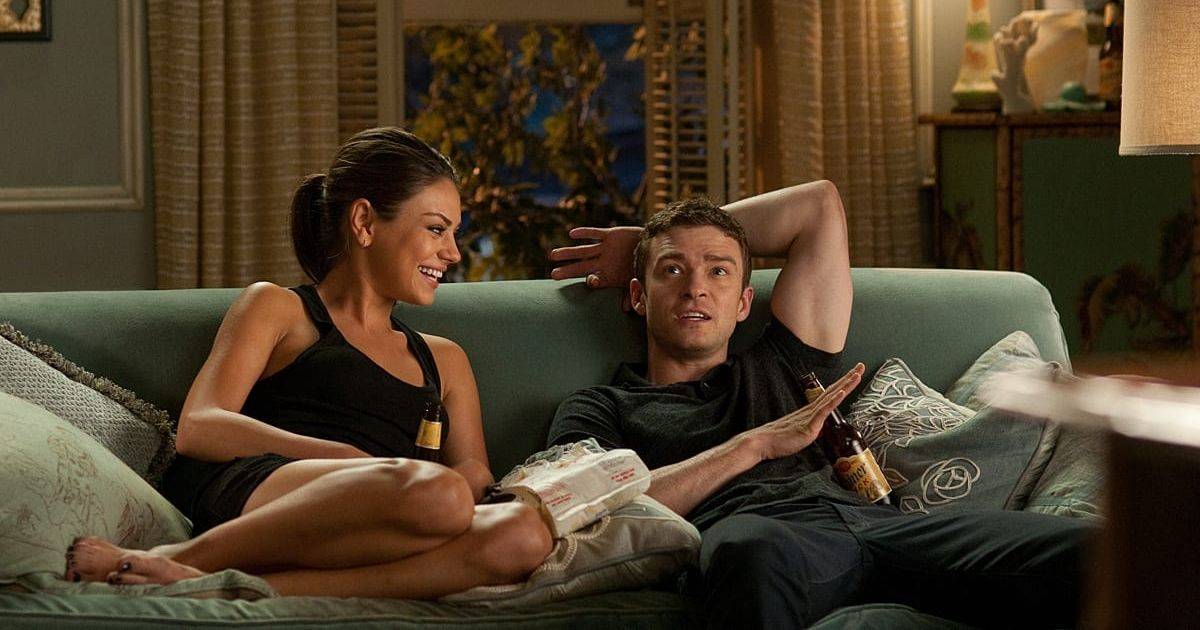 In Will Gluck's romantic comedy Friends with Benefits from 2011, Mila Kunis and Justin Timberlake shared the screen with great chemistry. This play centres on Jamie and Dylan, two young individuals with very great careers but terrible luck in relationships. The two become friends after meeting through a job offer, and after learning about their shared interests, they decide to start a casual sex relationship with no feelings at all. They both deny it, but this strategy does not go as planned as they quickly realise they are falling in love with one another.
Friends with Benefits received positive reviews, a few nominations for awards, and it became a global box office success. Among the actors in the cast with Kunis and Timberlake are Patricia Clarkson, Jenna Elfman, Woody Harrelson, and Bryan Greenberg.
Love Actually
Following his participation in films like Four Weddings and a Funeral, Notting Hill, and Bridget Jones's Diary, Richard Curtis served as both the director and writer of the romantic comedy Love Actually. This 2003 holiday film tells various interconnected stories that have one thing in common: love. It has a fantastic ensemble cast that includes stars like Alan Rickman, Emma Thompson, Hugh Grant, Keira Knightley, Colin Firth, and Liam Neeson, among many more.
Like many previous rom-coms, Love Actually rapidly became a box office success and thoroughly enchanted audiences, but not so much critics. Nevertheless, it did receive a number of nominations and honours, including some at the Golden Globes and BAFTA Film Awards.
Palm Springs
Florida DesertHulu Among the most intriguing actors of their time, Andy Samberg and Cristin Milioti displayed their on-screen chemistry in the sci-fi rom-com Palm Springs in 2020. Samberg and Milioti play Nyles and Sarah, two young people who meet at a wedding in Palm Springs and then end up wandering into a cave and entering a time loop that causes them to repeatedly be brought together. This movie served as Max Barbakow's directing debut. Nyles and Sarah are two young people who meet at the wedding.
This project, which had a well-received premiere at the 2020 Sundance Film Festival, also stars J.K. Simmons, Peter Gallagher, Meredith Hagner, Camila Mendes, and Tyler Hoechlin. Palm Springs was nominated for awards at the Satellite Awards and the Golden Globes, among other recognitions.
Pretty Woman
In addition to making Julia Roberts a prominent actress and a romantic movie star, Pretty Woman is a classic of the romantic comedy genre and of film in general. Garry Marshall directed this 1990 production, which tells the improbable love tale of prostitute Vivian Ward and businessman Edward Lewis. Nine years later, Marshall would reunite Roberts and Gere for another big-budget rom-com, Runaway Bride.
Pretty Woman received overwhelmingly positive reviews after its debut and went on to become the highest-grossing rom-com in history. Julia Roberts was nominated for an Academy Award for Best Actress and received numerous other honours. Ralph Bellamy, Jason Alexander, Hector Elizondo, and Laura San Giacomo co-star with the main actors in this great movie.
Punch-Drunk Love
Punch-Drunk Love Second Punch-Drunk LoveIn a part that allowed him to represent something different from the humorous characters that fans learned to adore, Adam Sandler is still regarded as one of his best actors in the 2002 romantic comedy Punch-Drunk adore from Sony Pictures Releasing. Sandler plays Barry in this Paul Thomas Anderson-written and -directed production. Barry is a lonely man with anger issues whose unremarkable life takes a complete turn after meeting a woman who wins his heart and, at the same time, is being blackmailed by a group of con artists.
Adam received a nomination for Best Actor at the Golden Globe Awards for his major performance in addition to other honours. Along with Emily Watson, Philip Seymour Hoffman, Luis Guzman, Mary Lynn Rajskub, and Robert Smigel, this production has received critical acclaim.
The 40-Year-Old Virgin
Judd Apatow and Steve Carell collaborated once more on The 40-Year-Old Virgin in 2005, following their work on Anchorman: The Legend of Ron Burgundy. In this movie, which they both created, Apatow directed and Carell starred in the main role that catapulted him to fame. The protagonist of this play is Andy, a 40-year-old electronics store employee who appears to have it all but is actually hiding a significant secret: he has never had sex. His buddies decide to assist him once they learn of this, and while on their journey, he encounters a woman who will play a significant role in his life.
Along with Carell, Catherine Keener, Paul Rudd, Romany Malco, Seth Rogen, Elizabeth Banks, Leslie Mann, and Jane Lynch also star in this critically praised blockbuster production.
There's Something About Mary
In 1985, Ted, a high school student, is about to realise one of his greatest ambitions: to attend prom with Mary, a woman he has fallen in love with. Ted, however, cancels the date and loses all contact with the girl after having a terrible accident at home. Ted chooses to hire a private investigator to look into Mary's life after realising he hasn't forgotten her for a while. He has no idea that the investigator will fall in love with Mary. Thus, the main character is forced to fight for her love despite the fact that doing so requires him to get through numerous challenges and suitors.
Peter and Bobby Farrelly, two brothers who worked together on Dumb and Dumber a few years before, directed There's Something About Mary in 1998. Along with Ben Stiller, Matt Dillon, Lee Evans, and Chris Elliott, Cameron Diaz plays the title character, Mary, in this critically acclaimed film. With a global gross of $370 million, the production also became one of the highest-grossing pictures of its first year.
When Harry Met Sally…
When Harry Met Sally, widely regarded as the greatest romantic comedy in cinematic history, comes in first place on this list. Can men and women be just friends? is a 1989 production that attempts to answer that question. It was written by Nora Ephron and directed by Rob Reiner. Sally believes they can, despite Harry's less upbeat outlook on things. Fortunately, the movie examines their sporadic relationship across several years, giving the spectator the chance to form their own opinions about that mystery.
Billy Crystal and Meg Ryan, two actresses who received a lot of praise for their performances in When Harry Met Sally, are joined by Carrie Fisher, Bruno Kirby, Steven Ford, and Lisa Jane Persky. Along with being a financial success, this romantic comedy received excellent reviews and received numerous nominations and awards. Ephron was one of them and won her second Oscar nomination for Best Screenplay.
Being a binge-watcher himself, finding Content to write about comes naturally to Divesh. From Anime to Trending Netflix Series and Celebrity News, he covers every detail and always find the right sources for his research.