The experience of attending a movie premiere has changed significantly over time and is likely to continue to do so. A few years ago, seeing a new movie in theatres was the only option. For weeks, moviegoers excitedly anticipated the release of the film in the theatre, where they could enjoy it on the large screen with their loved ones. They would have to wait until a movie was released on TV or in video stores if they happened to miss the premiere for any reason. Nowadays, a lot of movies are still released in theatres, but because to advancements in technology and the COVID-19 epidemic, a lot of projects are now reaching audiences in a different way: through streaming services.
Finding a movie or show that suits our likes is much easier thanks to the enormous number of content offered on streaming platforms, but it is also practically difficult to keep up with all the most recent releases. Simply put, there is so much content being added every month that it may be overwhelming. Additionally, by only watching the movies that the majority of people are watching, we miss out on many excellent films that need to be seen. One of the streaming services with the most new movies and TV shows each year is Netflix, many of which are original productions. And while a number of its works received considerable praise and recognition, a large number of them were either overlooked or eclipsed by other works. Check out these 10 Netflix originals that are underappreciated and should be far more well-known.
Apostle
In the 1905 movie Apostle, Thomas, a British man, travels to a remote island that is cut off from the outside world in order to save his sister Jennifer, who has been abducted by a religious cult. The young man infiltrates this gang in an effort to learn all of its secrets in order to destroy it from the inside, but he ends up learning things that are more horrible than he anticipated. With Dan Stevens, Lucy Boynton, Mark Lewis Jones, Michael Sheen, Bill Milner, Paul Higgins, and Kristine Froseth among its cast, this show was written and directed by Gareth Evans. Apostle had its Fantastic Fest debut in September 2018 and then had its second premiere on Netflix a short time after.
Cam
Daniel Goldhaber and Isa Mazzei's 2018 film Cam is inspired by Isa Mazzei's time spent working as a camgirl. Madeline Brewer plays Alice, a quiet young woman who hides her work as a camgirl on pornographic websites from her family. This young woman had every intention of keeping her personal life separate from her work and her clients, but things take a bad turn when she tries to log into her account and finds that someone else is using it—a near-exact duplicate of herself. Alice begins to lose control over her life and her relationships as a result of this circumstance and the things that her online persona is doing. In order to get her audience back and restore some semblance of normalcy, she embarks on a journey to expose the impersonator. Cam Patch Darragh, Melora Walters, Michael Dempsey, and Devin Druid all appear in the cast alongside Brewer.
I Care A Lot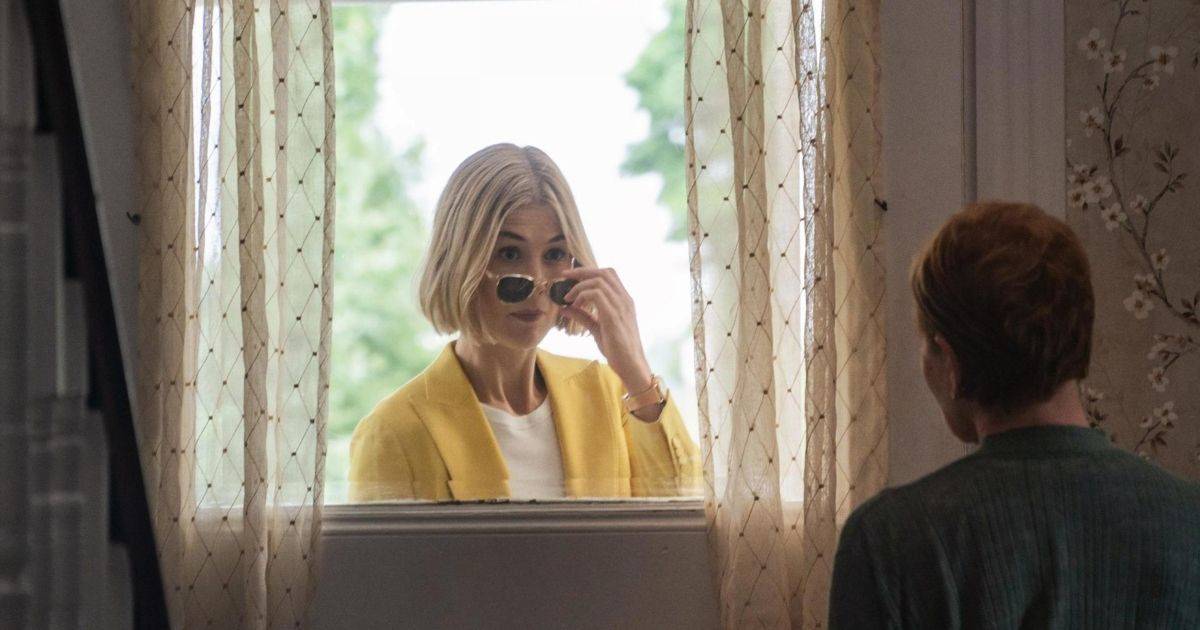 Rosamund Pike received the Golden Globe for Best Actress in a Motion Picture for her major role in I Care A Lot. Marla, a scheming woman who lives at other people's expense, is the subject of this 2020 movie. She has been abusing elderly individuals as their legal guardian for a number of years under the guise that they are unable to care for themselves. They choose Jennifer Peterson as their latest victim to con, along with Fran, her business and personal partner. Their task won't be as simple as they anticipate, though, for Jennifer has a hidden connection to the underworld, which could destroy Marla for good. Peter Dinklage, Dianne Wiest, Eiza Gonzalez, and Chris Messina work with Pike on this project.
I'm Thinking of Ending Things
I'm Thinking of Ending Things, a 2020 movie that might leave the audience perplexed, brings our list to a close. Based on Iain Reid's book of the same name, Charlie Kaufman wrote and directed this production. The movie, in which Jessie Buckley and Jesse Plemons are the main characters, is on a lady who drives to meet her lover Jake's parents while having second thoughts about breaking up with him. Her misgivings about the relationship and her partner intensify as she gets to Jake's parents' remote farmhouse, making her reevaluate her life and everything she has learned so far. The cast also includes Toni Collette, David Thewlis, Guy Boyd, Hadley Robinson, Gus Birney, Abby Quinn, and Colby Minifie in addition to Buckley and Plemons.
Okja
Bong Joon-ho directed Okja, a South Korean and American co-production that competed for the Palme d'Or at the Cannes Picture Festival, two years before he oversaw the Oscar-winning film Parasite. Along with other South Korean and American actors such Byun Hee-bong, Yoon Je-moon, Choi Woo-shik, Tilda Swinton, Paul Dano, Steven Yeun, Lily Collins, Shirley Henderson, Daniel Henshall, Jake Gyllenhaal, Giancarlo Esposito, and Devon Bostick, the film also features Ahn Seo-hyun. The story of Okja centres on Mija, a little girl who resides in South Korea with her grandfather and a genetically altered super pig that she refers to as Okja. Great friends, the girl and the animal spend their days having adventures together. Okja is eventually rescued by the corporation, who then takes her to New York City, where she will meet her end. Without second thought, Mija sets out on a rescue mission to bring her friend back, and along the way, she meets a number of people who will support her.
Private Life
A 2018 movie called Private Life centres on married life and the difficulties that can occur, particularly when trying to conceive a child. Along with Kayli Carter, Molly Shannon, John Carroll Lynch, Desmin Borges, and Denis O'Hare, Paul Giamatti and Kathryn Hahn gave prominent performances in Tamara Jenkins' comedy-drama. The main characters of the movie are Rachel and Richard, a middle-aged couple who have been trying to conceive for a long time. Their desperation and eagerness to conceive start to harm the couple and their relationships with those around them after trying every available fertility and adoption method without result. Sadie, their 25-year-old niece, who is willing to be their egg donor and is certain to get into trouble with her own mother, joins them in their effort to conceive a child.
The Call
The Call is one of many films whose theatre premiere was postponed as a result of the COVID-19 epidemic; as a result, it had its Netflix debut in November 2020. This South Korean thriller, which was directed by Lee Chung-hyun and featured Park Shin-hye and Jeon Jong-seo, is based on the 2011 movie The Caller. For her role, Jeon Jong-seo received several nominations including a Director's Cut Award. In the movie The Call, two ladies named Seo-yeon and Young-sook contact over the phone and learn that they are actually in two separate time periods, one in 1999 and the other in 2019. After this call, they begin to work together to resolve some challenging personal issues, fundamentally altering one another's life. However, not everything that glitters is gold, and altering the past can have very, very grave repercussions for everyone involved.
The Fundamentals of Caring
Following an accident that claimed the life of his young kid and caused his marriage to fail, writer Ben quit his career. He enrols in a course to become a certified carer in an effort to give his life new meaning. Elsa then hires him to care for Trevor, a young adolescent with Duchenne muscular dystrophy. With his mother's OK, Trevor sets out on a cross-country road trip with his caretaker since he enjoys visiting roadside sites. This trip will help them develop their burgeoning friendship. They come into Dot, a young woman who is attempting to flee her past, and she decides to go with them as they look for fresh reasons to celebrate life. Based on Jonathan Evison's book The Revised Fundamentals of Caregiving, Rob Burnett wrote and directed the 2016 movie The Fundamentals of Caring. Paul Rudd, Craig Roberts, and Selena Gomez starred in it.
The Perfection
The Perfection, a 2018 movie, is a fantastic blend of horror, crime thriller, and black comedy. It's also one of those works that you don't fully understand until the very end. With Allison Williams and Logan Browning as well as Steven Weber, Alaina Huffman, Mark Kandborg, Graeme Duffy, and Eileen Tian, it was directed by Richard Shepard. In The Perfection, Charlotte, a prodigy cellist who had to give up her career to care for her mother, is a character that investigates the human fixation with obtaining perfection. After a decade, she returns to the conservatory where she received her training only to find that a fresh, rising star called Elizabeth has usurped her place. These two women begin a relationship that will take them on a perilous journey down a dark and twisting path.
The Platform
Spanish film The Platform had its world premiere at the 2019 Toronto International Film Festival, where Midnight Madness earned it the People's Choice Award. It depicts a tower with multiple storeys and two randomly rotating prisoners residing on each floor in a dismal future. Right in the middle of the structure is a hole through which a platform laden with food descends. The prisoners on each floor are required to consume whatever is left over from the prisoners on the floor before them, and so on, until the platform reaches the top floor. This system inevitably leads to disputes among the prisoners since they will stop at nothing to satisfy their hunger. Iván Massagué, Zorion Eguileor, Antonia San Juan, Emilio Buale Coka, and Alexandra Masangkay are the actors in this play.
Being a binge-watcher himself, finding Content to write about comes naturally to Divesh. From Anime to Trending Netflix Series and Celebrity News, he covers every detail and always find the right sources for his research.