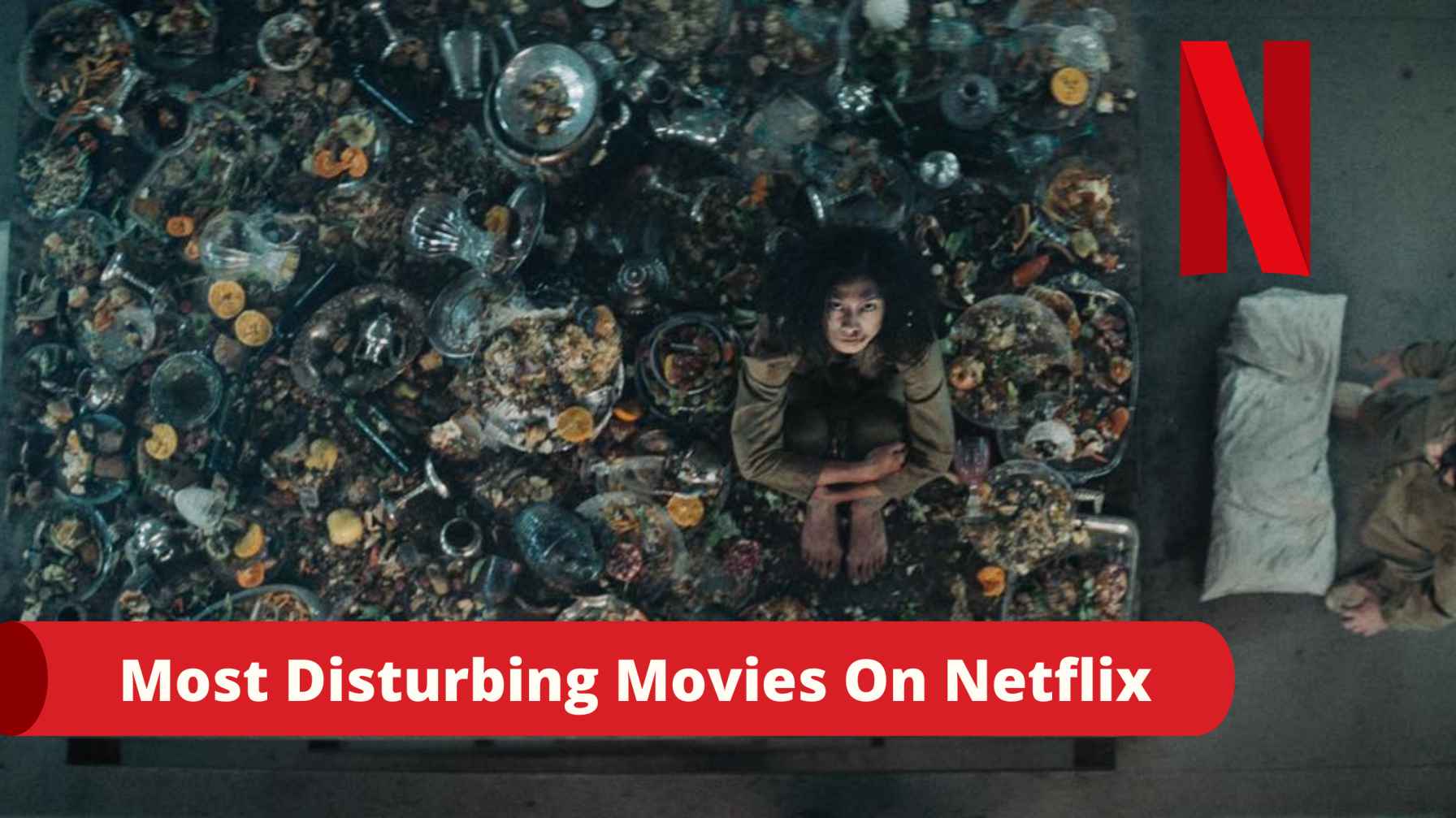 22 Disturbing Movies On Netflix You Should Never Watch
When it comes to movies or films, everyone has a favourite genre. Some like to chill with friends and watch action flicks, some prefer alone time and watch something dramatic. Most couples prefer romantic movies on netflix and the horror movie genre gets fan from around all the world and that too from all categories. And how can we forget animated movies, and Sci-fis and thrillers. Oh wait, we are getting ahead of ourselves. We are here to talk about movies you shouldn't watch at all. Please note that these are not bad movies. They are probably the best disturbing movies on Netflix in their own genre, in fact these movies are so powerful that they might end up changing the way you think. There is no genre for these movies per se, as they come from all the genres. If one had to label, you can label them as thought provoking or mind f**k movies.
If you love cinema as an art form then you might enjoy these movies more than most. But, if MOVIES are just a source of entertainment and a way to escape from reality, then you might end up wondering, why on earth I am watch this unrealistic sad shit. The movies we have included in this list set out to convey a deeper message. Like onions these movies have layers that can only be revealed when you start peeling.
We have tried not to include any spoilers in the description. The movies mentioned below are not the popular ones but the best ones in their respective categories. We have intentionally removed non-sense movies like Human Centipede I and II because despite their disturbing premise, such movies does not appeal aesthetically.
We watched these movies so you don't have to. These are the most disturbing movies on Netflix.
Would you Rather (2012)
At some point in our lives, we've all played the popular party game "Would you rather?" This one, on the other hand, is a little different. Iris is a young woman who is concerned about the health of her ailing brother. She meets a philanthropist aristocrat who invites her to supper and a game of "Would you rather," tempting her with the promise of medical treatment for her brother if she wins the game. Would you rather is a simple game. What's the worst that might happen? That's what she presumably thought before heading to the party. However, upon arrival, she finds that the game is nothing more than a dangerous survival game.
Unfriended (2014)
A group of pals in an online chatroom are tormented by someone or something using the account of a deceased friend. The youngsters dismiss it as a technical issue until the account begins texting them, claiming to be Laura, a girl who died exactly one year previously. The monster begins to coerce the teenagers into revealing their darkest secrets. Then the killing begins.
Creep (2014)
Patrick Brice's directorial debut is Creep, a found footage horror film. It appeared to play into an old stereotype at the time of its debut, but Creep delivers an unexpectedly fresh twist. The protagonist is a struggling filmmaker who responds to a Craigslist post offering $1000 for a day of filming. He arrives in a distant cabin to capture the lives of an eccentric recluse who appears nice at first, but reveals himself to be less sincere as the day progresses. Definitely one of the worst and most disturbing movies on Netflix, in fact overall.
The Invitation (2015)
Everything appears to be regular at first when Will and his girlfriend Kira are invited to a party at the home of Will's ex-girlfriend and her current boyfriend David. But as the night progresses, Will begins to suspect that his ex-girlfriend and her pals have a hidden goal. When a wave of unsettling memories slowly creeps in, old wounds begin to bleed afresh. Will's underlying guilt may be driving him nuts, or his paranoid sense may be totally warranted. It is one of the most disturbing movies on Netflix in the sense that makes you uncomfortable.
Green Room (2015)
'Green Room' is an adrenaline rush that will have you on the edge of your seat till the very end. The film, written and directed by Jeremy Saulnier, is about a band that goes on a tour to gain popularity. Things become violent in a nightclub in the Pacific Northwest when the band witnesses a horrible murder committed by a mob of skinheads. As the only witnesses to the murder, all members of the band must flee the venue in order to survive and return to Washington, DC before the gang of Neo-Nazi murders captures them.
I Am the Pretty Thing That Lives in the House (2016)
'I Am the Pretty Thing That Lives in the House,' an atmospheric horror film, follows a horror writer and her caretaker as they continue to encounter mysterious forces in their home. Iris Blum, the author in question, suffers from persistent dementia, therefore the managers of her home have hired Lily Saylor to look after her. Because of its setting and engaging people, this film has the charm of a vintage horror picture. This is the film to see if you like tight atmospheres than jump scares. The filmmaker's restraint is the most distressing aspect of the film. There is a persistent sense of tension that can be extremely unsettling for the audience at times.
Hush (2016)
Every now and again, writers opt to isolate themselves from the rest of the world in order to achieve serenity, which may have an impact on what they write afterwards. When author Maddie Young loses her hearing abilities as a teenager, she does something similar. She lives in complete isolation, away from the noise and commotion of society. But her calm is short-lived, and her peaceful retreat is shattered when the unsettling sight of a masked killer appears on one of her windows. As Emily tries to outwit the killer, your heart beats faster with each passing minute of the film.
The Autopsy of Jane Doe (2016)
A lovely Jane Doe's body is discovered in the middle of a crime scene by a Sheriff, who is perplexed by how the dead body does not suit the crime scene at all. He transports her body to a coroner named Tommy Tilden in order to determine the apparent cause of her death. Tommy Tilden is joined by his son, who is also his assistant, in an attempt to solve the mystery surrounding her murder. As the night becomes darker, the couple delves more and deeper into Jane Doe's bizarre and unsettling secrets.
Under the Shadow (2016)
During the 1984 Tehran missile assaults, a father leaves for war, leaving his wife and daughter alone in their apartment. According to popular Islamic belief, Djinn are malevolent creatures brought by the wind to locations of horror and agony. When everyone else departs, the mother and daughter are left alone to search for the missing doll, which is very dear to the daughter but has now been seized by the Djinn, who intends to divide the two. A creepy dark spirit squirms in the shadows and haunts the mother and daughter as they battle to survive in their war-torn surroundings.
Gerald's Game (2017)
Gerald's Game is a psychological horror film based on Stephen King's novel of the same name. It begins innocently enough when a couple retreats to an isolated lake cottage with the purpose of spicing up their sex life. When the husband dies abruptly, his wife Jessie is left tied to the bed frame. Jessie is horrified as the demons inside her thoughts begin to lurk in the shadows of the vacant house, as she battles to tame the resurrected darkness that had been buried deep within her for aeons. The most troubling aspect of this picture is that it's difficult to tell whether everything Jessie sees is genuine or just a reflection of her greatest fears.
1922 (2017)
Netflix's horror-drama '1922,' based on Stephen King's 2010 novella of the same name, is set in the eponymous year on a farm in Hemingford Home, Nebraska, and chronicles the narrative of farmer Wilf James (Thomas Jane) and his family. He is content with the way things are at the farm and wishes to spend the rest of his life there. But his disillusioned and disgruntled wife Arlette (Molly Parker) wants to sell it.
Clinical (2017)
In Netflix's 'Clinical,' adolescent patient Nora Jane (India Eisley) attacks psychiatrist Jane Mathis (Vinessa Shaw) before attempting suicide. Jane is diagnosed with P.T.S.D. and sleep paralysis as a result of the incident. Alex (Kevin Rahm), a severely scarred guy, comes to her for therapy. Despite her doubts, she accepts him as a patient. She learns that Nora has been released from the mental institution where the young girl was being held. As strange occurrences begin to occur around her, Jane begins to suspect that Nora has returned to murder her. The script was written by Luke Harvis and Alistair Legrand, and the film was directed by Legrand.
Cam (2018)
Netflix's tech horror 'Cam,' directed by Daniel Goldhaber, presents a timely reflection on the digital era, loss of privacy, the perils of over-exposing yourself on the internet, and identity theft. While writing the narrative for the film, screenwriter Isa Mazzei drew on her own experience as a camgirl. It stars Madeline Brewer as Alice Ackerman, who uses the alias "Lola Lola" to live-stream sexual stuff on the website FreeGirlsLive.
The Open House (2018)
Netflix's 'The Open House,' starring Dylan Minnette, Piercey Dalton, Sharif Atkins, Patricia Bethune, and Aaron Abrams, follows a mom, Naomi, and her son, Logan. Logan and his father confront financial troubles following the loss of Logan's father in a horrific accident. They agree to travel to Naomi's mountain retreat and stay there until a buyer is found through the open house event at the request of Naomi's sister. After they arrive, they both begin to notice strange things happening around them. Items are misplaced. The police are of little assistance to them. They fight dread and paranoia while isolated from the rest of the tranquil village.
Apostle (2018)
'Apostle,' one of the best horror films on Netflix, is written and directed by Gareth Evans. This film's plot revolves around a guy named Thomas Richardson, who returns home to find out that his sister has been kidnapped by a dangerous cult and is now being held as a prisoner on their own island. The wonderful art direction that we see in this film is something that will stay with us for a long time. A persistent air of dread pervades the film, which is made possible by Evans' expertise behind the camera.
Hold the Dark (2018)
Jeffrey Wright plays Russell Core, an author with extensive understanding of wolf behaviour, in Jeremy Saulnier's Netflix film 'Hold the Dark.' Medora Slone (Riley Keough) approaches him from the imaginary community of Keelut, Alaska, and asks him to travel there and kill a group of wolves who she believes have kidnapped and killed three little children. Bailey, Medora's son, is among them. Knowing that wolves do not behave in this manner, 'Hold the Dark,' based on William Giraldi's novel of the same name, resonates with a guttural sense of dread throughout its entire length.
The Perfection (2019)
'The Perfection,' one of Netflix's most terrifying originals, is a film that should be avoided by youngsters. The film's principal character is Charlotte (Allison Williams), a musical genius who is attending the most prestigious music school at the invitation of her teacher. She befriends one of the brightest students in the school, Lizzie, and they eventually become sexually connected. When the two of them get to the school, they understand that something horrific is going on beneath the guise of a musical school. But how will the two of them withstand the vengeance of such heinous criminals?
In the Tall Grass (2019)
Netflix's 'In the Tall Grass,' based on another Stephen King novella (written in partnership with his son Joe Hill), is a brutal and violent tale loaded with all the classic Stephen King themes, such as incest, time travel, cannibalism, and insanity. Becky and her brother Cal (Laysla De Oliveira and Avery Whitted) are going to San Diego when they hear a small boy's call for rescue from a field of tall grass. They enter the grass in search of the youngster, but quickly realise they can't get out. Becky is 6 months pregnant, which complicates everything even further.
The Platform (2019)
This Spanish sci-fi horror film depicts the narrative of a remarkable multi-storey correctional facility that houses two inmates on each floor. Food is delivered by an elevator-like platform that stops on each floor for a set period of time, during which inmates must consume whatever they can. They are unable to save anything for later. If they do, the prison authorities will either boil or freeze them to death by adjusting the temperature in their cell. Following its premiere at the 44th Annual Toronto International Film Festival, Netflix made 'The Platform' available to its global audience.
Fractured(2019)
'Fractured,' a Netflix psychological horror film, follows Ray Monroe (Sam Worthington), whose daughter Peri (Lucy Capri) falls into an unprotected hole after being chased by a stray dog. Ray and his wife Joanne (Lily Rabe) bring her to a neighbouring hospital, where she is admitted. Later, he realises that his wife and daughter are both missing, and the medical personnel denies any knowledge of their whereabouts. They even inform him that he came there by himself for treatment. Ray began his frantic search for his family, terrified for their safety. Worthington's acting in the picture, as well as Brad Anderson's direction and Björn Charpentier's cinematography, were lauded by critics.
Birdbox (2019)
In Netflix's 'Bird Box,' Earth has been invaded by demonic beings who can take the form of a person's deepest fear and drive them insane, eventually leading to suicide. The film is divided around two narratives that revolve around the same character, Malorie (Sandra Bullock), and are set five years apart. The first follows a pregnant Malorie as she tries to survive shortly after the invasion, while the second highlights her efforts to keep her children alive. The film, directed by Susanne Bier and based on Josh Malerman's 2014 novel of the same name, earned largely good reviews from reviewers.
Eli (2019)
'Eli,' a supernatural horror film on Netflix, is about a young child who appears to have a rare disease that causes allergic responses anytime he goes outside. As a result, if he goes outside, he must wear safety equipment. His parents agree to have him admitted to a secluded clinic administered by Dr. Isabella Horn (Lili Taylor). Eli is overjoyed in the first few days since he is finally free to wander around without the cumbersome protective garment and can hug his parents. However, he quickly begins to see unexplained phenomena within the facility, leading him to conclude that it is haunted. Ciarán Foy, whose previous films include 'Citadel' and 'Sinister 2,' directed the film.